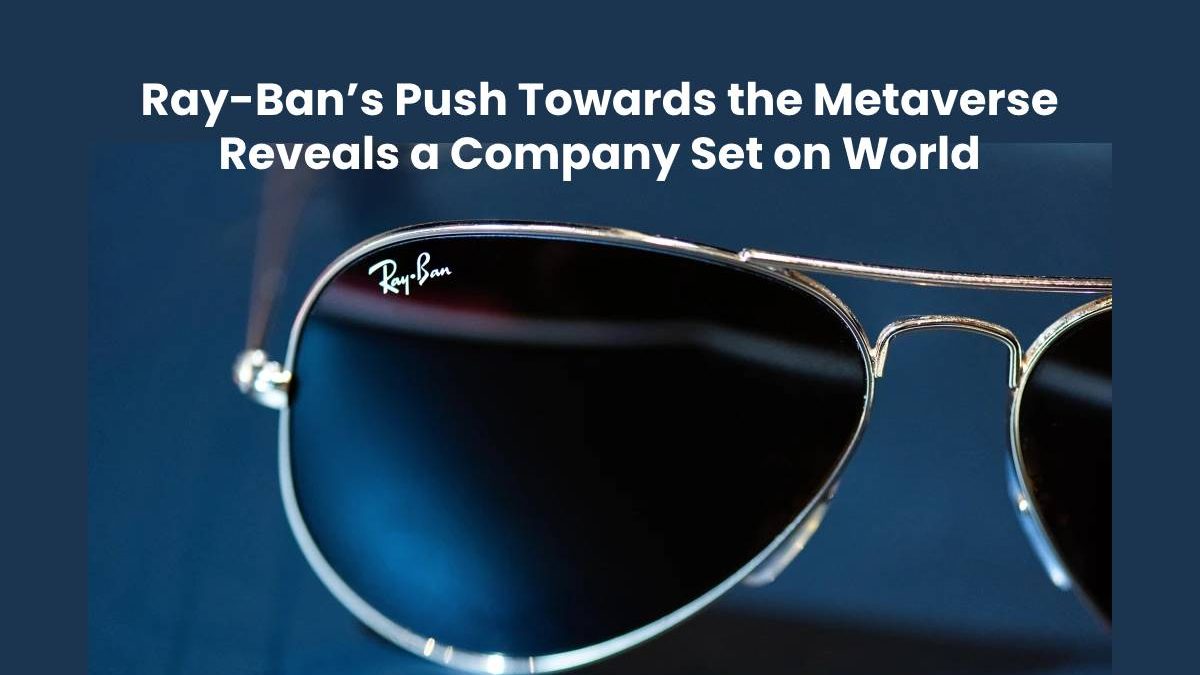 Ray-Ban's Push Towards the Metaverse
Ray-Ban is one of the most iconic brands in the world of eyewear, but with strategic and innovative partnerships and expansion plans mounting, it seems clear that Ray-Ban is dreaming of becoming a dominant force across a range of industries.
In one of the most eye-catching moves in the glasses industry, Ray-Ban launched their first pair of glasses in partnership with Meta.
The product, called Ray-Ban Stories are a pair of smart glasses that heavily feature social media integrations that can keep users connected whilst also featuring photo and short video recording functions thanks to embedded cameras.
Despite being the result of a collaboration with Meta, Ray-Ban Stories have created the eyewear, drawing on the company's iconic Wayfarer design and encapsulating discreet hardware that avoids heavy bulk.
Tellingly, however, Monisha Perkash, director of product management at Meta, claims that the smart glasses are the first in a line of products that the companies hope will result in fully-fledged augmented reality glasses.
"Our mission is to help build tools that will help people feel connected any time, anywhere. We want to create a sense of social presence, the feeling that you're right there with another person sharing the same space, regardless of physical distance," said Perkash.
"While we hope the technology is good enough, we are focusing on what we can enable right now. We are delivering the first pair of smart glasses that combine form and function."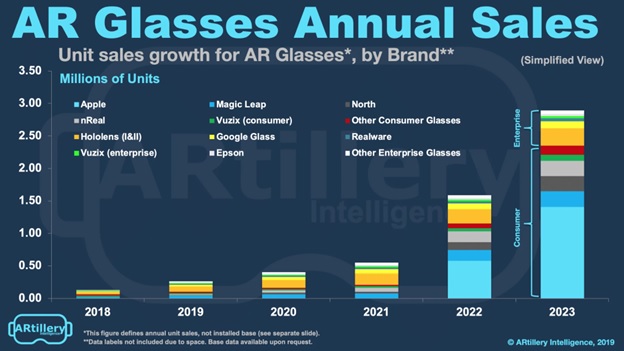 As we can see from the chart above, Meta and Ray-Ban's bid to build their way into the AR glasses market could be highly lucrative should the social media giant's collaboration with the eyewear icons strike a chord with consumers.
With the market set to grow at an exponential rate as the decade progresses, Meta's bid to enlist the help of a leading industry brand like Ray-Ban is a clear attempt to win customers with the prestige factor. The fact that the furore surrounding the metaverse is continuing to pick up in recent months is also no coincidence. Meta and Ray-Ban are working together to establish market dominance by the time the metaverse and augmented reality reach mainstream acceptance.
At this point, it's important to note that Meta's partnership is actually with Ray-Ban's parent company, EssilorLuxottica. Mark Zuckerberg's appetite for the prestigious Italian firm's collaborative releases has been made clear as the company's CEO met with EssilorLuxottica's founder and chairman in May 2022.
"Great to be back in Milan to discuss plans for new smart glasses with Leonardo Del Vecchio and the EssilorLuxottica team. Here Leonardo is using a prototype of our neural interface EMG wristband that will eventually let you control your glasses and other devices," Zuckerberg wrote in a Facebook post.
EMG stands for Electromyography, which means that Zuckerberg's vision is for users to control their glasses via their muscle movements in their hand and arm. It's clear that Zuckerberg sees this technology as possessing great potential in a future where users are processing information relayed on their lenses in an augmented manner.
For now, Ray-Ban Stories still packs in plenty of industry-leading technology, and glasses can be controlled via voice recognition, whereby users can send WhatsApp messages securely to friends in a similar way that voice assistants can help to send messages.
Branching Out Into the World
Although the launch of Ray-Ban Stories has been regarded by many as a hallmark of Mark Zuckerberg's enthusiastic attempts to position the social media giants at the forefront of the metaverse, it's also very telling of Ray-Ban's ambitions to use their reputation to secure industry dominance.
It's also not the only ongoing project that Ray-Ban is involved in. Reliance Brands is currently in negotiations with Ray-Ban's parent company, Luxottica Group to roll out Ray-Ban stores throughout India, according to Insider Retail.
Should the expansion get the green light, we'll see the launch of Ray-Ban standalone stores and dedicated shops within department stores.
Although Ray-Ban is currently operating in India through the company's online presence, the availability of products in physical stores in a market of some 1.3 billion people is a clear signal of intent.
The company's ambitions for growth are telling. Although the lure of Ray-Ban prescription lenses is strong among many consumers, the demand for sunglasses and in the future, smart and AR glasses will be strong.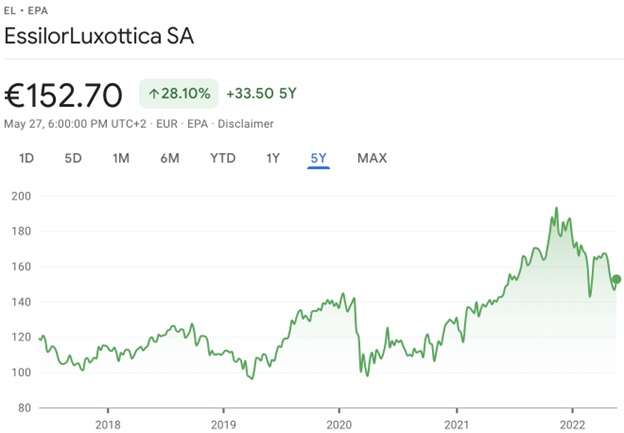 As EssilorLuxottica's stock price movements show, the company has generally performed exceptionally well in the wake of its partnership with Meta. Recent investor sell-offs amidst choppy markets are unlikely to be a cause for concern among the firm's decision makers.
Should Ray-Ban Stories evolve into a fully functioning Meta-powered AR powerhouse ahead of the arrival of the metaverse, the company's prospects will be extremely bright for the future.
With Meta's rivals yet to form a similar style-oriented partnership with leading eyewear designers, there's certainly scope for Ray-Ban to continue on its path to world and metaverse domination.
Related posts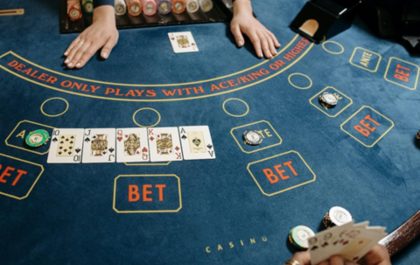 The Evolution of Online Casinos: How Play.co.za Leads the Way
The world of online casinos has undergone a remarkable evolution over the past few decades. As technology has advanced and…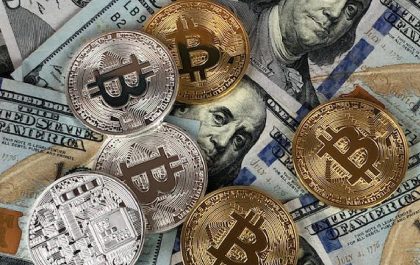 How SwissBorg Thematics is Revolutionizing Crypto Investments for Beginners
It's been a while since cryptocurrencies became a part of mainstream investment portfolios. Even the biggest skeptics these days own…