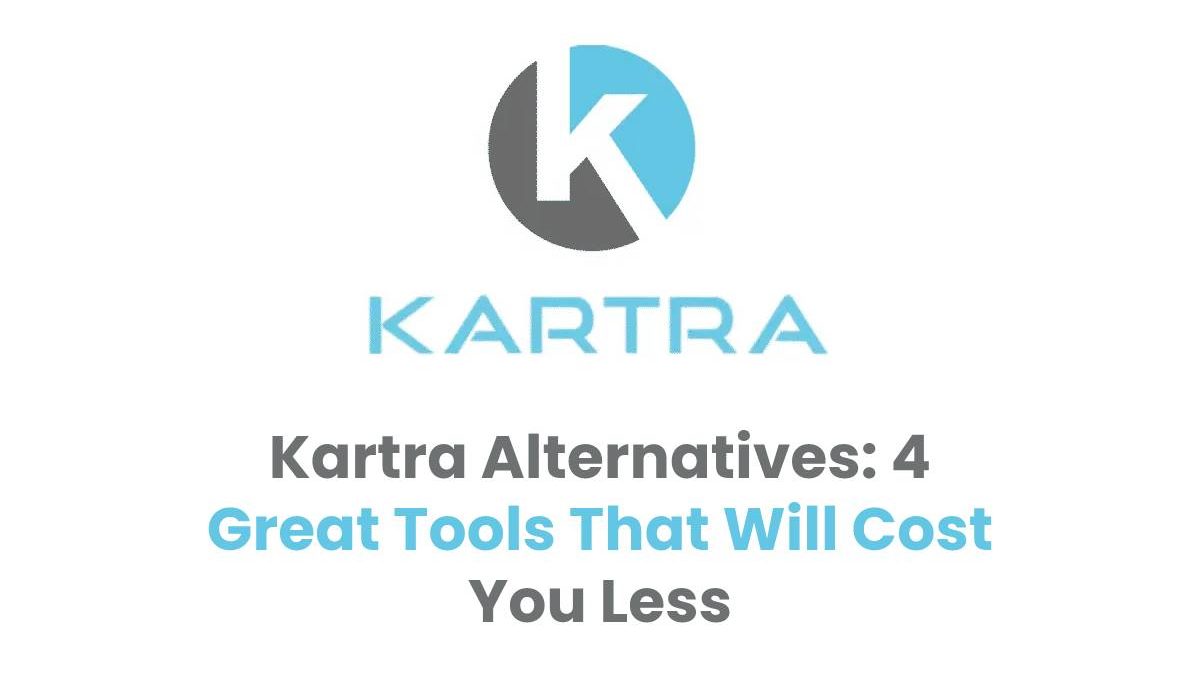 Kartra Alternatives
4 Great Alternatives to Kartra that Cost Less
If you're running an online business or even considering launching one, you're probably aware of the tons of marketing, platforms, services, and plugins designed to help you manage your company.
Many online business owners use several tools to run their businesses.
You may be using one tool for web hosting, another for SEO, another one to build sales funnels, and so on.
That's where integrated marketing platforms like Kartra come in.
Kartra is an all-in-one digital marketing platform that helps entrepreneurs create, launch and manage their online businesses.
Kartra isn't only just a great tool for building websites and creating landing pages. It also offers services like sales funnels, email marketing, automation, affiliate recruitment, and much more.
If you are considering Kartra, you may want to do some research on other alternatives and competitors to not only make an informed decision but to also find the best solution.
So, what should you look for in the right all-in-one marketing platform?
First of all, it should help you increase productivity, be easily administered, and easy to use with social listening and online behavior tracking.
Other important features to look for when researching alternatives for Kartra include email marketing, membership forms, and event and webinar marketing.
Also, let's not forget the price. I mean that's a major determining factor in decision-making.
Now you may be asking yourself, "What other alternatives are out there"? "What are their specific features?"
That's why we're giving you a list of 4 great alternatives that are much cheaper than Kartra so that you can pick the perfect tool for your business.
What is Kartra?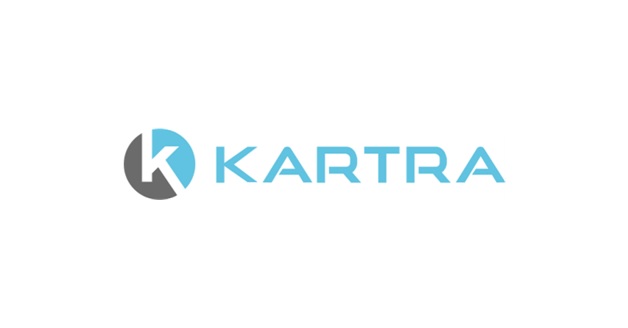 Kartra is a comprehensive marketing software that helps business owners sell their products and services online.
They have everything you need to sell any product and service online.
Kartra offers various features in one dashboard, from building landing pages and sales funnels, email marketing campaigns, course creation to cart checkouts.
This means no going back and forth between different platforms.
Convenient, right?
So much can go wrong when you are running multiple platforms, that's why using a platform that has everything you need under one roof is a bonus.
Kartra has many great features, as well as many raving reviews by happy customers.
Despite the hype, there are some notable flaws in the software.
Firstly, Kartra is quite costly.
It offers a selection of monthly subscription packages that differ in price, access to tools and features, and benefits.
Packages start at $79 per month to a whopping $399 per month. And their free trial isn't even free —it costs $1 to try out the platform for two weeks.
If you are new to the digital marketing world, Kartra can be difficult to navigate, as it does not provide onboarding training for its new users.
It can also be difficult to monetize your online business if you don't already have an established email list.
Regardless of its downfalls, there are plenty of reasons why Kartra is considered one of the best marketing platforms out there.
Kartra key features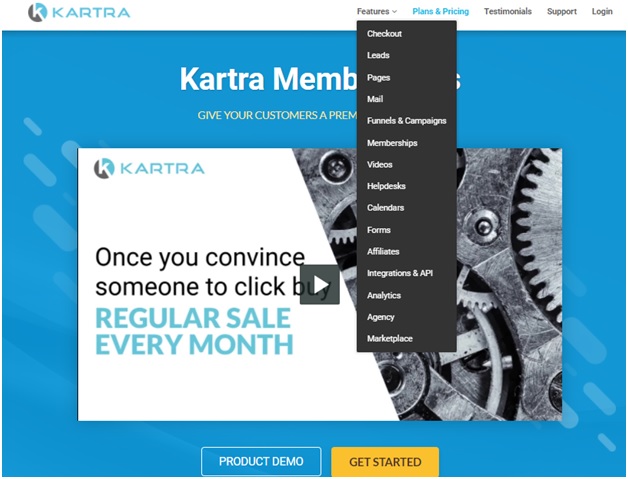 Katra is known for having a variety of features that can help manage your online business:
Landing page builder
Email marketing and automation
Sales funnel builder
Setting up products
Course creation
Affiliate marketplace
Unlimited customization options
Areas where Kartra is superior to its competition
Here are some areas where Kartra has a leg up on the competition:
Kartra offers a Helpdesk portal that provides 24/7 live customer chat and support ticketing to help customers resolve any queries they may have
They offer over 200 pre-built landing page templates that you can use to create stunning landing pages for any kind of business
Its powerful email marketing and automation tools will help you track, monitor, and act on your readers' activities.
You can create automated sales-driven funnels in minutes that can help increase your conversion rates
Kartra helps in the Customer onboarding development process that gets new users and customers acquainted and comfortable with your product.
You'll be able to sell unlimited products or services with the comprehensive checkout builder that you can customize for maximum conversion
Kartra's Membership allows you to organize and send content to your customers
Great alternatives to Kartra
We have given you a breakdown of the pros and cons of Kartra, so it only makes sense to provide a list of noteworthy alternatives.
We've put together a list of 4 great alternatives that cost less than Kartra- systeme.io, Buiderall, Ontraport, and PayClickStart.
What is systeme.io?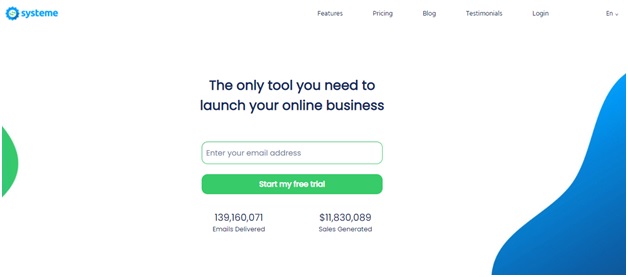 Systeme.io, like Kartra, is an all-in-one marketing platform that helps business owners to create, market, and manage their online businesses on one dashboard.
This one-stop-shop for marketing can help you build sales funnels, send unlimited emails, run affiliate programs and sell products and services.
Key features of systeme.io
Systeme.io has a wide range of awesome features:
Email marketing capabilities for sending follow-up emails and newsletters.
Sales funnel building, including squeeze pages, sales pages, and product pages
Online course creation and course editor.
Physical product page and advertisement builder.
Blog launching and website design.
Evergreen webinar builder and manager.
Affiliate program creator, tracker, and manager. Systeme.io's affiliate program builder makes it possible to gain over $70,000 sales per month.
Full business automation for emails and marketing.
Systeme.io doesn't only just have powerful features, it also includes features that are only exclusive to the platform.
One of those is tools "resources". A resource is an action that will be activated whenever a purchase is made on a payment page.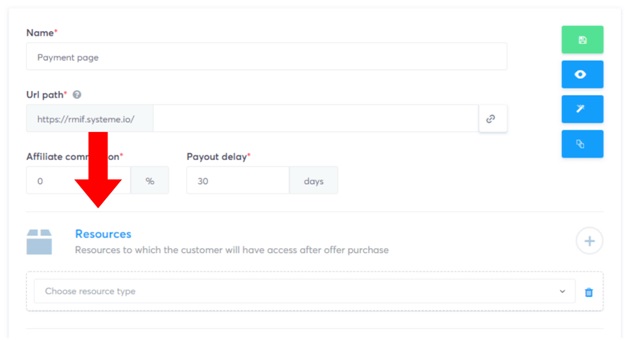 On each payment page, you can set resources that customers can choose from after they make a payment.
The resources available are:
Adding a tag
Granting access to a membership site (either total access or dripped access)
Granting access to a course bundle (either total access or dripped access)
Subscribing to an email campaign
Creating an order for a physical product
Another great thing that systeme.io does is to make every person on your list an affiliate. With other software, affiliates have to go through a registration process.
Every person on your list has an affiliate ID and they can promote your products immediately.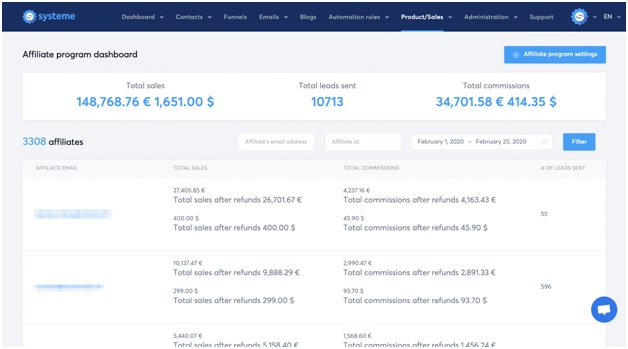 Who should use systeme.io?
System.io is designed as an all-in-one marketing platform for new and seasoned entrepreneurs.
The comprehensive marketing tool makes it easy for business owners to sell their products online and manage their business.
Systeme.io pricing
Systeme.io offers affordable price packages that are great for small businesses. You get the benefits of an all-in-one marketing platform at a much lower price.
The Start-up plan for $27 per month.
The Webinar plan goes for $47 per month.
The Enterprise plan, available for $97 per month.
The platform comes with a 14-day trial. You get to test out the platform before choosing the perfect plan for your business.
Sounds good, right?
What is Builderall?

As an online business owner, you understand just how costly and tedious it can be to run an online business.
The task of switching between multiple tools, plugins, and services can be frustrating
That's why Builderall is a great platform for business owners.
The integrated marketing platform is designed to create and grow online businesses.
Builderall was launched in 2017. It is an all-inclusive web design and digital marketing platform that can assist with web building, sales funnels, A/B split testing, heat maps, and much more.
Builderall can help you:
Automate your marketing, engagement, and sales efforts
Sell your courses, training, and content
Build an online presence
Builderall is a cloud-based system, meaning you do not have to install it on your laptop or desktop.
All you need to do is to create an account on the Buiderall website, have an internet connection and you are good to go!
Key features of Builderall
Builderall has many great features and functions that can take your online business to new heights.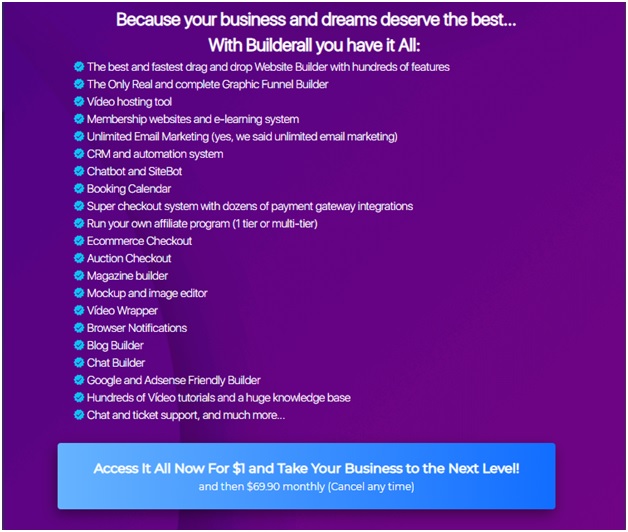 While many of these features are only available on the Builderall Funnel Club Plan, there are many awesome features in the Builder and Premium plans to help you design and promote your products and services online.
Here is a list of Builderall's main features:
Unlimited marketing
Website builder
Sales funnel builder
CRM and automation system
Dedicated servers
Ecommerce checkout
App creator
Who should use Builderall?
Whether you are an entrepreneur who just launched a business, a startup, or a company looking to go global, Builderall has all the tools you need for online success.
This integrated platform is great for anyone who wants to create a website and landing pages for an online business.
Anyone can build a website on this easy-to-use software. No need for coding or designer skills to navigate the platform.
Builderall pricing

Considering that Buiderall is a premium tool that comes with extensive features and functionality, the price is quite reasonable.
There are three price packages to choose from, but only the Builderall Funnel Club includes all the features mentioned above.
The Builder plan is available for $29.90 per month.
This package gives you access to basic features such as Website builders, hosting support, email marketing automation, and much more.
The Premium Plan is $69.90 per month.
This plan provides you with more tools and features to manage and market your business online. It gives you access to all Builderall apps, SSL certificates for all your websites, video hosting and management, and much more.
The Funnel Club is $99.90 per month.
It is worth noting that when you choose the Funnel Club your first payment will be $199.00.
This plan provides the complete package to create, launch and manage online businesses. This package includes all eCommerce and affiliate marketing features, live streaming tools, Niche funnels, and more advanced features.
What is Ontraport?

Ontraport is an all-in-one business automation tool for entrepreneurs and business owners.
It includes tools such as CRM, marketing automation, email delivery, one-click WordPress hosting, membership sites, and much more.
Ontraport offers CRM services that assist with content management, tracking leads, traditional marketing, and workflow automation.
Ontraport is also a one-stop-shop marketing software that provides you with every tool and every piece of data you need to be successful online.
A really cool thing about Ontraport is that it allows you to track every step of the customer life-cycle with campaign maps, this makes it possible for you to predict how successful your marketing efforts will be based on similar campaigns that you have done in the past.
Key features of Ontraport
Ontraport's features work together to provide you with the tools and data you need to manage your business on one centralized, easy-to-use platform.
Ontraport is pretty great but a platform with so many features can be a little complicated for someone new to digital marketing.
But according to the team at Ontraport, they have made efforts to make the tool user-friendly.
Here are some stand-out features:
Customer relationship management
Task Automation
Lead scoring and routing
Campaign automation
Email and SMS messaging
Form builders
WordPress Integrations
Who should use Ontraport?
Ontraport is advanced enough for big businesses and easy for small businesses to use.
The tool is great for entrepreneurs who want to launch e-learning/ saas products and is especially suitable for coaching services and workshops.
Ontraport pricing
Ontraport does not have a free demo but it offers a free 14-day trial.
The Ontraport Basic Plan is $79 per month
The Ontraport Plus Plan is available at $179 per month
Ontraport Pro Plan is $297 per month
Ontraport also has an Enterprise Plan which is available for $497 per month. This plan combines every feature from the previous 3 packages.
What is PayKickStart?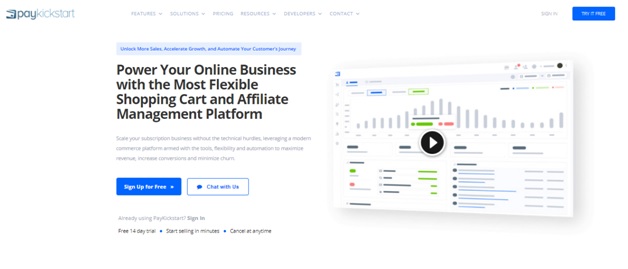 PayKickStart is a shopping cart and affiliate marketing program.
It's an online tool designed to help you build your online business from the ground up.
It's a great way for a subscription-based business to handle its payments and billing.
PayKickStart has seamlessly integrated 60+ third-party apps that you already use and love to make your day-to-day working process more productive and familiar.
Key features of PayKickStart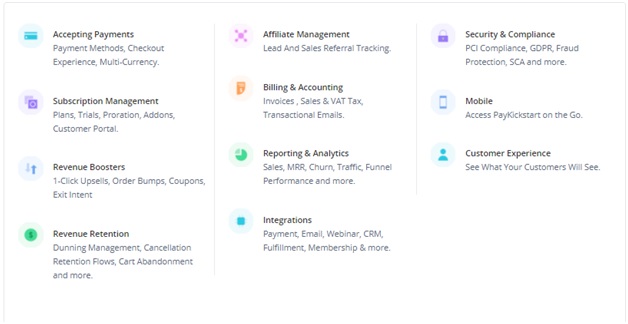 PayKickStart may not provide everything you need to manage your business but it has the features to scale your subscription business without technical difficulties.
They also provide you with the right tools to maximize revenue and increase conversions.
Here are a few great PayKickStart features:
Multiple payment methods
Checkout experience
Multi-currency
1-click upsells
Dunning management
Lead and sales referral tracking
Cart abandonment
Who should use PayKickStart?
Even though PayKickStart can be used by anyone, it's a tool best suited for people who are new to the online marketing space.
It's the right tool for people who have amazing products but don't know how to market and sell them.
It's the perfect destination for new entrepreneurs and business owners who are on a budget or have no funding.
PayKickStart pricing
PayKickStart has 3 price plans that fit any business. Each plan comes with a 14-day free trial. And if you choose to pay the annual price, you will save 20%.
The Starter Plan is $99 per month and it's a perfect plan for people who want to try out the platform
The Growth Plan, available at $199 per month, is great for small businesses that are just starting out
The Scale Plan at $299 per month is for an established business that wants to maximize profits.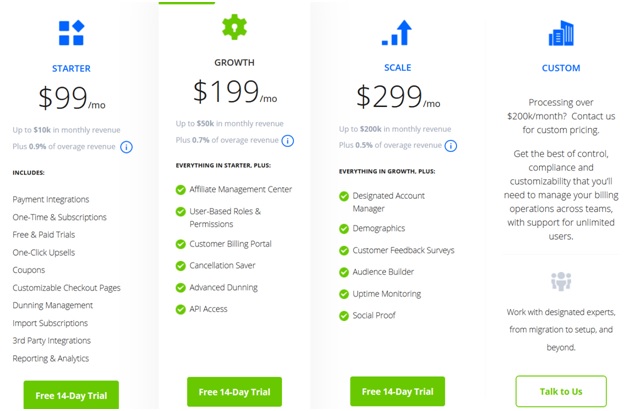 Conclusion
It's difficult to manage a website especially if you're using different tools and platforms.
That's why all-in-one marketing platforms are a great solution as you get all the tools you need in one dashboard.
Platforms like systeme.io are designed to help you manage your online business and make your life easier.
It's an integrated marketing platform that helps you scale your business and increase revenue.
If you still need more convincing, why not try out system.io's 14-day free trial before making a longer commitment? (No credit card required)
Give it a spin and sign up today!
Related posts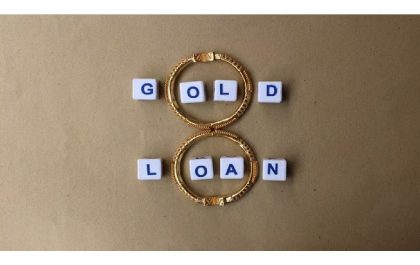 Benefits of Using a Gold Loan Calculator
Are you looking for a convenient way to secure a loan without sacrificing security? A Gold Loan Calculator can provide…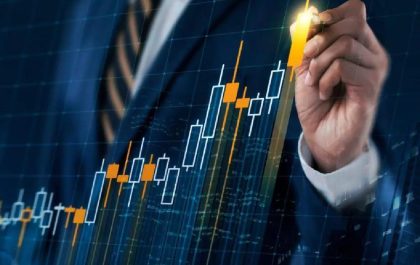 TechBerry Review: A New Way Of Social Trading
From the recent coronavirus outbreak that we just experienced a few years ago, one can learn how important it is…