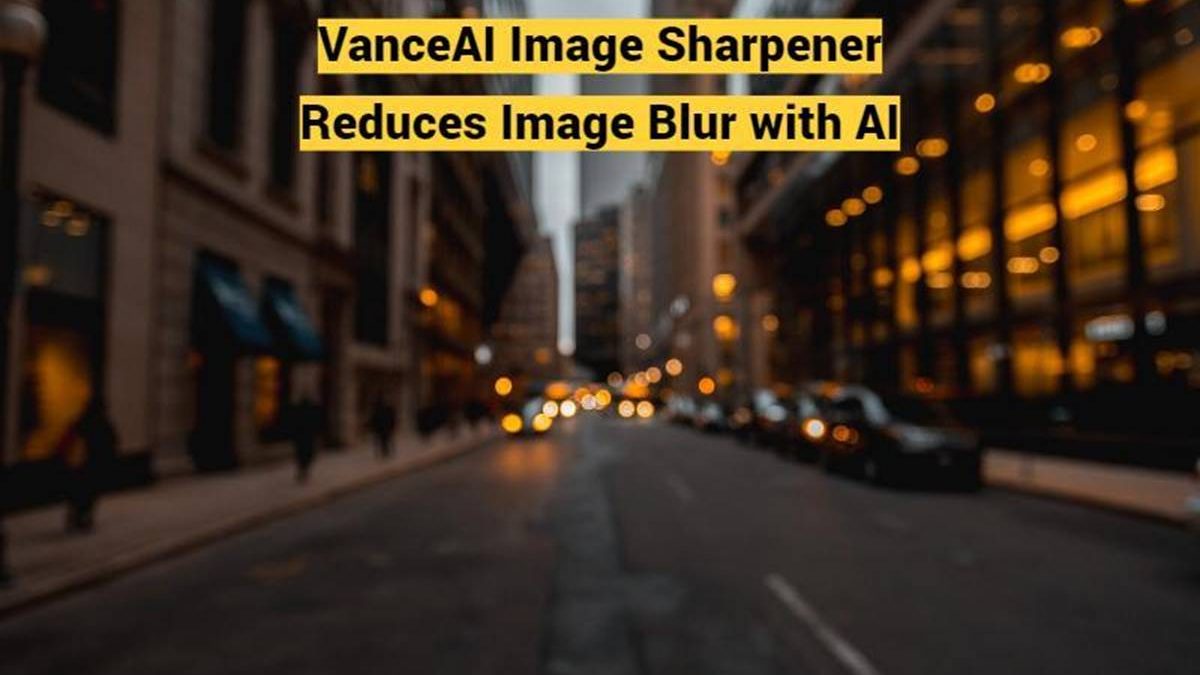 VanceAI Image Sharpener Reduces Image Blur with AI
Images are vital components of a website, as they create an attractive visual appearance that can engage visitors. High-quality images on a website can also establish professionalism and credibility. The VanceAI Image Sharpener can sharpen blurry image details and make them look more appealing and professional for website owners.
VanceAI Image Sharpener is a standout image sharpening tool available online due to its various unique features. One of its notable attributes is its user-friendly interface that makes it accessible to anyone, regardless of their technical expertise. The tool's simplicity enables users to sharpen blurry image online easily without prior experience.
In this guide, we will see how to sharpen an image using the tool and discuss its features as well.
How Image Sharpener Tools Can Improve Image Quality
VanceAI Image Sharpener provides a sophisticated algorithm that recognizes and eliminates fuzziness from pictures without requiring any technical expertise from users. The tool is user-friendly and readily accessible, ensuring that anyone can use it with ease. Besides, the VanceAI Image Sharpener offers multiple choices for various types of blurs, including motion blur, soft blur, lens blur, and general blur. This feature enables users to pick the specific blur type found in their images and achieve the desired degree of sharpness.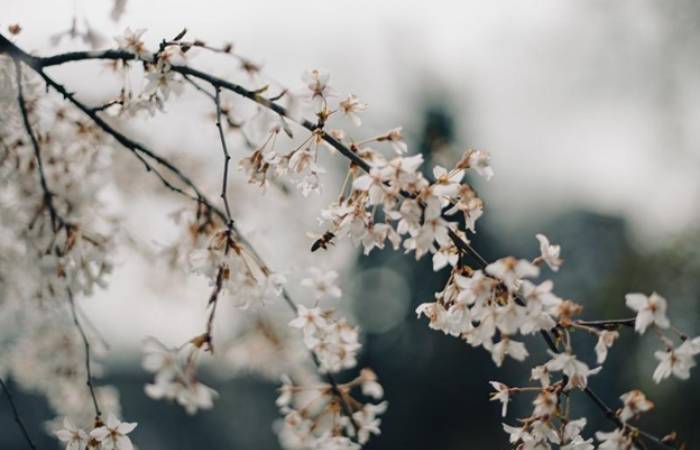 Utilizing AI technology is an efficient method for enhancing image sharpness and clarity. The precise removal of blurriness from images is a significant benefit of using AI, reducing user workload and ensuring accurate results. VanceAI Image Sharpener, a tool powered by AI, offers an extensive range of features and accessibility options that attract a broad range of users. By sharpening images online, users can achieve a professional, visually appealing look for their images.
VanceAI provides an online platform for sharpening blurry images, ideal for those with limited photo editing skills. In addition to image sharpening, VanceAI's suite of photo editing tools includes an image upscaler, image denoiser, image compressor, and more. The Workflow feature simplifies the photo editing process, allowing users to queue up multiple tools and apply them to the same image. For example, users can queue up the Image Sharpener and Image Upscaler tools, sharpening and increasing the resolution of the image simultaneously.
How to Sharpen Image with VanceAI Image Sharpener
Follow the steps given to unblur image with the AI Image Sharpener tool.
Step 1: Click on the link given above to access the tool online. Next, use the Upload Image button to get to the Workspace.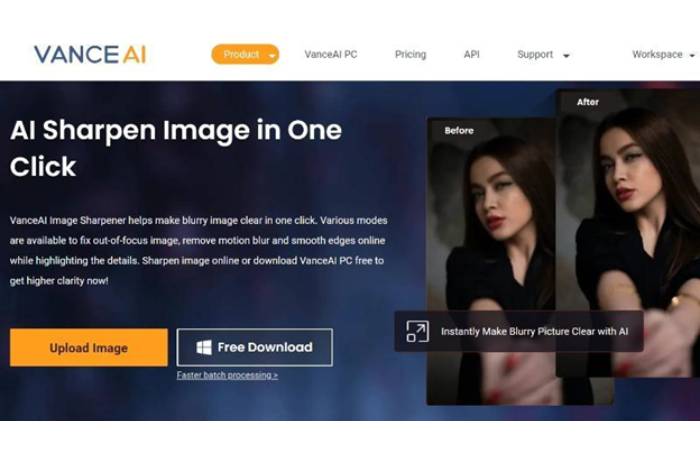 Step 2: Inside VanceAI Enhancer Workspace, you can access multiple VanceAI tools, upload images, etc. After uploading the image, manage the settings and click on Start to Process to sharpen image details.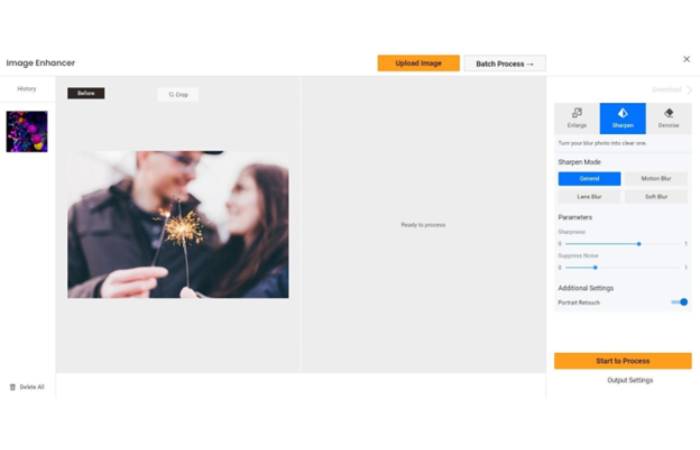 Step 3: The final image will appear on the screen in a few seconds. After that, click on Download Image to save the image.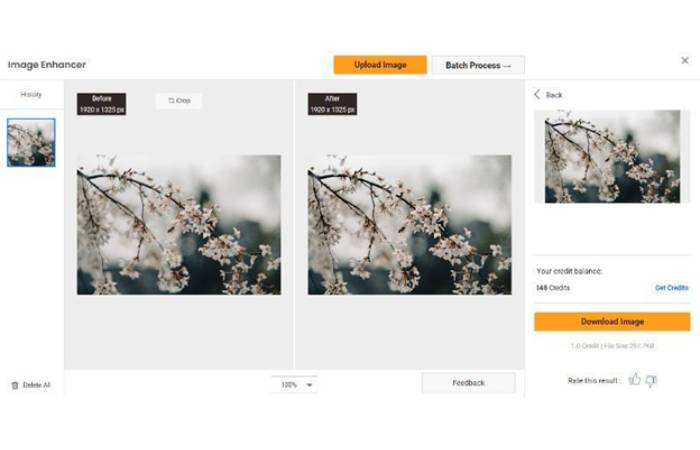 Sharpen Image Offline with VanceAI PC
Step 1: Click on VanceAI PC to get to the online page of the software and download the setup using the Free Download option.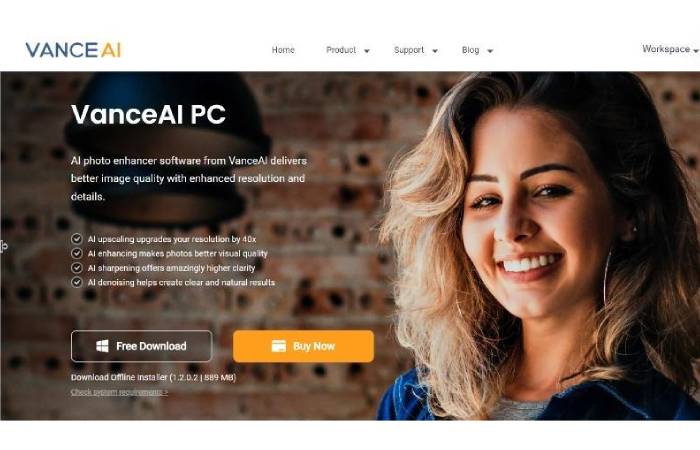 Step 2: Run the setup and install the software using the instructions given. Open the software and choose the Sharpen option.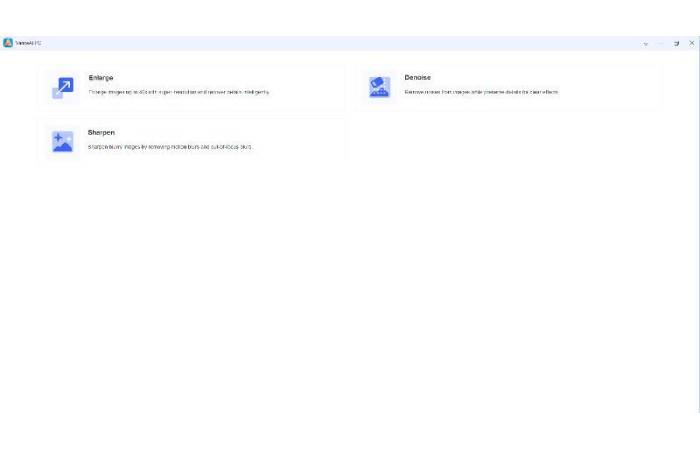 Step 3: Upload the image and use the settings. You will get the preview after every change you make. Use the Save option to save the image.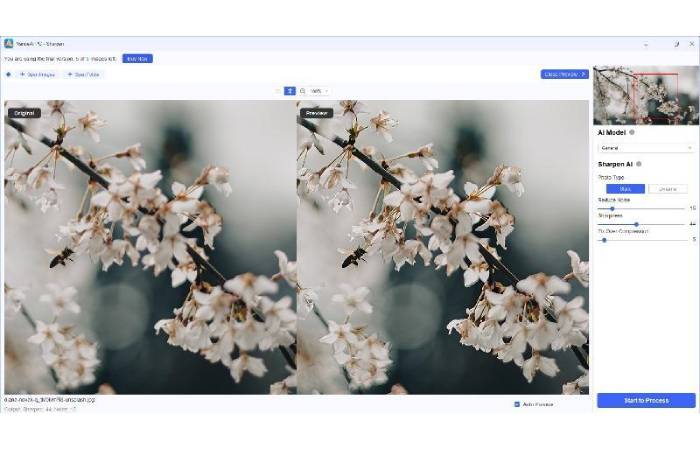 Sharpening Images with VanceAI Image Sharpener
Below are the examples of various images being sharpened by the tool.
1. Motion Blur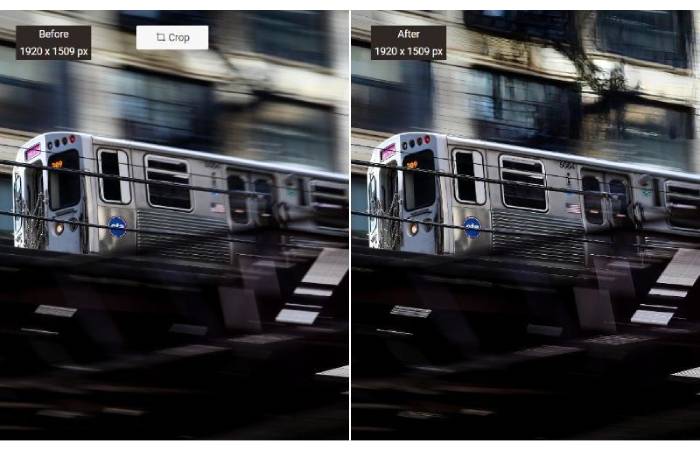 Motion blur happens when an object moves or when the camera moves during the time it takes for the photograph to be taken. This causes the picture to be less sharp and clear. Instead, the image may appear stretched or smudged, making it difficult to see the details and features of the subject. To solve this problem, there is a tool called Image Sharpener that has a feature specifically designed to handle motion blur. This feature works by adjusting the colors and brightness of the image, making the blur less noticeable and bringing the focus back to the main object.
2. Lens Blur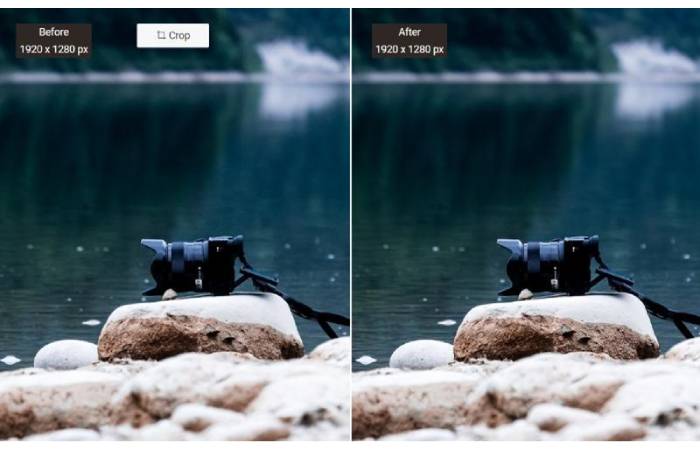 Lens blur produces a type of photography where the subject is in clear focus, but the background or foreground appears blurred, creating a shallow depth of field. However, the style of lens blur can vary depending on the specific settings and techniques used to create it. It can range from a subtle and gentle blurring effect to a more dramatic and noticeable blur. To enhance image resolution and make them more visually appealing, the VanceAI Image Sharpener tool offers several adjustments.
3. Soft Blur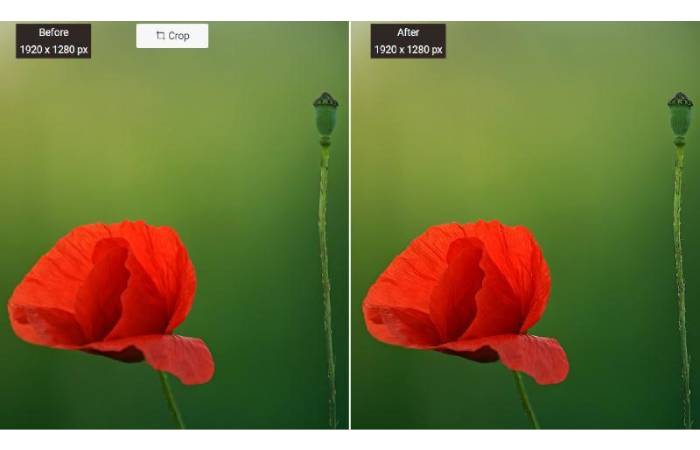 In photography and graphic design, a soft blur effect is frequently employed to produce a cinematic kind of view, giving the image a unique aesthetic. The Image Sharpener tool, on the other hand, is designed to improve the sharpness of images by highlighting their intricate details. Its primary goal is to make images look clearer and more defined, enhancing their overall quality.
4. General Blur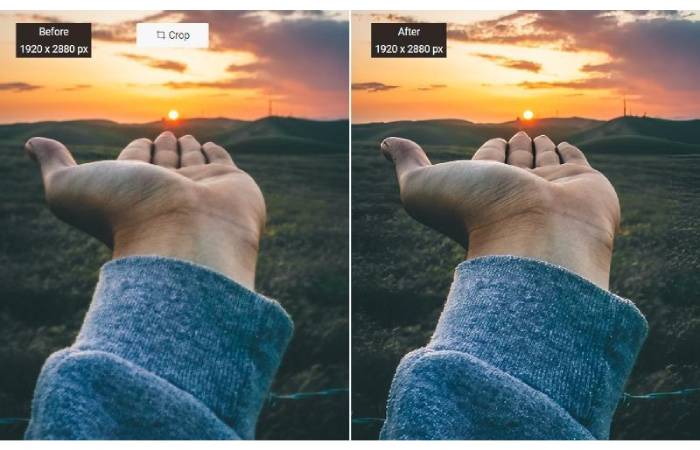 If you're searching for an image that's perfectly clear and sharp, but it falls short of your expectations, the Image Sharpener tool is the solution you need. It can help you tackle this issue by bringing out the intricate details that were previously concealed. The most commonly used setting is the General option, which is a standard sharpening setting that works well with most images. In this image as well, we can see that the tool has enhanced all the details of the image while reducing the blur significantly.
Final Verdict
VanceAI Image Sharpener is an extraordinary tool that allows users to sharpen image online without worrying about the complexities of photo editing. It utilizes advanced AI algorithms and state-of-the-art technology to achieve efficient and high-quality results. What sets it apart from other image sharpening applications is its ability to target specific types of blur, resulting in superior performance and precision. Additionally, it makes it easier to sharpen blurry images online.
Furthermore, VanceAI is expanding its reach by introducing various modes, such as VanceAI PC and VanceAI JA. VanceAI JA is a platform developed by VanceAI to make its tool available in the Japanese language, thus increasing accessibility for Japanese users. This development is an excellent step towards making the tool more user-friendly and accessible to people from all backgrounds.
Additional Choices from VanceAI
VanceAI offers a wide range of photo editing tools that cater to various image-related issues. The Workflow feature enables users to combine multiple VanceAI tools, creating a more comprehensive solution. For instance, VanceAI Image Enhancer and Image Sharpener can be used together to improve image details and sharpen the output.
VanceAI Image Denoiser is another tool that effectively removes noise and film grain from images, resulting in a cleaner and clearer output.
In addition to photo editing tools, VanceAI also provides a free online PDF processing tool called VancePDF.com. It offers a convenient and simple way to modify and edit PDF files, such as splitting or merging pages, converting them to various other formats, and more.
Related posts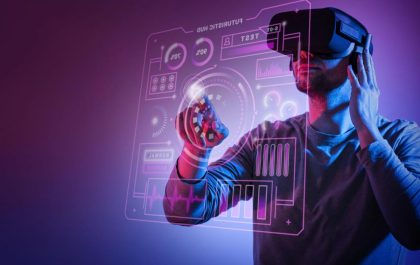 Top 10 Business Tech Trends of 2023
For organizations to succeed in the fast-paced world of technology, being ahead of the curve is crucial. Staying current on…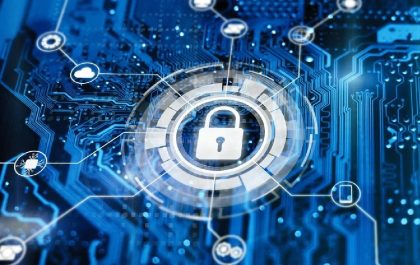 Cyber Security Behind NFTs: Are You Safe?
With the rise of cryptocurrencies, we've seen all kinds of digital assets hit the market. NFTs were a craze a…