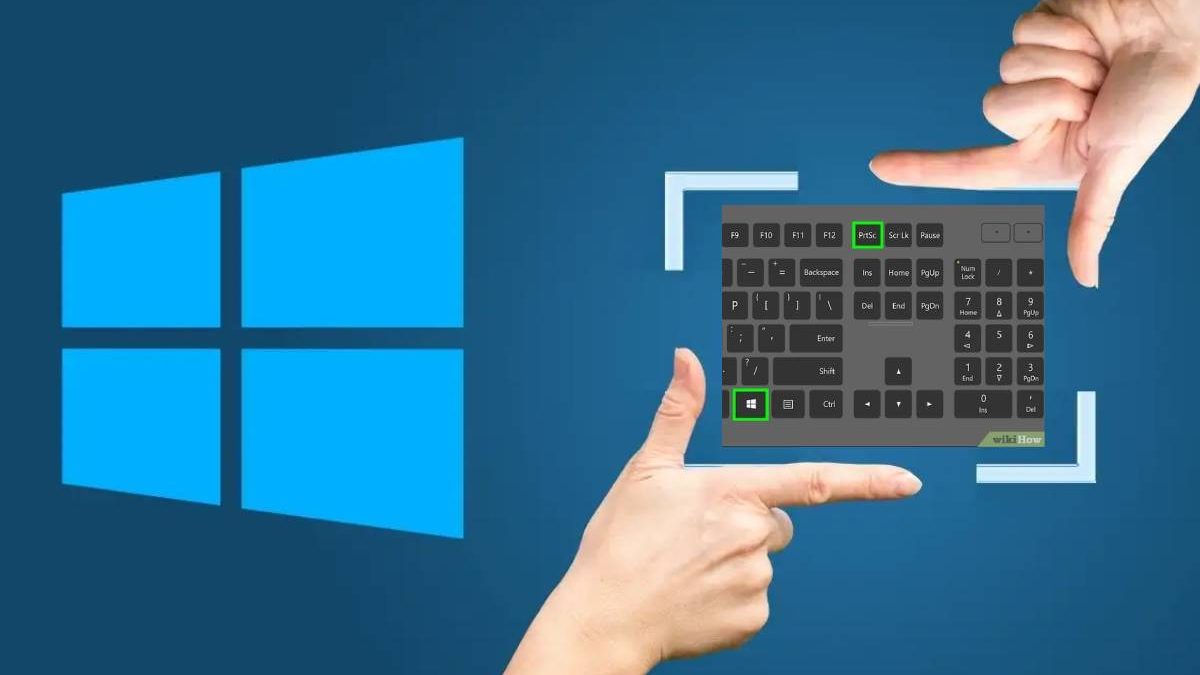 Windows users typically use Windows Snipping Tool or its new replacement called Snip & Sketch to take screenshots in Windows.
Even though they are both decent screen capture tools, they don't really make screenshots look beautiful and they don't offer an easy way to share screenshots, either. This is where third-party tools such as the new freeware app called ScreenshotX can come in handy.
Screenshots on Windows can look beautiful
What even is a beautiful screenshot, you may ask. Typically, screenshots are as interesting or as boring as the actual image content of the screenshot. As this is the norm how screenshots have always been, most people don't really care about how their screenshots look like. Especially since making a screenshot look pretty is very difficult with the usual screenshot tools.
However, with the rise of social media usage and the need to produce aesthetically pleasing content faster and in high quantities, Windows built-in snipping tool apps might not be the perfect solution for everyone anymore.
Take a quick look at these two screenshots: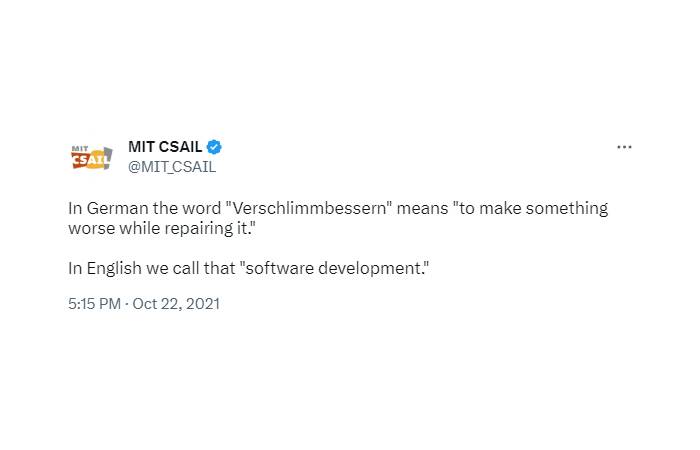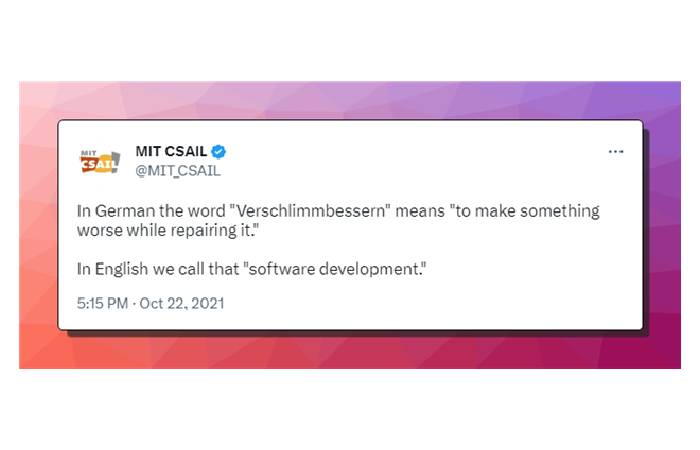 Between these two, which one of those looks more interesting and better suited for posting to social media or a website?
The first picture was captured using Windows Snipping Tool, while the second picture was captured with ScreenshotX.
This is what beautiful screenshots mean.
ScreenshotX, a freeware app to take beautiful screenshots
ScreenshotX is a lightweight and free tool to snip beautiful screenshots on Windows quickly and easily. It's not jam packed with advanced features, instead, its focus is on being lightweight, easy and fun to use.
The program automatically generates backgrounds you can use with the screenshot and chooses a best fitting style for it. Of course, you can also customize the screenshot's details, such as the background area's size, the drop shadow effect, corner rounding radius and so on.
Not only pretty – Sharing screenshots is also now easy!
In addition to easily creating beautiful screenshots, ScreenshotX also provides one-click sharing of your screenshots.
After you have taken a screenshot, you can simply click the Share button, and your screenshot is uploaded to Screenshotx.com's server and you are given a link that can be used to access the shared screenshot.
You can simply give the link to anyone you want to share your screenshot with, only people who you give the link to can view the shared screenshot.
The screenshot sharing feature doesn't require registration or account creation. The shared screenshots are stored online by default for 30 days, or until you delete them.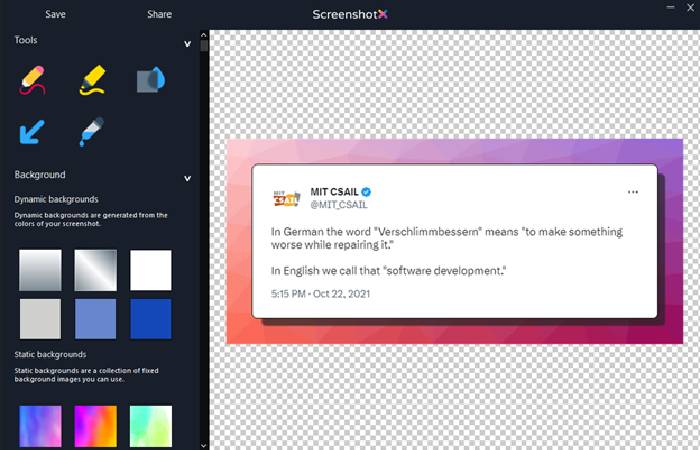 Key Features
Take a free form snip or full window screenshot
Quickly share the screenshot with just one click
A selection of beautiful backgrounds to be used with the screenshot
Edit the screenshot with a brush or highlight tool
Extract colors from the screenshot using the color picker tool
Retract sensitive information from the screenshot with the blur tool
The program's user interface supports dark mode and light mode, and comes with 21 translations including English, Chinese, Czech, Danish, Finnish, German, Greek, Hindi, Indonesian, Japanese, Korean, Malay, Norwegian, Portuguese, Romanian, Slovak, Spanish, Thai, Turkish, Ukrainian and Vietnamese.
Save the result as PNG, BMP, JPG, and TIFF file format, and also in WEBP file format if you share the screenshot.
ScreenshotX was launched in early March 2023 and has been trending in theDesign Tools category in Product Hunt. The program has been downloaded over 50 000 times since its launch.
The program is available both as a normal Windows application as well as a Portable version. The Portable version is simply one executable file you can copy and run within any Windows system and it doesn't modify the computer in any way. After you are done using it, you can just delete the executable file as no other uninstallation process is required.
ScreenshotX is very lightweight, with about 3 MB in size and it supports Windows 11, 10, 8 and 7. ScreenshotX is freeware.
You can try and download version 1.1 of ScreenshotX from its website: https://screenshotx.com/
Related posts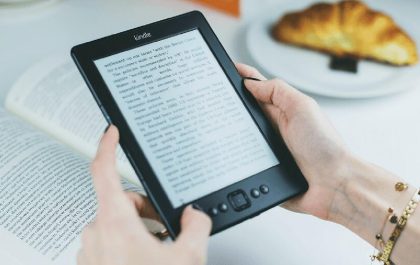 6 Ways to Create an eBook Faster
Discover six transformative methods to accelerate your eBook creation process. Dive into a blend of modern technology and classic strategies…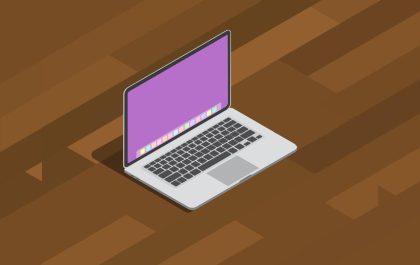 Tips for Choosing the Perfect Desktop Docked Search Utility App
Tips for Choosing the Perfect Desktop Docked Search Utility App In the business world, efficiency is the key to success….