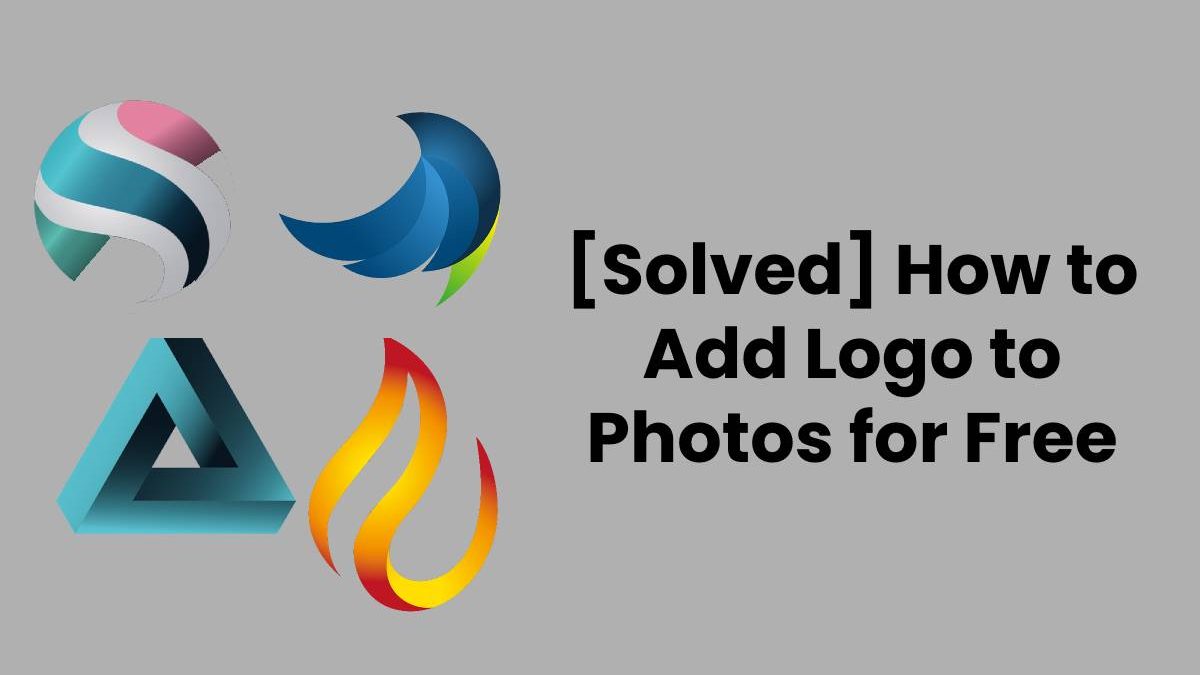 Solved How to Add Logo to Photos for Free
How often do you see an adorable and unique image on Twitter or other social media, and other accounts post it and claim to be the creator. This situation can not be said to be plagiarism. It can be directly defined as picture theft. This is the last thing an original writer wants to see. Worse, they even took the liberty of putting their name on the picture before posting it. These actions not only infringe on your personal property ownership but also hurt one's self-esteem. But it can be challenging to sue for your rights, considering that even if you are the original author, you don't have any proof. The best way to do this is to add a logo to your photo. But how to add logo to photos easily and efficiently?
With the rapid development of technology today, it is not as technical as before to add a logo to an image. Everyone can do it on their own. Just found the corresponding image editor. You can easily add your picture to the desired pattern or text as a watermark. Save time and effort at the same time. To help you skip the whole process of finding the perfect tool, we have already made an excellent list of free image watermark tools for you. All the methods on this list have been proven to be available and easy to use. So you don't need to worry about where to find one. We have delivered it in front of you. You need to check this detailed tutorial and pick the one you like best to make your Image right.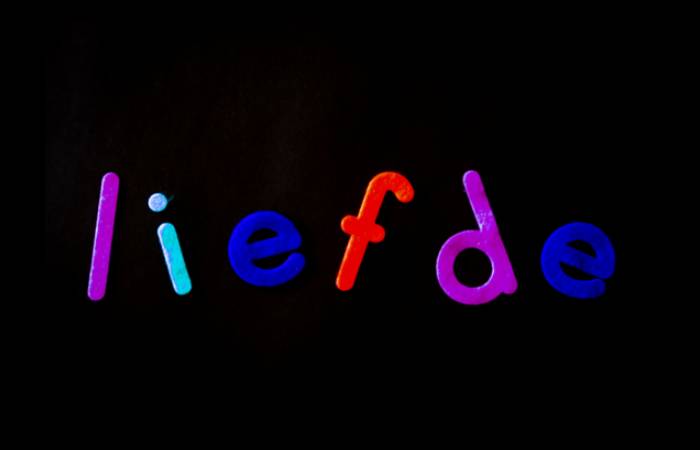 How to Add Logo to Photos for Free
Adding a watermark to photos can be a very painful torment for some people. Even though many free online tools on the Internet allow users to add logos to images, the quality is not high. Plus, most free software has limitations. They either automatically add their own logo to your photo or set a limit on the size of the image you enter. So technically, you're not free to use these products. Considering that, we list two free methods on the desktop and one on the phone. The first way is to use WorkinTool Watermark Eraser.
1) WorkinTool Watermark Eraser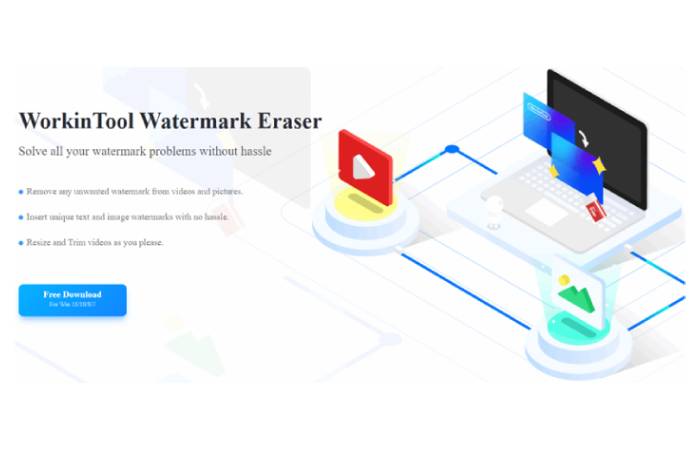 WorkinTool Watermark Eraser is a very versatile watermark tool to help you solve the problem of how to add logo to photos. Just because it's called a watermark eraser doesn't mean it can only remove watermarks. Its built-in features are so powerful that they include everything you need to know about watermarks and are already enough for your watermark needs. In addition to its functions, the operating system and interface are also designed to be very convenient. No more unnecessary content, simple and clear to tell you where you can find what you want and get the job done quickly. Perfect for users who don't have any image-editing experience. Honestly, it's a hundred times easier than Photoshop for the same effect.
With the help of this software, you can easily add watermarks and remove watermarks from images and movies. It offers users to custom the style and size to add or remove watermarks. You no longer need to find another answer on how to add logos to photos. Except for these features, you can also use this tool to resize and trim videos if necessary. Now, let's dive into how to add logos to photos using WorkinTool.
Feature in Use
Since the logo is part of Watermark, the first thing we'll see when we download the software is that the main interface is broken down into eight basic features. WorkinTool has placed watermark-related functions at the top of the screen and others are at the bottom. You need to find the Add watermark to Image button.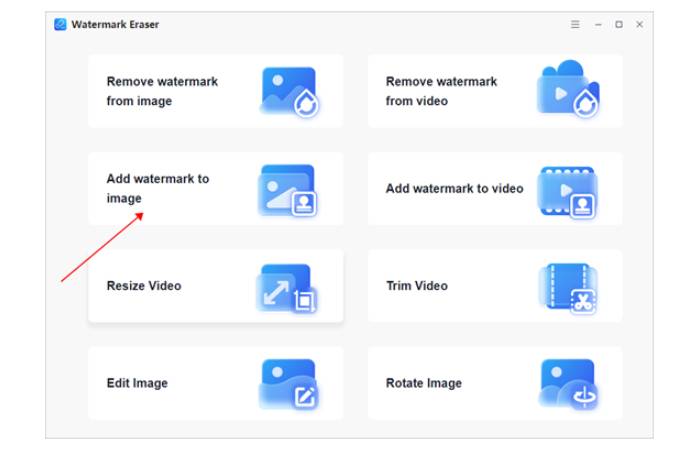 First, click on Add watermark to Image, select it and upload the photo you want to watermark.
Select and upload the photo you want to watermark.
Tap the Upload image watermark button to add your logo.
You will see that WorkinTool has offered four different watermark options.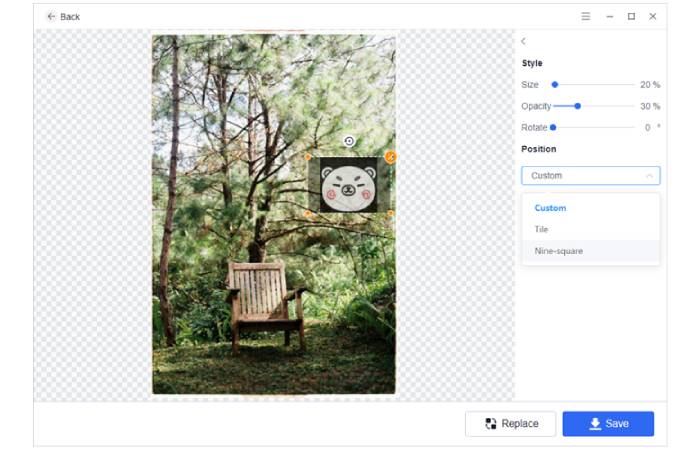 In addition to the top three different style options, you can adjust the logo position in the picture.
| | | |
| --- | --- | --- |
| Custom | Tile | Nine-square |
| Set the actual location of the logo by dragging it around the image. | Flatten the logo into the target image. Users can customize the spacing between logos and move them left and right. | Divide the target image into nine sections and insert the logo into any of the nine sections. |
Move the scope of the picture to control the extent it needs to adjust.
Adjust Size, Opacity, and Rotateoptions to insert the desired logo into photos.
Once you're done, click Savebelow or re-select another image to add symbols.
2) Microsoft Paint
Let's say you don't want to download any third-party software to handle images, and you want to know how to add logo to photos. Maybe you can try this method. MS Paint can also help you solve this watermark problem to some extent. Paint is a built-in essential drawing tool to help users make some simple drawings and paints. It also offers some image editing functions to get the desired effect. But I have to say that, with the times changes, it has not kept up with the update. Many functions have been very backward and not practical. You can still use it if you just insert the logo without touching anything.
Feature in Use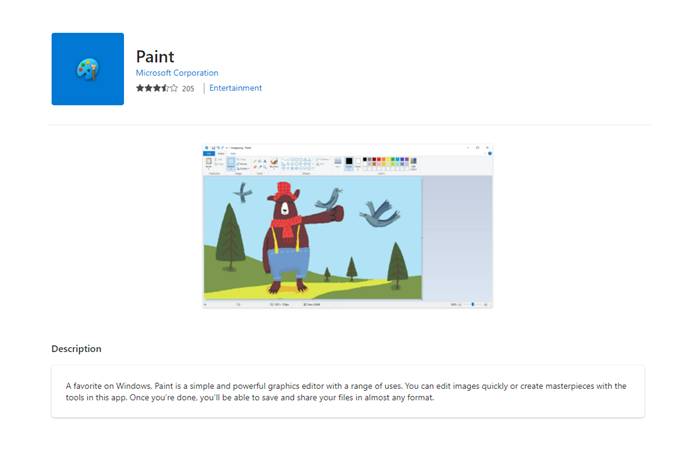 Generally speaking, when you buy a computer, it comes with the tool in the Windows system. If you can't find this feature, try searching for it in the Windows 10 search bar. If not, you can search the MS store for the tool and download it on your computer again. Its operation is mainly divided into two parts, so let's explain its flow now.
Part 1:
Open your logo using the MS Paint tool.
Click the Select option and box the logo.
Right-click on the pattern and choose Copy.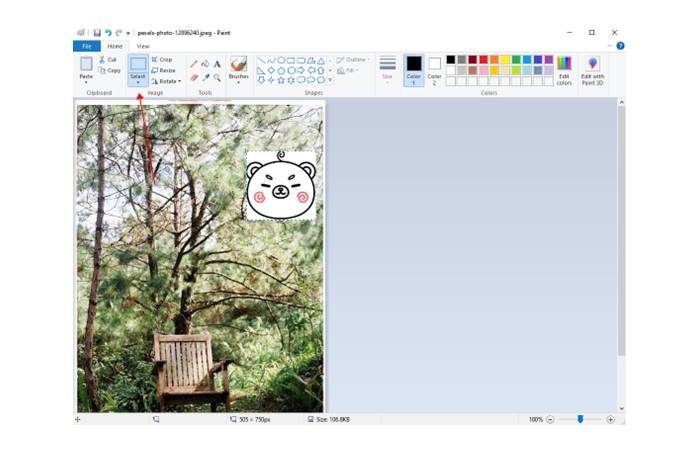 Part 2:
This time, open the targeted photo with MS Paint tool.
Right-click on the image and paste the logo on it.
Adjust the details and then you can save it now.
Bonus: How to Add Logo to Photos on Phones
If you don't care about the logo, or you don't have a logo yet and just want to mark your ownership on the image, then using your phone to add a watermark is also a very feasible way to do it. You don't need to install any application, and using the built-in Photo app can do it right away. It works both ways on Android and iPhone.
Feature in Use
Open the built-in Photos app to find your picture.
Select Edit and then select Markup.
Please create your watermark, it could be a logo or text.
Click on the √ icon to save it.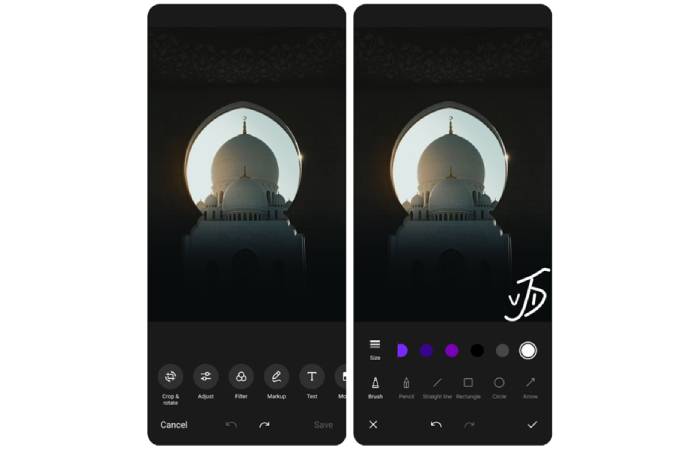 Conclusion
In this post, we have made a list of methods on how to add logo to photos to help you prevent image theft from others. We have provided you with two available methods working on your Windows desktop and one bonus way to add watermarks to photos on your phone, which is convenient both on Android and iPhone. So, if you don't have special needs on logos, I guess these three ways are already enough to put your label on all your works.
Related posts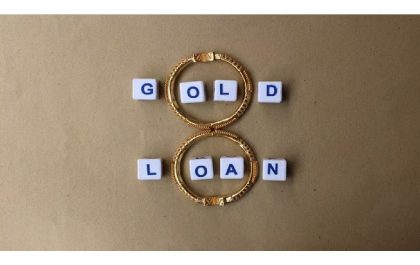 Benefits of Using a Gold Loan Calculator
Are you looking for a convenient way to secure a loan without sacrificing security? A Gold Loan Calculator can provide…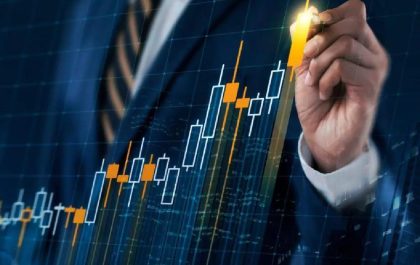 TechBerry Review: A New Way Of Social Trading
From the recent coronavirus outbreak that we just experienced a few years ago, one can learn how important it is…