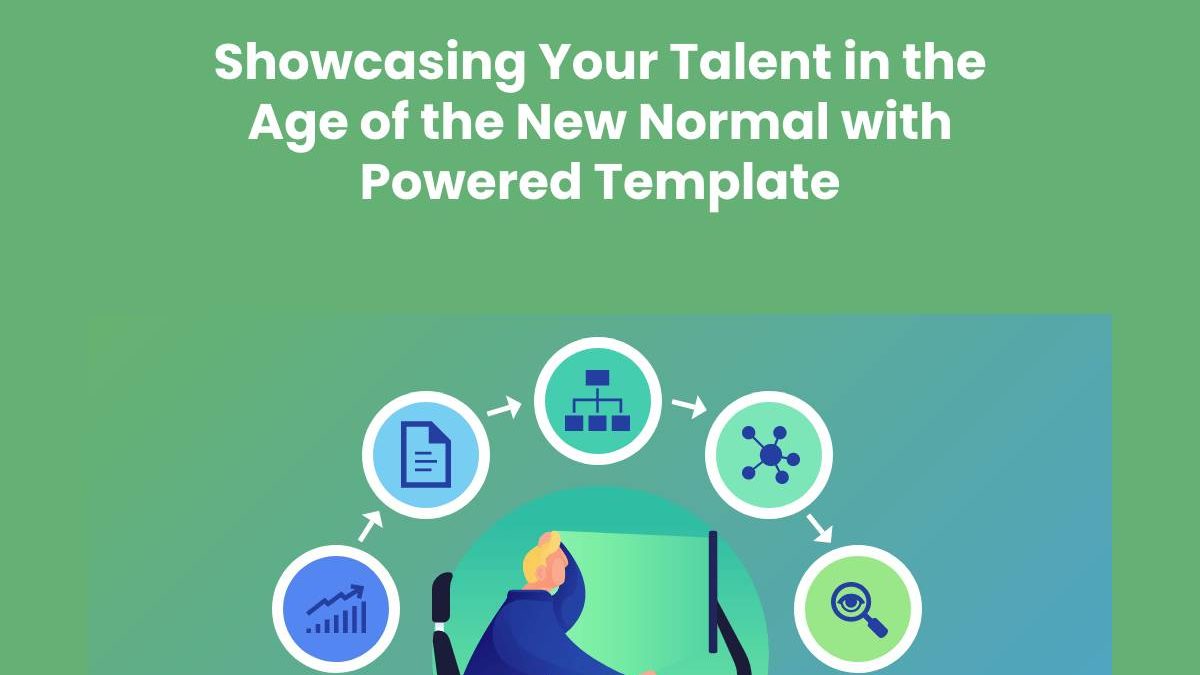 The Covid-19 pandemic may have brought with it unprecedented disruption, but it also helped to propel many personal businesses into the age of remote collaboration and tutelage.
Platforms like Upwork and Fiverr have helped individuals to make themselves their very own brand. Today, more than ever before, the potential offered by self-employment and freelance work is huge.
However, with growing gig economy markets comes greater competition. How is it possible to stand out from the crowd in a job in which clients can enlist help from all around the world?
Through Powered Template's array of high-quality ready-prepared graphic designs, it's possible to build beautiful brochures, attractive portfolios, and eye-catching digital business cards in a matter of minutes – all at a price that suits you.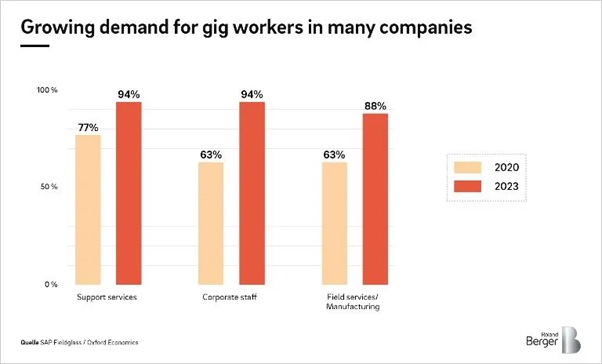 As the chart above shows, the demand for gig workers is set to increase exponentially across many fields over the coming years.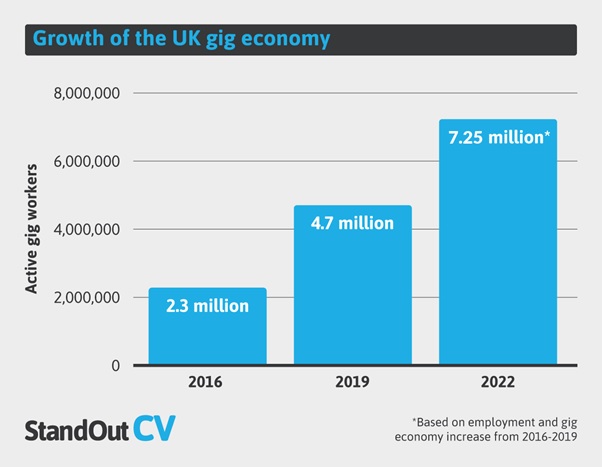 However, as the gig economy market grows, so too does the volume of people occupying the space. In 2022, it's estimated that the gig economy in the UK alone will be populated by 7.25 million self-employed workers. This shows that workers are likely to need to do more to stand out from the crowd effectively.
How Powered Template Provides Innovative Solutions to Branding
With Powered Template, it's possible to effectively market yourself through beautiful materials like brochures, portfolios and business cards, all with the help of strong, graphic design templates.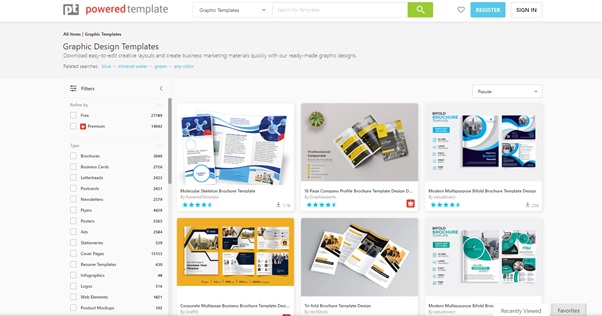 Powered Template possesses a huge catalogue of over 40,000 graphic templates for users to download and make their own. These templates include brochures, business cards, letterheads, postcards, newsletters, flyers, posters, advertisements, stationeries, cover pages, CV templates, infographics, and even logos.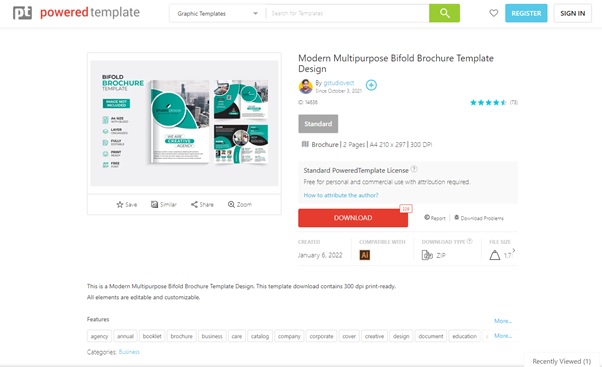 Let's take a deeper look at how Powered Template showcases its graphic designs. Here, we can see that the template is made easily discoverable through the use of categories and searchable terms.
We can also see which platforms the template is compatible with. In the case above, we can see that the file works with Adobe Illustrator – although there are plenty more designs available that can also be compatible with Microsoft Word and Publisher, Adobe InDesign, CorelDRAW, and even QuarkXPress.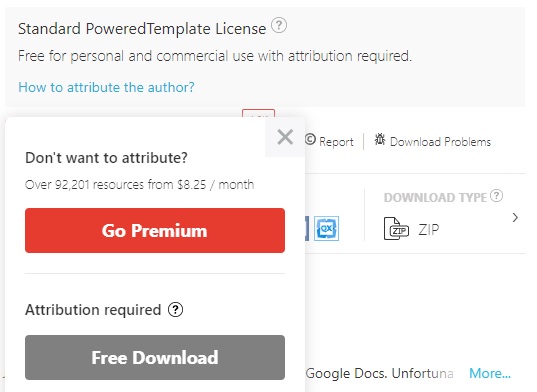 As we can see from the image above, many of Powered Template's files are free to download provided that they come with a suitable attribution within the content.
Although this may be tricky when producing smaller business cards, the platform does offer premium options that are so heavily scalable that users can adapt with ease to a subscription plan that suits them.
When a user has discovered a template that offers the right compatibility for their chosen platform, the content can be downloaded as a ZIP file to be extracted later on.
Make a Strong Impression at Affordable Prices
Although Powered Template possesses a wide range of free choices when it comes to its haul of graphic design options – over 27,000 to be exact – there are now over 14,000 high-quality premium options to be picked up by registered members of the site.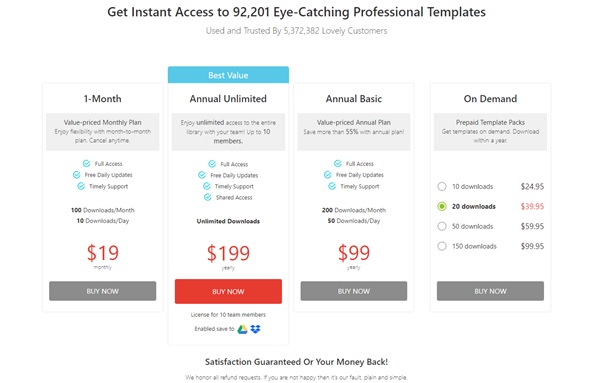 As we can see from Powered Template's pricing structure, there is a significant range of different options that users can utilize. For instance, there's the low-budget monthly subscription for infrequent users, with solutions that grow all the way to a high-end unlimited option that enables a more comprehensive selection across the platform.
In an innovative move, Powered Template has also created an on-demand solution for users who don't wish to formally sign up. This option means that 10 templates can be downloaded within a 12-month time frame for $24.95 – offering greater control over downloads and more choice for less.
With more content being added to the site on a daily basis, your value for money will only grow each day – whether you intend to be a casual user or use the platform to help you to create branding materials regularly.
Constant Support
Another key perk of Powered Template is the website's Live Chat function, which allows users to quickly get in touch with an expert in order to run queries by them and get instant answers.
Powered Template's Live Chat function has helped to take some of the complexity out of individuals promoting themselves as a brand. When working in the gig economy, time is often always of the essence, and the notion of being your own marketing department alongside your gig work can be a difficult balancing act.
When looking to build a brochure of your works online, or when attempting to build a new logo, there can be nothing worse than a technical error that requires expert help.
In offering a Live Chat function, Powered Template picks up the slack related to this process and looks to put minds at ease.
Life as a freelancer can be a tricky challenge at the best of times, but with Powered Template, individuals get the chance to become their own brand and produce beautiful visuals to win new clients and customers – helping them to navigate the hyper competitive landscape in the age of the 'new normal.
Related posts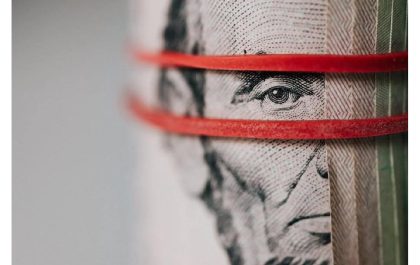 The Transformation of Deal Flow Management Through Specialized Software
Deal flow management, the intricate process of tracking and evaluating potential business or investment opportunities, has undergone a substantial metamorphosis…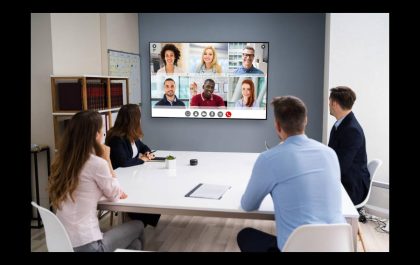 3 Benefits of Using a Good Boardroom Software
Board software, commonly known as boardroom management software, influences how a company's board of governance can access information. It facilitates…