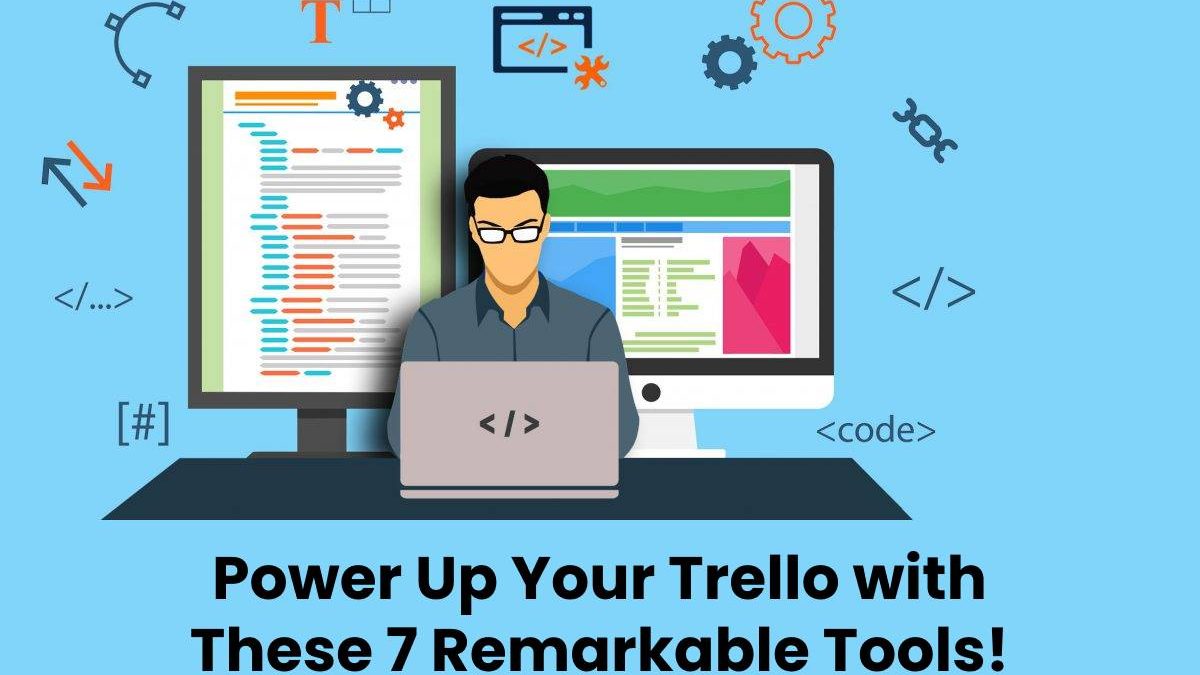 Power Up Your Trello with These 7 Remarkable Tools!
Trello is an incredible project management tool that helps teams to streamline their projects and collaboration. It's easy to use and highly adaptable, which is why businesses worldwide use it to up their project management game. While Trello is already a game-changer, you can make it even more powerful through a host of power-ups.
Trello power-ups are essentially integrations with other online tools. They help you sync your work across different work apps, allowing you to save time and improve productivity. You can even integrate it with you BPM software, helping to automate your document workflows.
Although hundreds of these tools are available, we will discuss the best Trello power-ups for productivity to help you achieve great heights in the corporate world.
Let's dive in.
Rewind Backups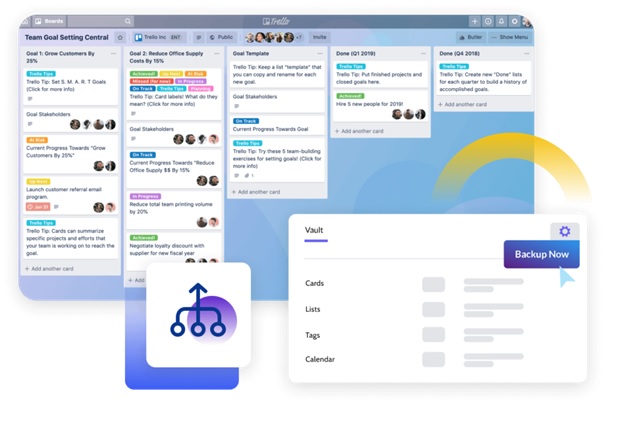 Bugs, malware, theft, human error – data loss can occur for many reasons in Trello. And it has grave consequences for businesses relying on Trello. For example, you lose hours and hours of intensive work. Your confidential information becomes at stake. And most importantly, clients stop trusting your firm.
With Rewind, however, you can make data deletions in Trello a thing of the past. This incredible tool automatically backs up your Trello data every 24 hours and protects it using several layers of security.
So, next time you experience data loss due to theft or unintentional mistake, simply retrieve your data from Rewind Backups.
Top Features
Integrates flawlessly with Trello to protect your business data
Daily automated backups
Multi-user support
On-demand recovery of cards, boards, lists, and attachments
Unlimited version history so you can access old copies of your files
Card Aging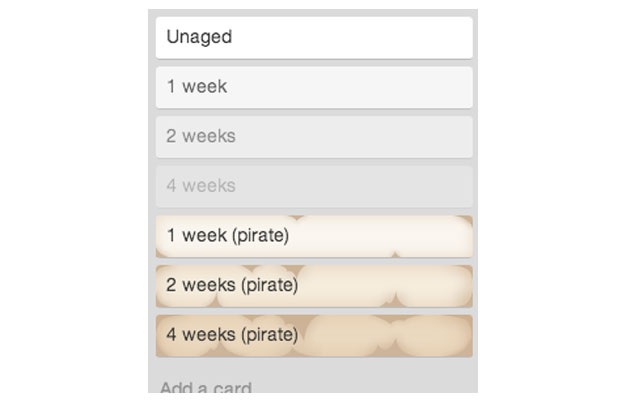 Keep track of your most active and least active cards with Card Aging. This incredible power-up shows recent activity on your Trello cards so you can see which projects are moving ahead smoothly and which ones are lagging behind. Consequently, you can identify stalled tasks and resume working on them before they become a can of worms. Make your project management leaner by implementing this power-up.
Top Features
Save time by seeing your active and idle cards at a glance.
Available in regular and pirate modes. In regular mode, the inactive card will fade out, while idle cards will turn yellow and tear apart in pirate mode.
You can see when a card was last updated with a single click.
Card inactivity age threshold is 1, 2, and 4 weeks.
Teamup Calendar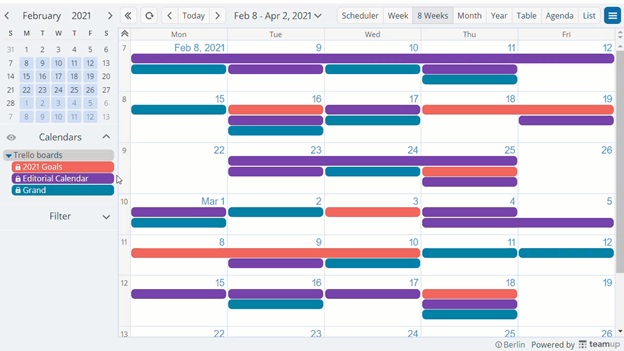 Have you ever scheduled multiple business meetings in the same time slot? Whether it's with an influencer and organizing your campaign's hashtags on Instagram to planning a pitch deck training to wow potential investors, this power-up helps prevent meeting conflicts from happening.  If yes, you know nothing is more frustrating than a conflicting schedule. And this typically happens to people who manage several teams or projects. Make sure you don't feel the pain of double-booking again with Teamup's calendar power-up for Trello.
It's a popular Trello calendar power-up that helps you avoid holdups due to intermingling deadlines. You can see cards through calendar view to plan timelines and compare important dates with major deadlines to improve your team's productivity.
Top Features
Unified calendar view so you don't have to move back and forth between different boards.
Calendar filters to quickly search and sort the data you need.
Customized calendar view for different users.
Event webpages to share details with your team, clients, or contractors securely.
Mobile app for Android and iOS devices to keep you updated on the go.
SendBoard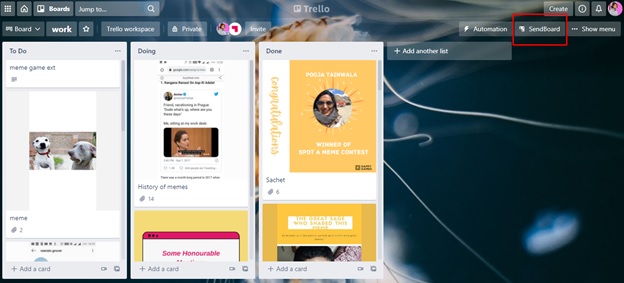 SendBoard is another exceptional tool on our list of best Trello power ups for productivity. It's a unique power-up that lets your entire team send and receive emails using a shared account. Every email arrives as a card to which you can reply from Trello's advanced email editor containing numerous fonts, reply templates, custom email accounts, signatures, and plenty more.
Top Features
Send and receive emails without leaving Trello.
Manage your tasks, workflow, and emails in one place.
Countless email templates to save time and delight recipients.
Email and task automation to make life even easier for you.
Board Sync
Keeping up with all your boards can be taxing when working on multiple projects or with various teams. This is because it requires you to switch between boards constantly. And often, you find yourself forgetting what board has which card. For example, you might want to boost overall growth by having the support, dev and marketing teams collaborate on campaigns that can help reduce support tickets, improve conversion rate,  decrease churn, automate your helpdesk, further social proof and website trust, and subsequently increase revenue.
Fortunately, Board Sync is here to make life easy for you. This excellent tool syncs data from Trello cards, lists, boards, attachments, comments, etc., to other boards, making sure they are visible in more than one place simultaneously.
Smart business owners use this power-up to integrate workflows from SaaS tools, assign tasks to team members, and provide stakeholders with maximum visibility in a clean online environment.
Top Features
Mirror cards between two boards to ensure updates made in one board automatically get reflected in the other.
Centralized cards to help you track data between multiple boards without having to switch between them.
Executive overview boards – contain only those cards that managers oversee, saving you the effort of manually copying them from other boards.
Google Drive
Store your files & folders in Google Drive without leaving your Trello board with Google Drive power-up. It's a convenient booster pack that helps you get the most out of Trello. For example, you can access your Google Drive, add files/folders as attachments, preview them, and see who updated a file and when all within Trello.
Another major perk of this power-up is that you can turn your Trello board into a presentation deck with just one click. This is an incredible feature for people who rely on Google Slides for presentations.
Top Features
Built-in file search, enabling you to attach files and folders from Google Drive to a Trello card.
Real-time updates on files and folders attached to Google Drive or Trello cards.
Freedom to turn your Trello board into a Google Slides presentation.
Blue Cat Reports

Visualize and analyze your Trello data with Blue Cat Reports. It's a simple yet robust tool that lets you build analytical reports featuring past performance. Companies typically use it to monitor the weekly or monthly performance of their teams.
If you are looking for a way to improve your own and your crew's productivity, then look no further than BCR.
Top Features
Report creation across multiple Trello boards.
Data visualization through various charts (pie, bar, historical, etc.)
Email scheduling to receive daily, weekly, or monthly reports.
Easy setup.
Task tracking across multiple boards, and more.
Bottom Line
So, these were some of the best Trello power ups for productivity. But the list doesn't end here. There are hundreds of such tools available to help teams perform all their professional tasks within Trello. So, do your research and pick the tools you believe will take your team's productivity to the next level.
Related posts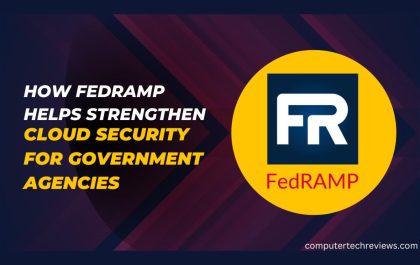 How FedRAMP Helps Strengthen Cloud Security for Government Agencies
In an age where digital transformation is reshaping the way governments operate and deliver services, cloud computing has emerged as…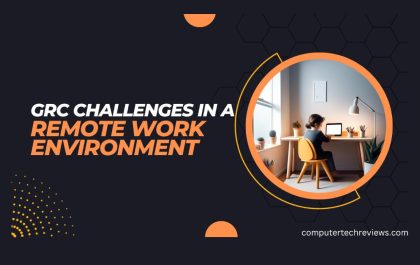 GRC Challenges in a Remote Work Environment: Navigating New Risks and Opportunities
The global workplace landscape underwent a seismic shift in 2020 when the COVID-19 pandemic forced organizations to rapidly embrace remote…