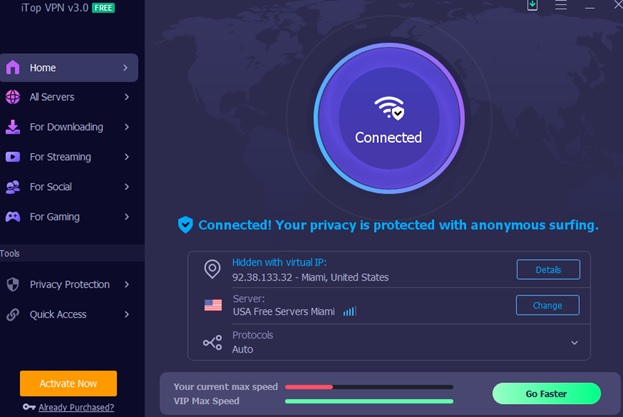 iTop VPN Review from User Point of View
People are more insecure than ever before in this day and age. Hackers, corporations, and government agencies are becoming increasingly comfortable with accessing your personal information and utilising it to persuade you to engage in unethical behaviour. A good VPN can protect you against the threats, for example, to use iTop VPN.
iTop VPN is a new VPN service that is attracting the attention of VPN users all around the world. It was launched in 2016 by iTop Inc., and its free VPN software has been used by more than 20 million people throughout the world since then. It's now accessible on Android, iOS, and Windows, with Linux and MacOS coming soon.
Internet privacy is a major concern in nations like Egypt, China, and Hong Kong, and it can lead to a slew of difficulties. Even in countries like the United States of America, unethical acts by various security agencies have been observed. Officials utilised the knowledge to manipulate people and commit the most heinous security and privacy violations imaginable.
It is now offering a free version with access to 16 servers and a data bandwidth restriction of 700 MB so that consumers may see what iTop VPN has to offer.
The paid iTop VPN membership provides you access to 1,800+ servers in 100+ locations across the world, all of which are dedicated to providing their customers with security, privacy, and safe access to geo-restricted content.
Furthermore, iTop VPN provides exceptional speeds for internet browsing and binge-watching, as well as a lag-free surfing experience without any interruptions.
Furthermore, it does not keep any kind of user logs. iTop VPN does not gather, maintain, or store any of your data in order to sell it to third parties. The only data that iTop VPN stores is for billing purposes, and this data is insufficient to follow anyone.
Features
The following are some important features that every VPN should have:
Complete no-logging privacy policy.
Kill Switch feature.
Leaks protection (DNS & IP).
256-bit AES encryption.
Security protocols like OpenVPN, WireGuard, IKEv2, etc.
All of the above capabilities are included into iTop VPN, which keeps your internet traffic safe and secure.
If you want to try them out with a few other VPNs, you'll have to take advantage of their 30-day free trial period.
iTop VPN does not include any protocols in their service. It takes care of that by adding extra security features to the device on which you'll be using your iTop VPN.
Browser Privacy
The Browser Privacy function allows you to delete all of the caches, traces, and cookies that your browser may have stored. It's a necessary function because hackers can occasionally gain access to your device through information left or kept on your browser, resulting in data leaks and online privacy concerns.
Security Reinforce
By blocking harmful programmes, shutting off remote access, and deactivating your router's port forwarding feature, the Security Reinforce feature improves your network security and protects your internet browsing.
Ad Blocking
iTop VPN's adblock feature filters all forms of potentially hazardous adverts, pop-ups, and advertisements. This safeguards the user against clickbait, malicious malware, internet theft, and frauds.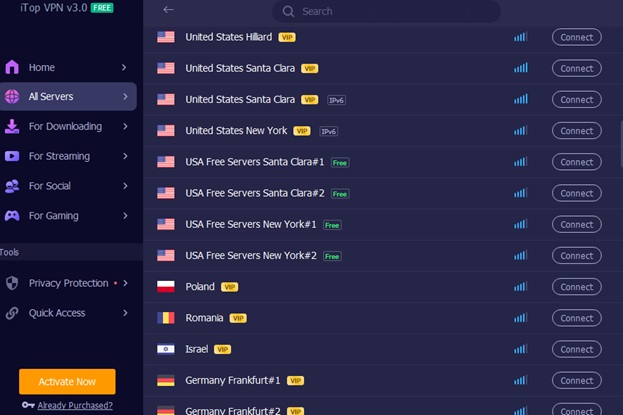 Benefits
Allows unlimited data bandwidth with1800+ servers
Connection speeds are great for streaming video online
Fantastic no-logging policy.
Efficient Kill Switch.
Virus & Privacy Cleaning
Low Cost
AES-256-bit Encryption
Special Servers for Social Media, Gaming, & Streaming
Block Trackers & Malware
Drawbacks
Limit on bandwidth in the free version (700 MB).
Limited platform support
Connection speed can be slow sometimes in free version.
Needs DNS protection
Security can be enhanced.
Speed and Performance
Even the free edition of iTop VPN maintains astonishing performance. According to iTop VPN's official website, if we subscribe to their paid membership plan, we will enjoy 10x quicker speeds since all of the fastest servers will be enabled and we will have access to all of them.
iTop VPN provides fast speeds without limiting internet consumption. It is also an uttermost delight for all users because they have 1,800+ servers in 100+ places. If someone is experiencing slow connectivity, they can connect to a fast VPN server by switching to a different server in a different or exact location.
iTop VPN Customer Support
iTop VPN provides outstanding 24/7 customer care to all of its VPN users, allowing them to ask them anything at any time of day. They've put together skilled teams just for the aim of answering their customers' questions.
Final Opinion
Without a doubt, iTop VPN is a fantastic free VPN. However, the lack of a VPN security protocol in their product may drive users to abandon it, as most VPNs combine encryption and security protocols in their creation to provide a balanced and rock-solid security foundation for their users' online activities.
Despite the lack of such security protocols, iTop VPN is a fantastic beginner-level VPN that everyone should try at least once. If you're searching for a well-built VPN, it checks all the boxes.
Related posts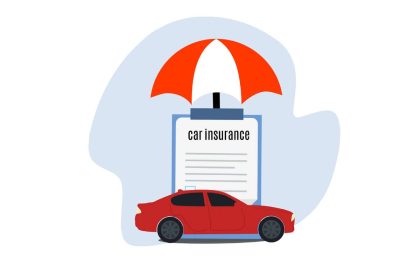 Is Zero Depreciation Car Insurance Worth the Investment?
When it comes to safeguarding your vehicle, insurance stands as a pivotal consideration. Among the multitude of insurance options available,…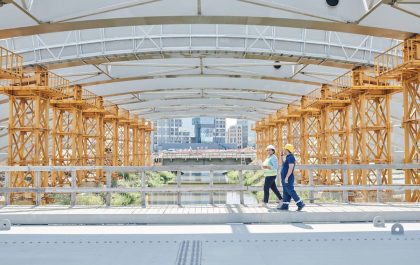 Streamlining Construction Projects with Managed IT: A Game-Changer for Efficiency
In the fast-paced world of construction, efficiency isn't just a buzzword—it's the cornerstone of success. Imagine a world where project…