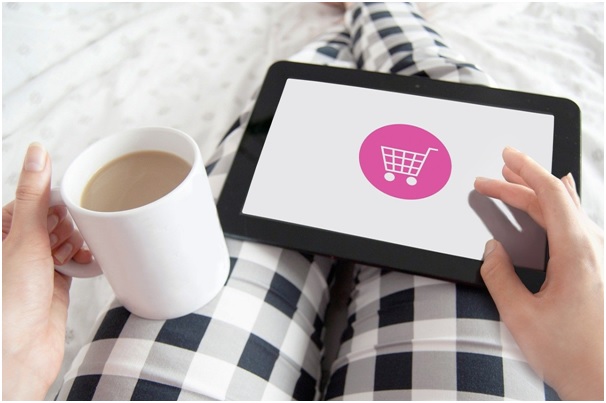 How to Build a Marketplace Website
Marketplaces are one of the logical implementations of the idea of a sharing economy. However, the main advantage of developing a marketplace is not only that this idea resonates well with the values of modern users. It is also an excellent and almost zero risk business model, plus the number of ideas that you can implement using the marketplace is almost unlimited.
Let's find out how to build a marketplace while doing in the most reasonable way.
What Is the Marketplace?
In simple words, a marketplace is a site that brings together sellers and buyers of a product or service in one place. This is an intermediary between the seller and the buyer, who is responsible for ensuring that they meet in one place (with the help of proper marketing targeting both groups), are able to sell and buy goods (using the developed functionality), and leave feedback about this cooperation for future customers.
Here are some interesting statistics proving that a marketplace is a win-win option for sellers, buyers, and creators at the same time.

B2B vs P2P vs B2C Marketplace  – What Is the Difference
Despite the fact that the definition of a marketplace is universal, there are several types of marketplaces in the modern market.
B2B marketplace is a website where buyers and sellers are companies and enterprises.
P2P marketplace is a website or application where buyers and sellers are individuals.
B2C marketplace is a classic solution when many companies offer their products to many customers, usually individuals.
B2A or e-procurement marketplaces. In this case, the marketplace works according to the business to administration model, that is, government agencies buy goods or services from local businesses
As you can see, the only difference is in the characteristics of sellers and buyers using marketplaces. Let's look at examples and everything will become clear to you right away.
This is a classic b2c marketplace with which companies from all over the world can sell their products to customers from any country. Analogs (or competitors) are Alibaba, eBay, Rozetka.
This is a p2p marketplace where artists can sell handmade products to other people.
Prozoro. This is a Ukrainian e-procurement solution that allows businesses to honestly receive orders for goods or services from the state through a tender system.
In addition, it is also possible to classify marketplaces depending on the type of product or service that buyers and sellers exchange with their help. Here is a visual classification with examples.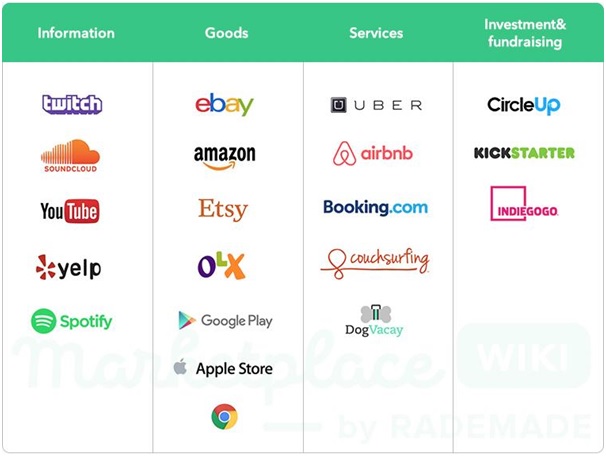 How Do Online Marketplaces Make Money  – Business Model
A marketplace works as a connecting link between companies and individuals. The marketplace is a mediator, so to speak, this is a meeting place for two interested parties. However, do you know what is the best in this business model compared to an online retail store, for example?
The best thing is that your area of ​​responsibility is much narrower than if you were creating a full-fledged store. In the case of the marketplace, you cannot be personally responsible for the quality of goods or services, and the rating of each seller is formed thanks to feedback from real customers. And perhaps this is the most honest way to compete within the marketplace.
However, there is a flip side to the coin. According to the research by the Institute of Logistics and Warehousing, "there are many disadvantages, such as very strong competition from numerous sellers in one place, becoming dependent on this sales channel, and neglecting the growth of the seller's own online shop".

As for the process of making a profit, as a rule, the marketplace receives a small commission from each transaction. That is, you, as a creator, are interested in the maximum number of transactions taking place on the marketplace every day. Here are the features you need to create in order to build a marketplace.
Main Features You Need to Develop
| | |
| --- | --- |
| Login and sign up | This is the first function with which interaction with any site begins. |
| Buyers and sellers profiles | The buyer's profile may be standard. As for the profile of the seller, it can be more advanced, for example, with capabilities for analytics and storage of user data. |
| Shopping cart | This is another mandatory element without which purchases in the marketplace are impossible. |
| Search, wish list, features for comparison | These are additional features in the customer's profile for the convenience of using the platform. |
| Payment system integration (escrow for ex.) | The marketplace should be integrated with popular online payment systems, plus, it is possible to add an escrow feature when the money is frozen in the buyer's account and sent to the seller after the product or service is received. |
| Delivery system integration | This feature is needed for better user experience so that the buyer immediately understands the feasibility of delivery. |
| Fraud detection systems integration | E-commerce fraud detection system is able to make your marketplace a safer place to make transactions. Being powered by AI and ML, these systems provide top-notch security for all the platform's members. |
| Reviews | The marketplace must have a section for reviews. Thus, the rating of each seller will be objective – this is a definite plus for building confidence among the future buyers. |
| Multilingual version (if you are going to sell abroad) | If you plan to attract sellers and buyers from around the world, such as Booking or Uber, it is necessary to have multilingual and multicurrency versions of your website and app. |
Ways to Build a Marketplace
If you want to build a marketplace, you may choose one of the three basic ways to do it.
This way may be the most expensive one especially if you are going to work with top development companies from the USA. However, you may be sure of the highest quality of services and the final result, and you will be able to personally control the whole development process as well.
Gather a freelance team
This is the most time-consuming way since you will be forced to gather, control, and manage your team (the members of which may live in different time zones and have no teamwork experience) independently. Surely, the final price will be lower compared to the first option but there will be a lot of headache and organizational issues.
Hire a dedicated team from abroad
Outsourcing the task of your marketplace creation, you may save up to 60% of your development budget. Or even more, if you are going to hire the developers from Taiwan or India or even hire developers from Ukraine". By the way, Boeing may share some unpleasant experience after choosing this option, so your goal is to find the best price-quality ratio. For instance, Ukrainian developers may be the best choice since their technical background, the experience of working with foreign customers and reasonable prices form just the perfect match.
What Makes a Marketplace Successful?
Choosing the right vendor to assist you with the marketplace creation is surely important, however, there are some additional factors that may affect your marketplace success.
Idea validation
Make sure to validate your idea before the development starts. For example, there is no sense to create a Booking-similar platform since it is impossible to compete with global leaders. Your idea must be specific and validated. Remember that more than 40% of startups fail because there is no market demand for them.
Target audience expectations fit
Make sure that the platform you are going to create is the app potential users really want to use. There should be a gap in the market that users demand but no one had occupied yet.
User-friendly design and interface
Keep this point in mind, but it is unlikely that you will face difficulties if a professional development company assists you.
Following LEAN development principles
In a nutshell, this approach allows you to develop only the features your users need and constantly adjust to their wishes.
Wise marketing strategies
Think about how you will market your platform before its development and make sure to provide a budget for promotion in advance.
Conclusion
Marketplace building can be a great endeavor but inky when several conditions are met. Firstly, it requires careful market situation research and idea validation, secondly, technical background and knowledge, thirdly, wise marketing to get in touch with potential users. However, these tasks will be easies to cope with if there is a reliable vendor near you.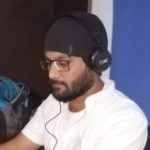 Kamran Sharief
I write about technology, marketing and digital tips. In the past I've worked with Field Engineer, Marcom Arabia and Become.com. You can reach me at kamransharief@gmail.com
Related posts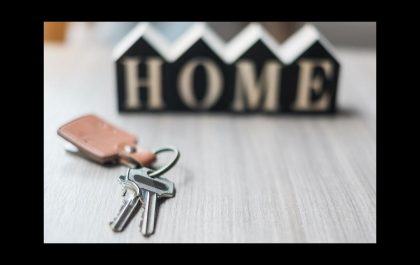 5 Tips When Purchasing Your First Home
Home ownership is a big financial commitment and there is a lot of information to take in. These 5 tips…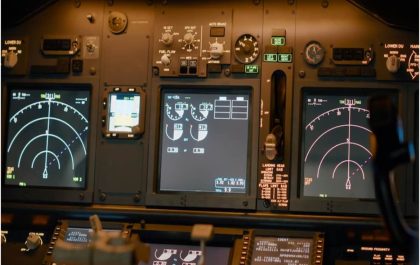 The One you Think is Most Important to Spotlight "Flight Sim Panels"
Flight sim panels are hardware devices that replicate the controls and instruments of a real aircraft cockpit. They can be…