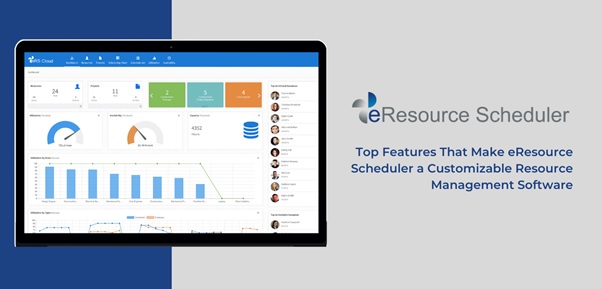 What are the main components of project management according to you? Resource management including planning and scheduling are the main aspects of managing projects. Are you making detailed plans for your projects but still failing to succeed? Just planning is not enough. You also need the right people and resources to complete your projects within the stipulated time and budget. And nowadays with distributed teams, it becomes even more difficult when various teams are sharing resources. eResource Scheduler is a cloud-based resource management software with which you can deliver the best projects within the timelines and budget. An intuitive interface, customizability, high configurability, and the tool's competitive price are the few reasons for its popularity. This leading customizable resource management software can be used for capacity planning, resource management, workflow scheduling, and project management. Read on to see the features that make this tool the best configurable resource management software.
How is eResource Scheduler a Customizable Resource Management Software?
1. Highly Configurable
eResource Scheduler is a leading resource management software because of its highly configurable filters, views, fields, and forms. This tool helps you to manage the resources at hand in the best possible manner. It also enables you to complete complex tasks such as resource allocation, project planning, scheduling tasks, utilization, and profitability analysis in just a few steps. You can alter this resource management tool's custom-defined fields and forms according to your business requirements. If you are a global organization and need to manage multiple working calendars, don't fret. This tool can be configured as per your requirements and resources.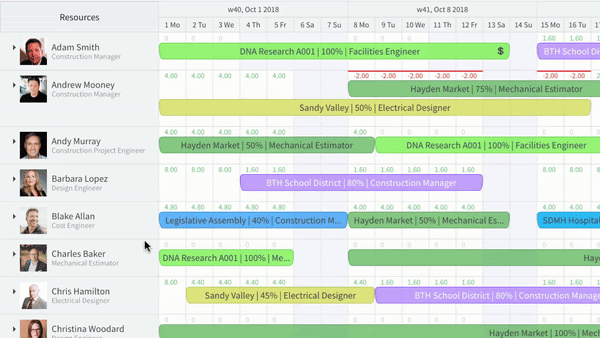 2. Efficient Resource Scheduling

You may have hired the most qualified and skilled resources. But does that solve all your problems? Till you utilize each resource efficiently, your utilization and productivity numbers will suffer. This is where good resource management software can help. eResource Scheduler Cloud helps organizations of various sizes and scales to utilize the available resources efficiently. How does that happen? The tool does precise profiling, identification, and allocation of the most competent and qualified resources on various tasks. Its brilliant features help the users to successfully manage an additional 15% to 25% of projects due to seamless resource planning, scheduling, and management.
3. Consolidated List of All the Projects
A firm might take on several projects from different clients and different types at any specific time. Your projects are spread across various teams, resources, and departments and may be at different stages or milestones. How do you maintain all this information about so many projects? This poses a big challenge in terms of reporting regarding projects and resources. eResource Scheduler is a customizable resource management software that acts as a centralized place to list all your projects and store the relevant data in one place. Features like custom fields and project profile forms help to capture all key information that could be used to filter and find the ongoing projects quickly. This consolidated project list can be shared with all the resources across the organization depending on their roles and access rights. This way, the users will only have access to certain project information which they need to know. This centralized list of all the projects also offers correct and clear visibility of various tasks and their status. This further helps the management to make well-informed decisions.
4. User Access Depending on Roles and Need to Know Basis
While managing business operations, there are many things like details about resources, project costing, and reporting data that is usually confidential. eResource Scheduler is a leading and sophisticated resource management software, which provides user access rights as per people's roles and requirements. The user rights make sure that only specific users can view and/or amend data according to the rights given to them. Some team members might just have view rights whereas other may have edit rights too. This can be done at the resource or project level or as per some other grouping like project manager, department, team, location, etc.
5. Centralized Pool of All Your Resources
These days global organizations operate from various locations and their team members are spread in different cities and even countries. People are grouped under different teams, verticals, departments and are assigned different projects. However, this poses one big problem – a lack of visibility of all the resources and status of all projects. It also becomes challenging when you need to look for qualified resources who possess a certain skill set. eResource Scheduler Cloud is a customizable resource management tool that acts as a centralized reference point for all information about your resources. This includes their skills, experience, qualifications, certificates, availability, etc. This important information is shared between restricted users in the organization depending on their role and access rights. Having such a centralized list of all resources makes it very easy to search for the right people across multiple locations and teams.
6. Drag and Drop Feature for Planning
Another unique feature of eResource Scheduler is the drag and drop functionality. Other features like extend-shorten, overload and availability indicator, and precise split also help to simplify the resource management and scheduling process. This configurable resource management software builds billability and Gantt charts for you which help to drill down projects, tasks and find resource availability. The drag and drop functionality helps to do efficient resource planning for multiple projects in the pipeline in much lesser time and a few simple steps.
7. Real-Time Reports to Show Resource Utilization
Measuring resource utilization correctly can help project managers to ensure that no team member is overburdened or under-utilized. It also helps to do fair and equal distribution of work or tasks between your team. This resource management software calculates resource utilization for all your projects, teams, or locations. You can pull out detailed utilization reports for a single resource or a team in a few clicks. What's more? All this information on utilization gets updated in this tool in real-time. This means that whenever any resource has availability or is assigned a task, then the tool will update this information instantly.
8. Multiple Filters Offer the Exact Data You Need
eResource Scheduler is a tool that provides a resource scheduling chart with a resource, project, and role view. Project managers and other team members can easily make their scheduling views by following few simple steps. Filters can be used to find suitable and most qualified resources according to specific project requirements. If an organization has teams operating across geographies and in different time zones or using different calendars, then eResource Scheduler helps you to view the details about resources like their personal leaves (on scheduling chart). This ensures that accurate resource capacity is being used for diverse employee types.
9. Visual Snapshots, Dashboards, and Comprehensive Reports
eResource Scheduler is a customizable resource management software that creates visual snapshots and arranges your data in graphs. You can easily pull out detailed productivity, availability, and utilization reports. Access to such reports and information helps the management to make the right decisions that optimize profitability and performance. This resource management tool can calculate real-time utilization for your resources and can manage automated skill matching. That's not all! You can plan your resource requirements for future projects, assign multiple tasks or projects to one resource, and manage capacity. If you need to understand the data better, you can simply configure the reporting views. Or you could use the filters or colour coding feature to first identify and then highlight the under and over-utilized team members.
10. Free Trial and Individualized Support

Choose the best-suited plan of this configurable resource management software for your organization. Sign up for a free trial and get individualized support to configure the system as per your firm's business requirements. You also gain benefits from features like unlimited users, resource requests, unlimited projects, bookings, user access rights, gap reporting, and timesheet module. The tool's robust architecture and performance make it one of the most preferred choices if you need to streamline business operations and augment organizational efficiencies.
If you want to know how you can use this customizable resource management software or what benefits will it bring to the table, book a free trial today.
Related posts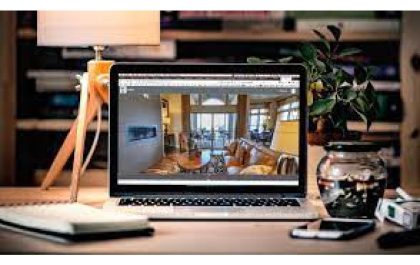 SeekBeak: A Simplified Solution for Interactive 360° Virtual Tours
Businesses constantly seek innovative ways to engage with their audience. One of the most effective ways to do so is…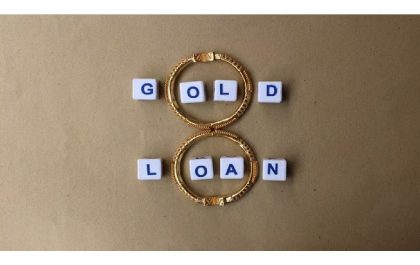 Benefits of Using a Gold Loan Calculator
Are you looking for a convenient way to secure a loan without sacrificing security? A Gold Loan Calculator can provide…