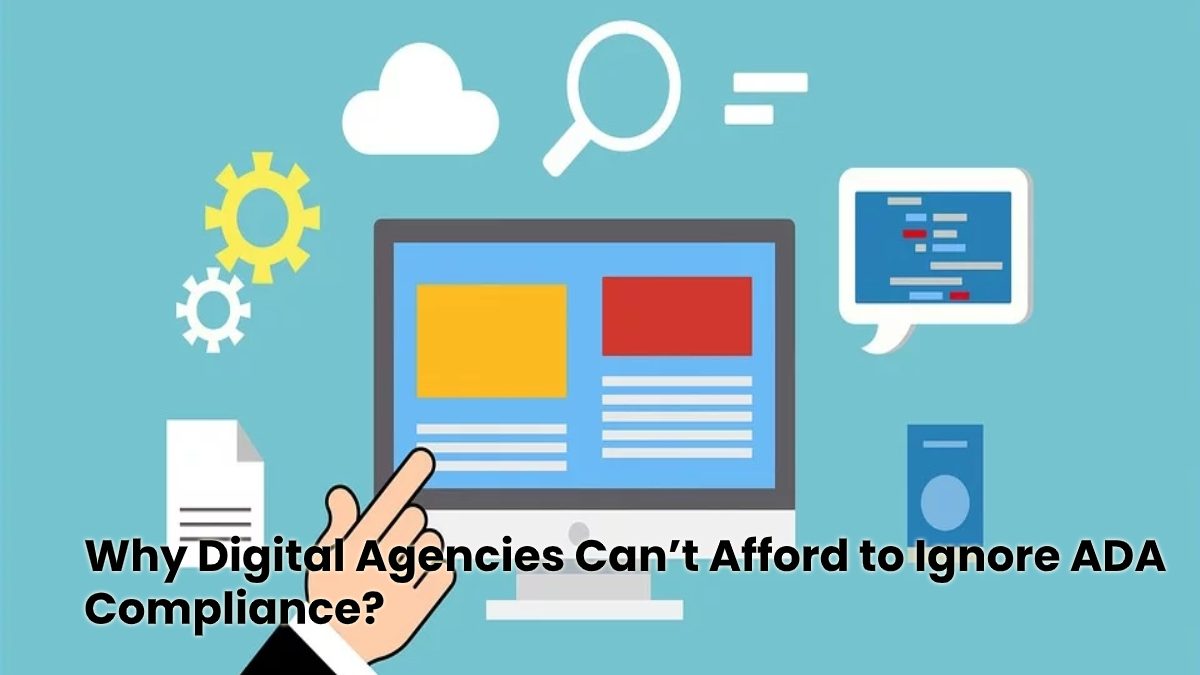 Were you able to safeguard your clients against the possibility of getting slapped with an ADA-related lawsuit?
If you haven't, and you're oblivious about what the ADA is, then I'm glad you're here.
ADA stands for the Americans with Disabilities Act (ADA).
It shields PWDs' rights from discrimination in all areas of public life: transportation, employment, government services, telecommunications, and public accommodation.
Places of public accommodation refer to establishments providing services for the general public, whether offline or online. That means websites are included in complying with the ADA.
These sites can follow the law through web accessibility, that is, having elements that help PWDs navigate smoothly, consume content, access online services, and more.
As digital agencies, you need to know how to comply with the ADA so you can build accessible websites for your clients.
With that said, let's look at four things about ADA compliance your digital agency should be aware of.
#1. ADA mandates websites to implement reasonable modifications
For website owners to help PWDs access their goods, services, and benefits more easily, the ADA mandates them to implement "reasonable modifications."
The ADA considers the mentioned changes reasonable for as long as they don't alter the nature of the website's services.
Practically speaking, websites can carry out the required modifications in their coding.
Web developers and digital agencies typically change the coding manually. However, this effort can prove to be unsustainable and draining.
After all, adding the required codes to make a website fully compliant can take longer than five months (depending on the website). What's worse is some of the codes and applied accessibility modifications can disappear when the site updates.
Another solution that digital marketing agencies and website owners can use are automated web accessibility solutions like accessiBe.
For one, accessiBe lets PWD users adjust some elements in the interface, such as content readability, display, and color.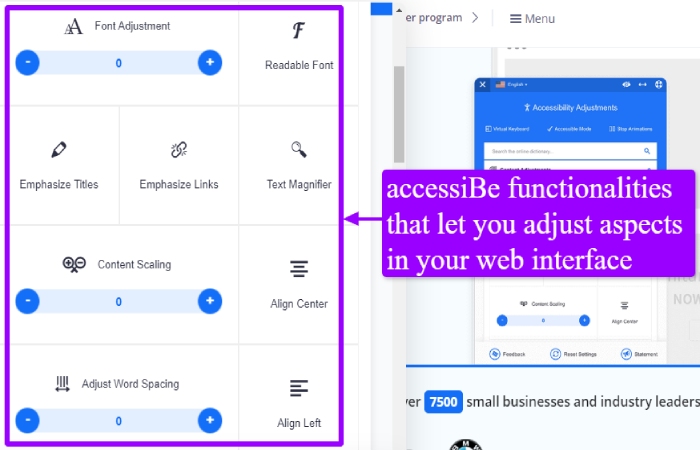 accessiBe also has backend functionalities, such as screen readers and keyboard navigation, supported by its artificial intelligence (AI).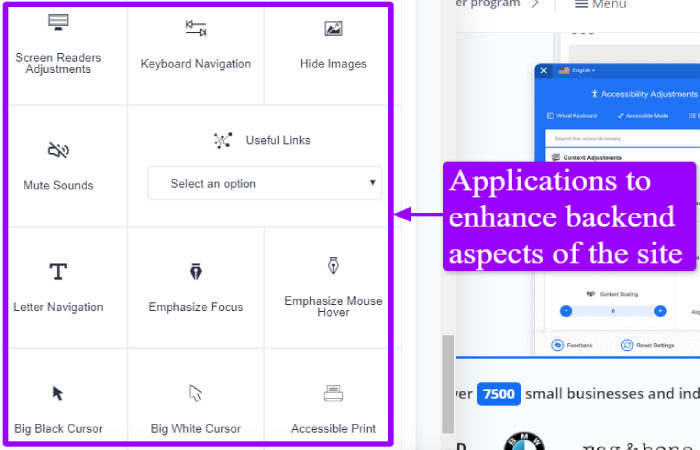 The AI analyzes the organization and structure of your client's website elements, then applies accessible rich internet applications (aria) to make the site ADA-compliant.
What's great about accessiBe is that any changes the PWD users make remain in their browser's cookies and visible in their devices' screens only.
That means, other website visitors won't see the interface modifications. These changes will also not alter your client's site branding and original functionalities.
It's also worth pointing out that accessiBe will keep on scanning your client's website every 24 hours for compliance gaps so it can make the necessary adjustments.
That means, even if your website updates or you add new plugins or content that will cause compliance gaps to your clients' websites, accessiBe can adjust them automatically.
#2. Inaccessible sites under "public accommodation" are at risk of lawsuits
As mentioned, places of public accommodation cover websites like eCommerce, healthcare, schools, media outfits, blogs, and others.
If your client's website falls under this category and remains inaccessible, you can face complaints and lawsuits — and you can't underestimate the threats that ADA-violation lawsuits bring.
After all, the number of lawsuits has spiked by almost 46 percent from 2017 to 2019, which tells you court orders aren't showing signs of slowing down.
In the US, some of the most targeted states for ADA violations include New York, California, Florida, Texas, New Jersey, Massachusetts, Arizona, Pennsylvania, Alabama, and Georgia.
If your clients belong to one of these states, their respective courts can eye their websites more closely and implement justice once they are sued.
What's more, when you face lawsuits, you can't merely defend your case with good faith and promises of applying remedies on the site. Violations also don't require any intent or prior notices.
If your clients have not received any demand letter or faced lawsuits yet, then there's no better time than now to begin working on their web accessibility.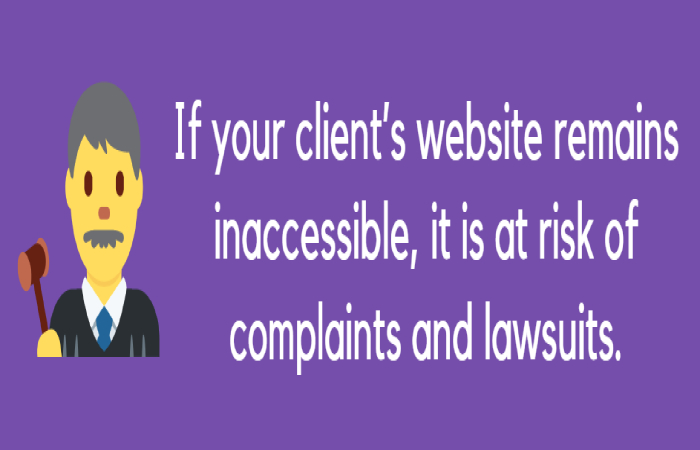 #3. ADA compliance provides game-changing advantages
Some website owners, developers, and agencies are still taking the risk with non-compliance with the ADA because of the potential design challenges with UI and UX.
However, besides protection from lawsuits, complying with the ADA provides websites some game-changing advantages.
For one, ADA compliance can help improve your client's organic search ranking by addressing three significant areas: relevance, duration of an on-site session, and user experience (UX).
Let's take images with Alt attributes, for example.
The photo descriptions that screen readers relay to blind users can also become the keywords that people use to search for an image.
When your visual content has the right keywords as Alt attributes, you can appear in the search results and boost the likelihood of people clicking and viewing your image.
When that happens, your client's site increases in relevance and gains more chances to appear at the top of search results.
Consequently, when your client's website is relevant to users, they can spend more time browsing and navigating through various pages.
The longer the time users spend on your client's site, the better their search ranking can be.
ADA compliance can even help enhance website user experience (UX).
When PWDs are able to access your client's content instantly and painlessly. They attain a seamless on-site session and can stay longer.
With this enhanced UX, your clients can cater to more disabled users and broaden their audience base.
After all, PWDs constitute around 20 percent of the US population or 50 million individuals.
If your clients can cover that many visitors and customers, they can skyrocket their sales and conversions exponentially.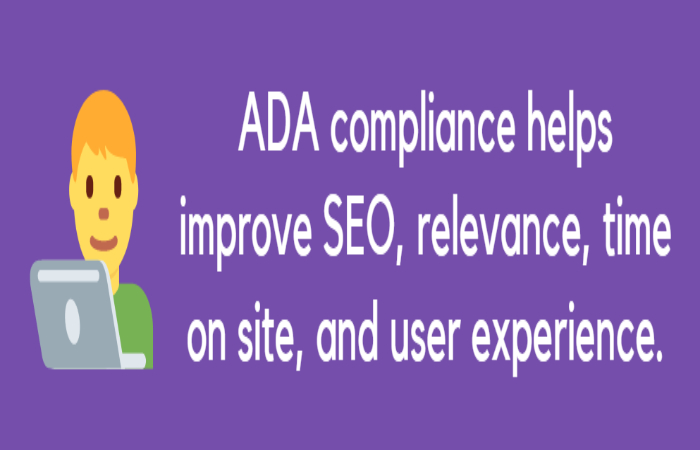 #4. ADA violations often cost thousands of dollars
Websites found violating the ADA can face steep fines.
They can pay 75,000 dollars for their first offense and 150,000 dollars for successive ones.
For businesses or any company owning ADA-violating websites, these penalties can eat up a massive chunk of their revenue.
Presumably, the price is exponentially higher than the amount site owners could have spent handling accessibility needs in the first place.
Prices for redesigning websites may vary depending on the amount of labor needed for coding, length of the process taken, or web accessibility technologies used.
In any case, dealing with your client's site accessibility ahead can prove to be a more cost-saving measure than letting penalties become additional expenses.
Over to You
ADA compliance is a crucial thing your digital agency needs to be aware of.
ADA compliance, after all, can boost your clients' competitive edge, online visibility, audience base, customer preference, site performance, and other aspects.
Violating the regulation also carries with it enormous consequences you and your clients can't afford to neglect.
Rather than waiting for repercussions to happen, you can choose to work on your client's accessibility needs now in the most cost-efficient and sustainable way possible.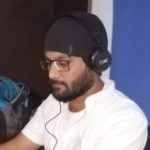 Kamran Sharief
I write about technology, marketing and digital tips. In the past I've worked with Field Engineer, Marcom Arabia and Become.com. You can reach me at kamransharief@gmail.com
Related posts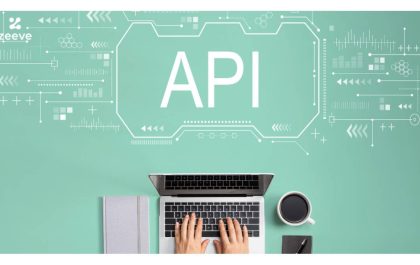 3 Ways to Find and Use the Best Free APIs
There are a lot of great free APIs out there that can be used for a variety of purposes. In…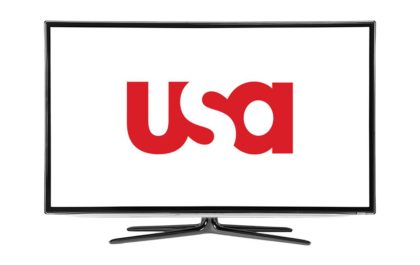 USA Network – Your Ultimate TV Schedule & Listings Guide
In today's fast-paced world, keeping up with your favorite television shows can be a challenge. With multiple networks and streaming…