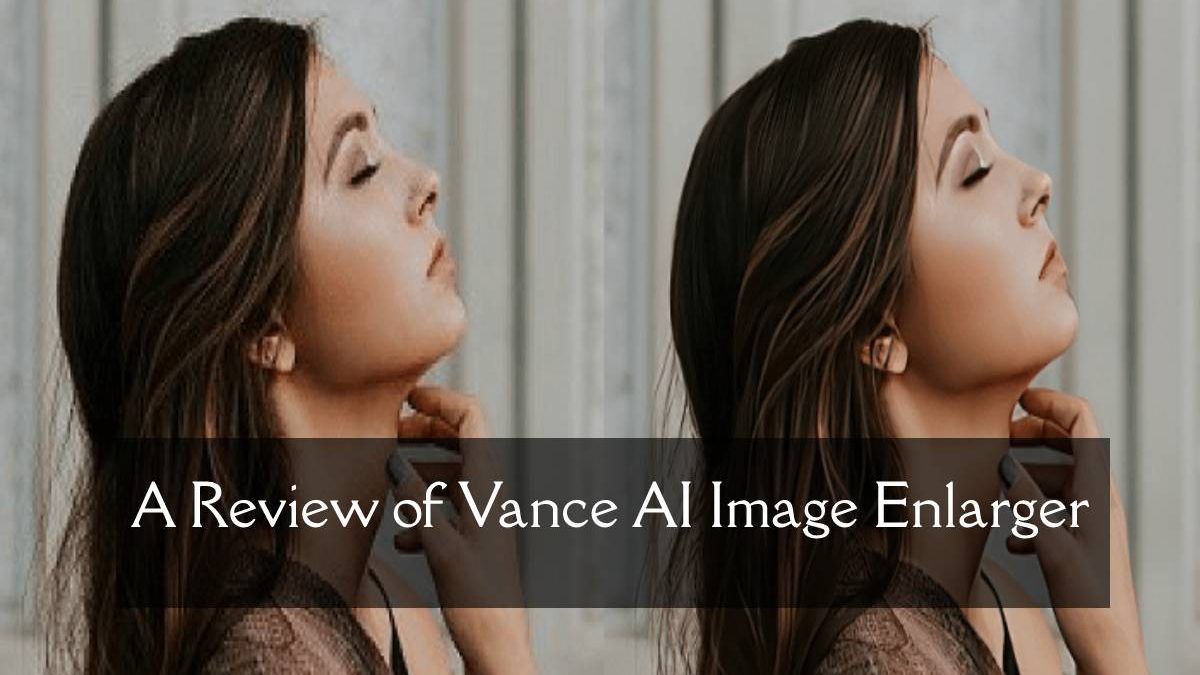 The process to enlarge image seems easy enough. After all, almost all image related tools that you see everyday, your smartphone's Gallery included, seem to be advanced enough to have a feature like that. However, enlarging images is much more different and difficult than to, let's say, crop images. We need a dedicated image enlarger tool or application to get bigger images, especially when we need to enlarge image without losing quality. Also, with so many breakthroughs happening all around computer based technologies, there are a lot of new AI image enlarger applications that are being developed to further improve upon the existing technology. With that said, we will be taking a look at one such image enlarger application that is based on AI technologies. The Vance AI Image Enlarger tool is an online application that prioritizes as an image enlarger and is also designed to give your images an extra boost in terms of image quality so as to match it with the increased resolutions. If you are a designer or a student who often needs to resize images in order to fit them perfectly into wallpapers, banners, posters, etc then this is the kind of application that you are looking for but hardly manage to find.
What does Vance AI Image Enlarger Offer?
When it comes to online tools that offer to enlarge images at low prices or even for free, Vance AI Image Enlarger is on the same wavelength as these applications although it does offer much more in terms of features, usability, costs, and more. As we can see from the name of the tool itself, Vance AI Image Enlarger is built from modern Artificial Intelligence and Deep Learning technologies related to those used in image processing of course. Sure, many other applications also use AI as their main core of image processing but it is merely used for automating certain tasks such as changing colors, processing changes in image, etc. The AI Image Enlarger, however, uses a more sophisticated kind of technology wherein it is not only automating almost the entire process of image editing but also making use of the smart algorithms to enhance and beautify these images as well. So you can rest easy knowing that this online tool is pretty intuitive as it handles virtually all the tasks, from start to end.
Vance AI Image Enlarger or Vance AI products in general are available for free use to any user for a limited usage limit. You can process five images per month before running out of credits and needing to purchase for more. You can purchase either the Basic plan or Pro plan, each having their own features and upgrades. Let's cover the basics. The Basic plan costs $9.90 per month and it offers 200 credits per month, enabling batch processing of up to 5 images with a max image size of 5 MB. The Pro plan costs $19.90 per month while it offers 500 credits per month and batch processing of 10 images with max image size allowed within 10 MB.
Enlarged Images from AI Image Enlarger
Here are a couple of pictures that were used in the application: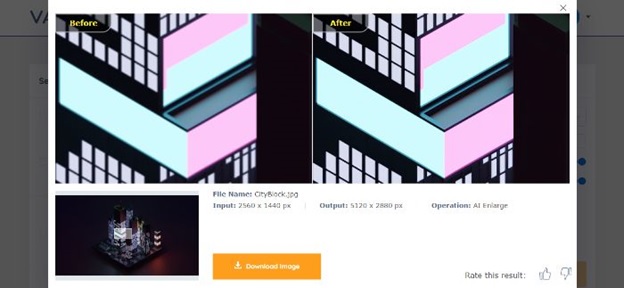 The resolution that the original image transformed into is huge but the end result is still impressive. It is easy to see that the After image has much better color contrast as compared to the Before image. The neon blue and pinks are clearly defined in the After image and hence, they look sharper as well. Also, the biggest improvement is probably in the window panes. The Before image has some blurriness to it which the application removed post-processing.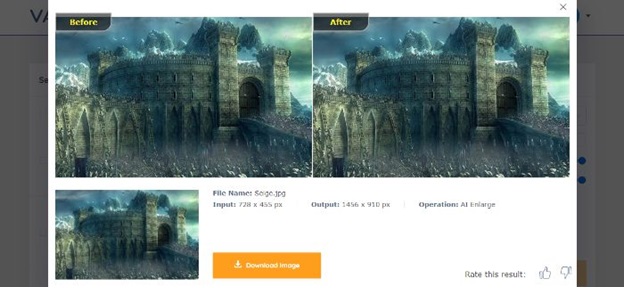 The most notable differences between the two images are in the fog and the textures of the castle. It is impressive to see that Vance AI Image Enlarger handles images with such complex and rich details quickly and well. These two example images were upscaled by two times the original but you can go up to four times in a free account and eight on paid accounts.
Conclusion
It is rare to see an online image editing tool offer so much with affordable prices but Vance AI Image Enlarger is definitely a special one. Not to mention that you can use Vance AI Image Enlarger online as well as offline, through its software version. It is worth recommending to anyone looking to enlarge image quickly and with good quality.
Related posts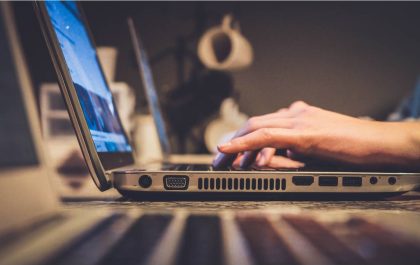 Online Payment Fraud: Navigating the Hazards in the Digital Transaction Era
Online Payment Fraud Navigating the Hazards in the Digital Transaction Era Online Payment Fraud Navigating the Hazards in the Digital…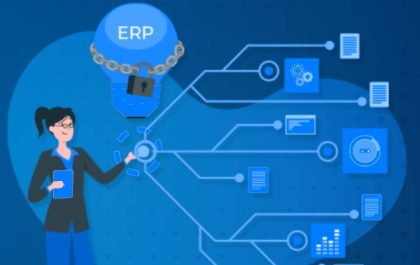 The Singaporean Business Guide to ERP: Tailoring Your System to Local Complexities
Introduction Enterprise Resource Planning (ERP) systems are a key component of any business, and are extremely beneficial for streamlining processes…