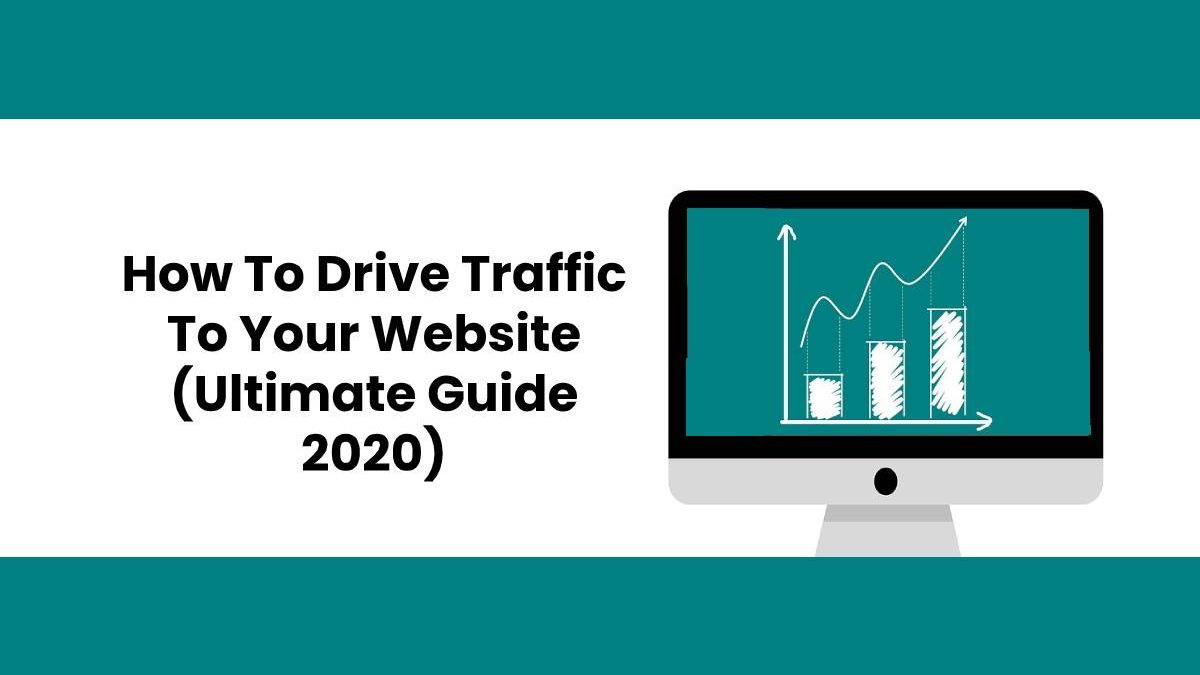 How To Drive Traffic To Your Website
If you ask anyone who owns a website what their biggest struggle is, the answer will almost always be the same- increasing their traffic.
Creating a website, writing amazing content, and monetizing your website are essential but they mean absolutely nothing if you do not have the traffic to back it up.
To get started with driving traffic to your website, you need to understand the different ways you can send visitors to your website so you can decide which one is right for you.
Some of the most common ways to drive traffic to your website include-
Referral Traffic (traffic that came to you from another domain)
Paid Traffic
Online forums or communities
Depending on your niche, the source of the majority of your traffic may differ compared to other websites but in most cases, the bulk of your traffic will come straight from Google (search traffic) or directly (people typing in your website page).
Social media and referral traffic are also good options but they are far less dependable than Google traffic and can disappear at any time.
A study conducted by Alexa revealed that most niches get the majority of their traffic through organic search.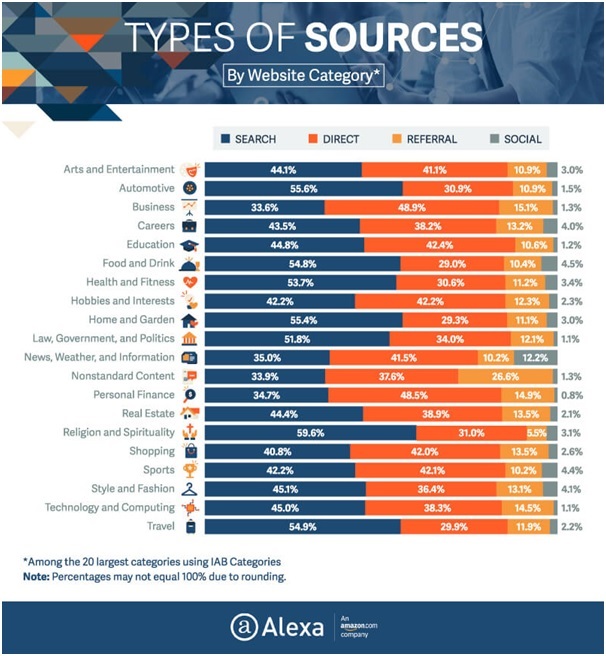 Food and drink, legal, pets, family, science, health, and travel are all niches that get more than 50% of their traffic from organic search!
This is precisely why we are going to be focusing on SEO today. It is the best way for new bloggers to grow their website and is also the most rewarding form of traffic generation since any SEO traffic you gain will last you for years to come.
How to drive tons of traffic to your website (through SEO)
68% of all online experiences begin with a search engine according to a study by Bright Edge. This means that if you do not focus on SEO from day one, you are missing out on a majority of your potential readers.
SEO traffic is not just more consistent than other traffic models, it is also better. Studies have shown us that SEO traffic tends to have lower bounce rates and higher conversion rates as compared to social media traffic or referral traffic.
According to HubSpot, 60% of all marketing experts say that inbound (which is SEO and content) is where they get the majority of their leads from.
This is because of the user's search intent. When someone finds your website through Pinterest or Facebook, they are probably just browsing through their feed or have searched a keyword that brought up your article.
Google, on the other hand, is used by people who want a solution to their problem.
They are more likely to stay on your page for longer, buy something you recommend, and come back to your website later.
Another great part about SEO is that once you rank on the first page of Google for a certain keyword, you will consistently receive a stable flow of traffic from the post you are ranking for.
Now, let us dive into the step-by-step guide to drive real, consistent traffic to your website.
Step #1: Finding 5 great search terms
You can have the best backlinks and the highest domain authority score but if you are targeting the wrong keywords, your plan to succeed is already dead in the water.
Finding the right keywords is your first step and your foundation to being able to gain a constant flow of visitors to your site.
The best way to rank for keywords is by targeting keywords your competitors are already ranking for. This is an easy and effective technique because it works on the logic that if your competitor's site (with a similar domain authority) can rank for the keyword, you can rank for it too by simply writing better content.
To find competitors in your niche, simply google a relevant search term.
So, for example, if you have a website that talks about how to improve credit scores, you could google the search term 'best credit repair companies' to see what sites are ranking.
After doing this, I found credittakeoff.com ranking on the first page of Google. That is my competitor domain that I am going to be targeting for keywords.
To find keywords that your competitor is ranking for, you need to use a tool like SemRush. First, you need to go to your dashboard and type in the domain name of your competitor.
This is what your dashboard should look like-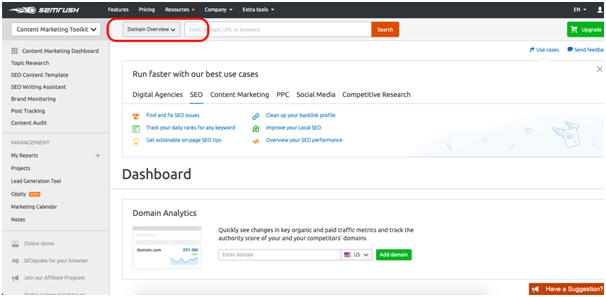 Now, you head over to the 'domain overview' option and type in your competitor's domain name.
After selecting 'search', this is what your page should look like-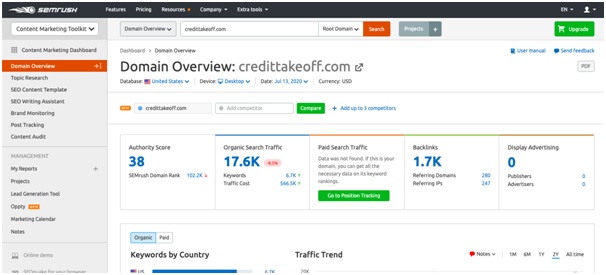 If you scroll down the page to the 'Top Organic Keywords' section, you will be able to see a list of keywords that your competitor is ranking for…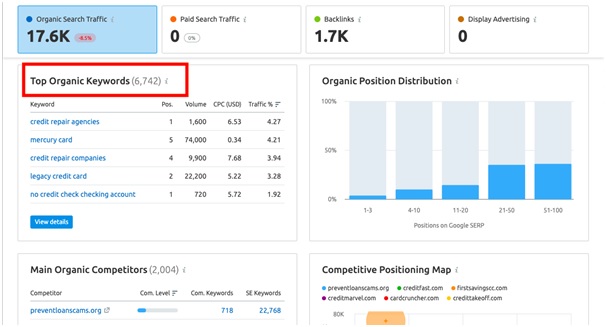 Once you select 'View Details', you can see a complete list of keywords, the position your competitor has on Google for them, the traffic percentage they are receiving, the keyword difficulty percentage, and the volume of traffic.

This is an absolute gold mine of information because you now have hundreds of new topic ideas that you could very realistically rank for.
You can go through these keywords and try to find options with a keyword difficulty percentage of less than 45%. Anything above this can be hard to rank for- especially if your website is new.
This is one of the easiest ways to pick topics that are worth writing. You do not want to waste time writing an in-depth post on how to start a blog', only to find that you do not have the domain authority to rank for it.
A list of keywords acts as your blog traffic's foundation and everything else lies on top of that.
Step #2: Create 5 pillar posts
Now that you have a list of keywords you can target, you need to start creating content. A good way to begin your content creation process is by creating five-pillar posts.
A pillar post is normally a long-form piece of content that you will repeatedly link to in the future. This could be a massive 8000-word guide or a detailed tutorial.
For example, in a blogging website, a pillar post would be the 'How to Start a Blog' post since that will be a detailed tutorial that will be linked to several times in the future.
Here are a few things you should keep in mind when creating content-
Pay attention to your post's URL– Include your target keyword in your URL and try not to make your URL too long.
Make sure you are creating content that is relevant to your niche. Google places a lot of importance on relevance and a focused niche. So, if you have a home decor blog, do not suddenly start writing about personal finance.
Include your target keyword in the title of your post, the subheadings, and the meta description, if possible. This will help Google understand what your post is all about.
If you have the time and ability, consider adding an original graphic element like an infographic.
Step #3: Promote your content like a pro
Now that you have written an amazing post, you need to start promoting it so that Google sees people are loving your content.
The currency of the internet is backlinks and having as many as possible is what will tell Google that your website is trustworthy.
This is why you should start dedicating a few hours every week to outreach. This could mean simply finding people in your niche on platforms like Twitter and emailing them a link to your recent post.
You can hop on to any social media platform and type in a keyword related to your niche to find people who are talking about or in the same niche as you.
You can then use a free service like Hunter to find their contact info.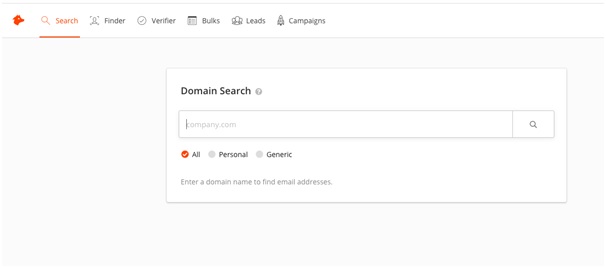 Now that you have a list of people who could potentially be interested in your content (along with their contact info), you can start emailing them.
The email does not have to be very long. Simply tell them you have written a post very similar to what they normally share and ask them if they might be interested in sharing it on their social media or website.
You can then offer to return the favor. A lot of people would be happy to share a great piece of content and this can help increase the authority of your website.
Additional proven Strategies to drive traffic to your website
Obviously, there are way more strategies to drive traffic to your website. Here are some of the other methods worth mentioning-
Strategy #1: Write guest posts
As mentioned earlier backlinks are the currency of the web so your primary goal is to convince other websites to link to yours. A great way of doing this is to guest post on websites in your niche.
A lot of websites would happily accept guest posts from a blogger in the same niche and it will allow you to add a link to your website within the content you are sending in.
You can Google these terms to find websites that are accepting guest posts in your niche-
niche keyword "submit a guest post"
niche keyword "accepting guest posts"
niche keyword "guest post guidelines"
Strategy #2: Broken Link building
Broken link building is another way to build backlinks through outreach. Using this method, you try to find websites that have content that is linking to a broken link or a link that is no longer active.
You can then email them (after finding their contact info on Hunter) letting them know that their post contains a broken link. Within the email, you can mention a similar post you wrote that could replace the broken link.
Most sites would be grateful that you pointed out the broken link and would be happy to add your link instead. Ahrefs's broken link building guide is a great resource to get you started.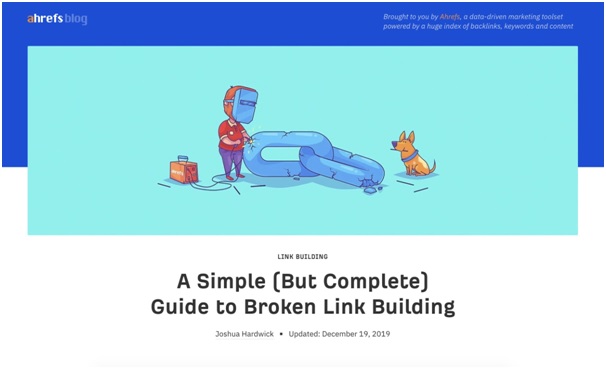 Strategy #3: Round-Up posts
Round-up posts are posts that simply put together a list of quotes or advice from experts in your niche. You would reach out to a couple of experts in your niche and ask them for a quote on a certain topic.
After the post is finished and posted, you could send them a follow-up email notifying them that they have been mentioned. There is a good chance they will be willing to share your content since they have been mentioned in it as well.
The "How-To-Get-Traffic-Overwhelming-Phase"
At the beginning of your blogging journey, building traffic can be overwhelming and stressful. There seem to be a plethora of ways you can build traffic and not enough time.
The key is to hone down on one or two traffic building methods and perfect them. As time goes on and you start earning money, you can invest in outsourcing certain tasks like guest post outreach or content creation.
This will allow you to get more done. At this point, you can start looking into other traffic building methods like social media or YouTube, for example.
The key is to take things step by step.
Conclusion
Driving traffic to your website is the key to creating a permanent source of passive income.
If you are trying to learn how to drive traffic to your website, you need to focus on SEO. It is your long-term plan and your efforts will reap more rewards than with any other method.
There are an estimated 3.5 billion searches on Google every day and you can only benefit from this by focusing on your SEO strategy.
So, what's your favorite way to drive traffic to your website?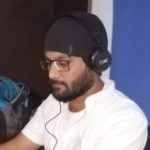 Kamran Sharief
I write about technology, marketing and digital tips. In the past I've worked with Field Engineer, Marcom Arabia and Become.com. You can reach me at kamransharief@gmail.com
Related posts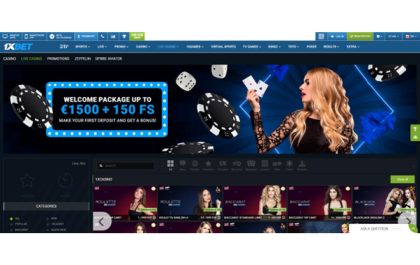 Go to 1xBet and play live casino
You should visit a specialized platform and create an account there to immerse yourself in the atmosphere of gambling. You…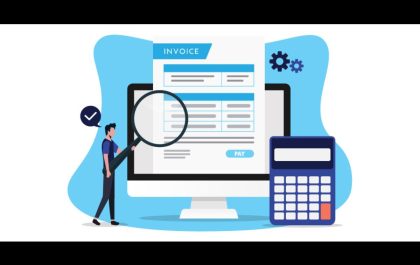 How To Manage Your Inventory With Billing Software?
Running a profitable business depends on effective inventory management. It may optimise cash flow, cut costs, and raise client satisfaction…