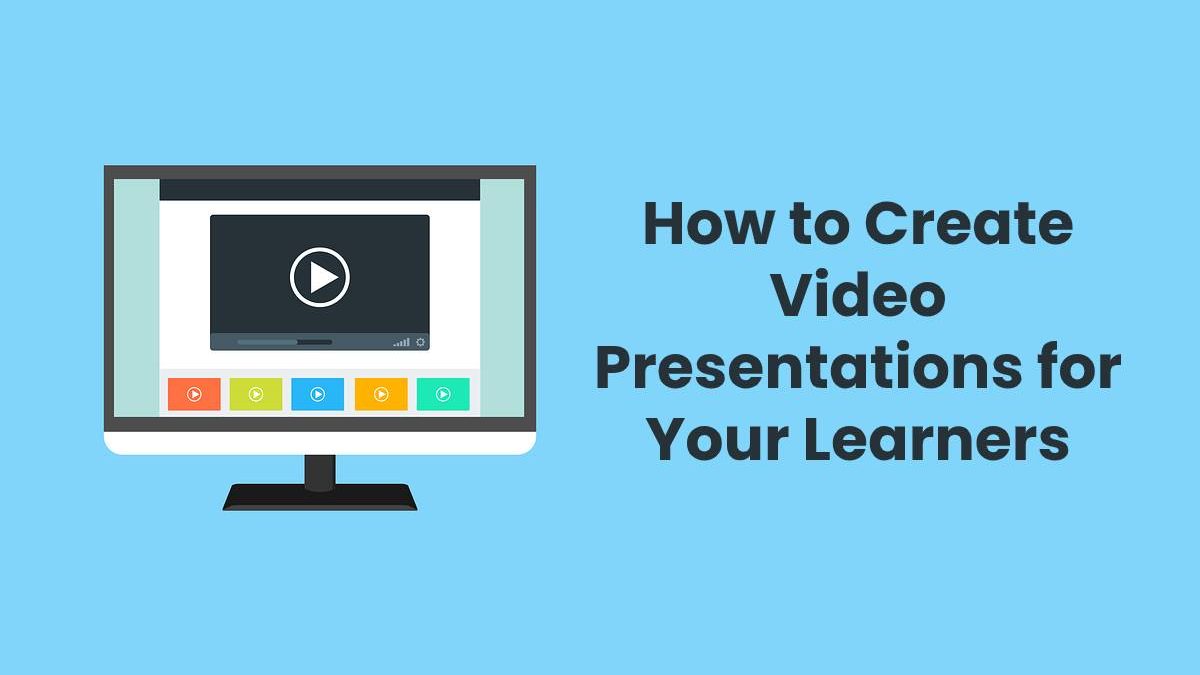 How to Create Video Presentations
Videos are one of the most engaging and memorable ways to present information. Video is a popular format for educational, work-related, and entertaining content (and even content that meets more than one of these descriptions!), as proven by a Pew Research study that documented that 73% of adults in the United States use YouTube.
Videos are used in many ways in both the workplace and academic settings, including recorded presentations. Content presented in a video format engages both audio and visual learning styles, which can lead to higher retention of the information.
Want to get in on the action and start creating video presentations? Here are a few simple guidelines to follow. But first, let's see what a video presentation is and what the most common methods of creating this kind of educational content are.
What Is a Video Presentation?
Video presentations are commonly recordings of speeches, events, or any other method of delivering or communicating information to an audience. Recordings allow speeches, presentations, and events to be documented and shared with anyone who was unable to attend the live presentation. For organizations that span geographic areas and time zones, video recordings remove restrictions and allow everyone to receive the same, consistent messaging, no matter if they are able to view the presentation in real-time or from a recording.
Instructional videos and recorded presentations also allow educators to create blended or "flipped" classrooms. This approach combines both synchronous and asynchronous instruction. Educators may choose to record their own videos before class, so that valuable class time with learners or students can be spent on more productive discussion and activities, and not on passive lecture or instruction.
Types of Video Presentations
There are many ways to use video to both deliver and share presentations. The only limit is your own creativity! Let's explore the pros and cons of a few common methods of creating video presentations:
Recordings of live presentations
One really simple way to create a video presentation is to film a live appearance. Whether it is delivered to a live audience or simply records the speaker delivering their content directly to the camera, live presentations are excellent material for educational videos.
Resources: A camera, a hosting platform
Pros: Simply record, then upload to your website, intranet, learning management system, or another platform of your choosing. This allows the presentation to be saved for future use, replayed endlessly, and makes the content available to your audience at the click of a button.
Cons: Depending on your speaker's needs, production costs can be high. Special equipment may be necessary for recording presentations filmed in large auditoriums, such as more professional grade cameras and microphones to capture the presentation properly. If your speaker is an external guest, you'll need to ensure you have the rights to share and distribute a recording of their presentation.
Webinars
Webinars are interactive video presentations that typically include the presenter speaking alongside a slideshow. This style of presentation is common in the workplace and in academic settings where guest lecturers are invited to speak.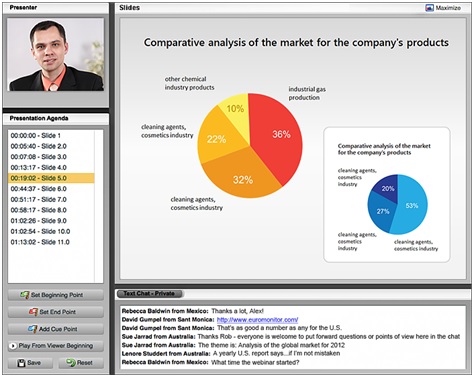 Resources: A web camera and a video conferencing platform
Pros: This method allows the speaker to use both audio and visuals to communicate their message, and is an excellent way of sharing information. Speakers can also make use of their platform's interactive settings, such as the chat feature, polling, and other engaging interactions throughout their presentation.
Cons: It can be difficult to both speak and handle any technical issues throughout the presentation, so it is highly recommended to include an assistant or producer for backup support during the presentation in addition to the speaker. Furthermore, when delivered before a live audience, the speaker cannot pause, restart, or take a break at any point during the presentation.
Interactive video presentations
This kind of presentation typically includes both slides, video, and audio narrations, and combines the best features of both live presentations and webinars.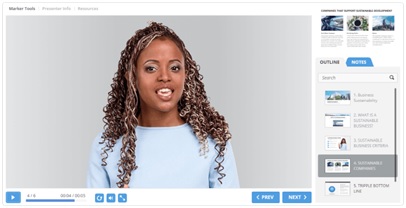 Resources: A presentation deck, a camera, and an authoring tool
Pros: With just PowerPoint and a webcam, an authoring tool like iSpring Suite gives you the ability to create engaging video presentations that include interactive buttons, hyperlinks, and full customization of the video player. The flexible output can be published to YouTube or your LMS, and adapts to play on any type of device.
Cons: The purchase of an authoring tool is necessary. This may not be cost effective if you only need to create one presentation, but this tool provides the added value of being able to create online courses and quizzes in addition to videos.
Actions to Take for an Effective Presentation
Once you have decided on the type of your presentation and are ready to bring all of your ideas to life, check out these few simple tips to keep your video content engaging and relevant for your audience:
Be concise: Challenge yourself to communicate clearly and concisely, so that your audience doesn't turn your video off. Give them the information they need, without filler or fluff.
Communicate your main message early in the presentation: Long-winded introductions don't hold people's interest. Don't spend time on sharing personal or historical anecdotes, or any other information that isn't truly necessary. Learners will appreciate your brevity and will find value in getting the information they need without having to wait for it.
Include a summary at the end: Repetition leads to retention. Introduce your topic, deliver your main message, and then summarize it. This simple formula ensures that your message will be heard.
Script before you speak: Even professionals get stage fright or experience anxiety about public speaking. Writing a script keeps you focused, allows you to rehearse, and prevents you from forgetting to mention critical information. When you speak, make sure to be natural and not to read to your audience. And rehearsing with your script will undoubtedly make for a better presentation.
Dazzle your audience: Make the most of both audio and visuals during your presentation! Colorful slides and pictures can both entertain and educate your audience as you deliver your content. Interactive features such as the use of clickable links, polls, surveys, and drag-and-drop interactions make any video presentation more engaging.
Choose quality where it matters: Depending on your environment, you may find it necessary to use high-resolution cameras, external microphones, pop filters, tripods, and other recording accessories that create a superior experience. Videos with a professional look and feel are not only more engaging, but they may also make the audience more trusting and more receptive to your messaging. When you are relying on video to communicate to your audience, you need to be certain your speech will be recorded clearly and at the appropriate volume, without any audio or visual distractions that detract from your presentation.
Final Thoughts
Video presentations are a widely used tool in educational settings, and are popular with teachers, instructors, and Student organization tools. Video production can be made simple with the use of common tools like PowerPoint, webcams, and video hosting platforms. The use of more sophisticated authoring tools allows video presentations to be augmented with interactions that help learners engage with their instructors and the content alike, as opposed to just passively watching videos.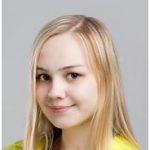 Helen Colman
Helen is an editor and content strategist at iSpring. She enjoys combining in-depth research with expert knowledge of the eLearning industry.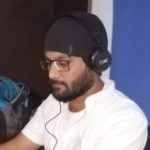 Kamran Sharief
I write about technology, marketing and digital tips. In the past I've worked with Field Engineer, Marcom Arabia and Become.com. You can reach me at kamransharief@gmail.com
Related posts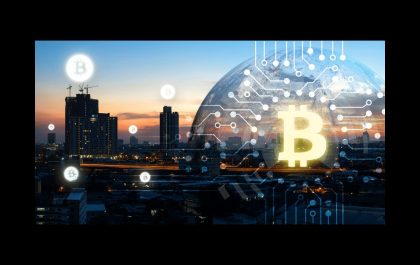 Empowering Bitcoin Users in DeFi: Harnessing the Potential of renBTC
The world of decentralized finance (DeFi) has been revolutionizing the financial landscape, providing individuals with unprecedented control over their assets…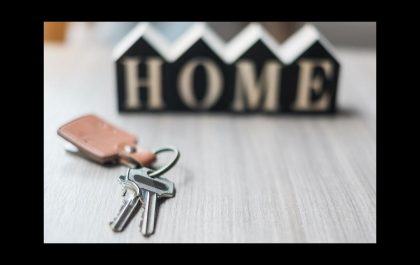 5 Tips When Purchasing Your First Home
Home ownership is a big financial commitment and there is a lot of information to take in. These 5 tips…