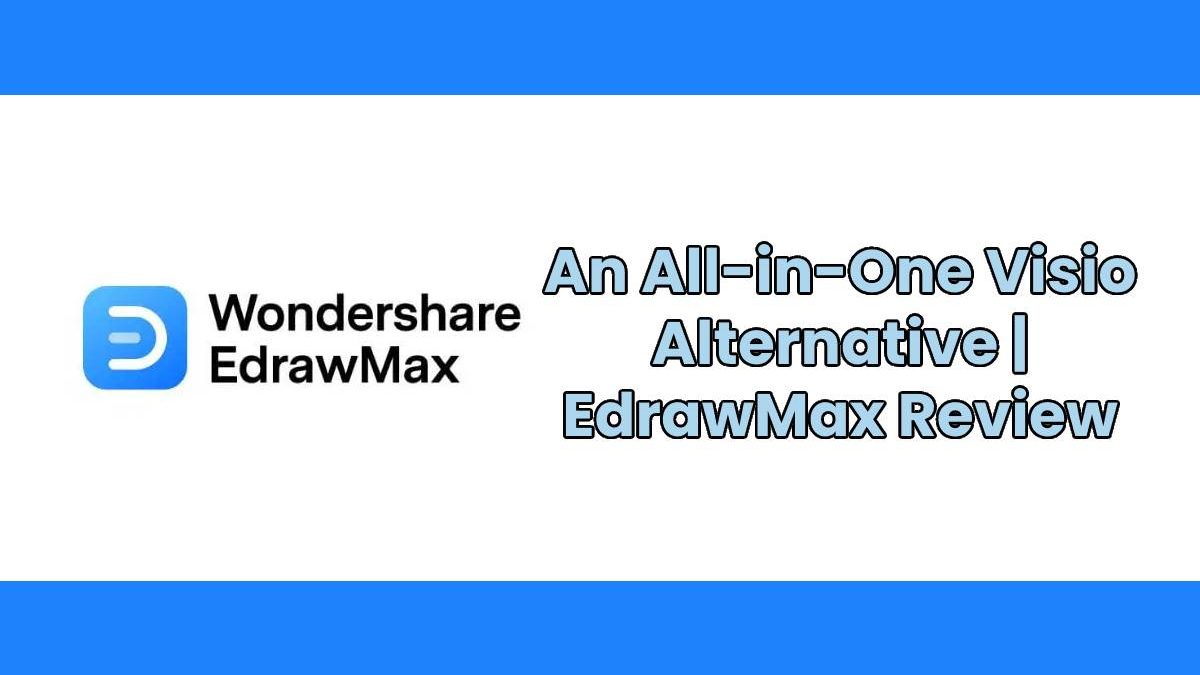 EdrawMax Review
Owned by Microsoft, Visio is a popular vector graphic and diagramming tool that has been active since 1992. Though, over the last couple of years, Visio has become more and more complicated and hasn't evolved much. That's why a lot of users look for a better alternative to Visio to meet their diagramming requirements. Most of the experts recommend using Wondershare EdrawMax, which is considered the best Visio alternative. Therefore, without much ado, let's get to know about this free Visio alternative in detail.
Part 1: What is Visio and Why you Might Look for its Alternative?
In nutshell, Microsoft Visio is a diagramming application that can help you come up with all kinds of vector-based diagrams, flowcharts, organizational charts, and more. You can use its desktop application or access its web tool to create different diagrams on the go. Besides that, Visio also offers dedicated features to share our designs and collaborate on projects with others.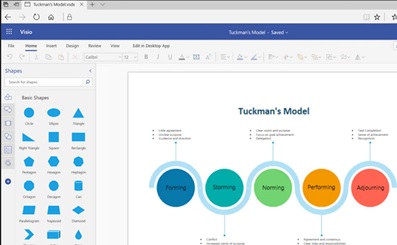 Even though it is a resourceful application, a lot of users look for a better Visio alternative due to the following reasons:
Visio has a steep learning curve, and a lot of first-time users find it hard to access its features.
There are limited resources (like diagramming libraries and templates) in Visio.
Visio also offers limited support with other platforms and applications.
A lot of features like custom themes, clip art gallery, drawing symbols, etc. are absent in Visio.
The standard Visio license costs $309.99 which is quite expensive compared to other tools.
Part 2: Wondershare EdrawMax: The Best Visio Alternative
If you are looking for a better Visio alternative, then you can consider exploring Wondershare EdrawMax. It is one of the most extensive and user-friendly diagramming tools that can help you come up with 280+ different diagram types without undergoing any technical hassle.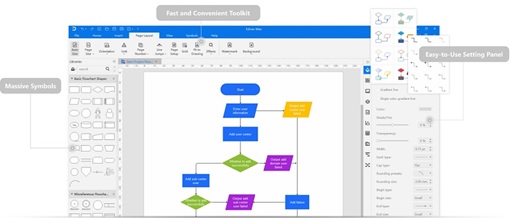 EdrawMax is available as an online and desktop application, letting its user access its features on their preferred platform. The application has zero learning curve, features hundreds of templates, and offers tons of import/export features. It is also considered the best free Visio alternative for pros and beginners and its basic version can be used without paying a single dime.
Part 3: Wondershare EdrawMax: Major Features to Explore
What makes Wondershare EdrawMax the best Visio Alternative is the wide range of features that it offers, packed in a user-friendly interface. Now when you know about some of its basics, let's have a look at what makes EdrawMax a go-to diagramming solution for everyone.
Cross-platform Support
One of the best things about EdrawMax is that you can access it on any platform of your choice. For instance, if you prefer working on a desktop tool, then you can simply install and use EdrawMax on your Mac, Linux, or Windows PC. Besides that, you can also access EdrawMax online via its web-based application.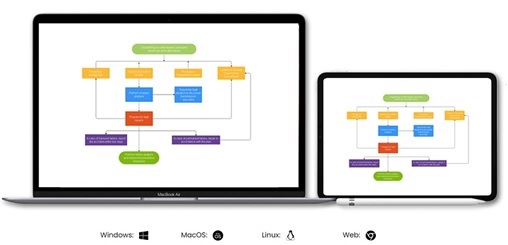 There is also a provision to simply upload any project or diagram on its cloud and access it on any platform of your choice. In this way, you can easily create your diagrams on any platform or device via EdrawMax.
Extremely Easy to Use
Even if you have no prior design experience, you won't encounter any issues with this free Visio alternative. You can easily access all the inbuilt diagramming tools in EdrawMax and can just drag and drop any element to your canvas.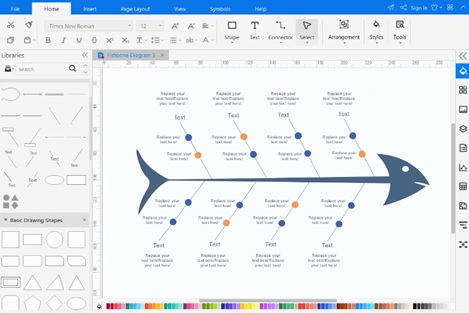 There are also numerous color palettes and other customization options to help you come up with unique diagrams. Furthermore, you can also save your time with its Data to Diagrams feature that can automatically convert the loaded data to diagrams like organizational charts, Gantt charts, and so on.
280+ Different Diagram Types Supported
It doesn't matter what kind of diagram you wish to work on, you can easily create it with the help of EdrawMax. As of now, you can create more than 280 different types of diagrams without any hassle using EdrawMax.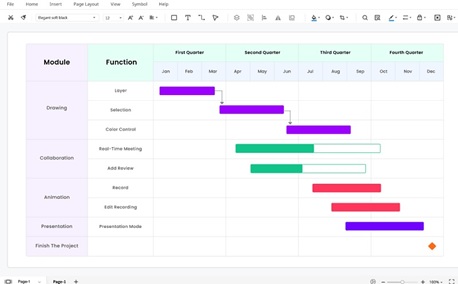 From business charts to engineering diagrams, there are dedicated libraries for hundreds of diagrams. Some of the common diagrams that this alternative to Visio can help you work on are flowcharts, floor charts, electrical diagrams, business plans, organizational charts, mindmaps, infographics, and much more.
A Wide Range of Graphic Elements and Templates
Another prominent reason that makes EdrawMax the best Visio alternative is the extensive range of diagramming materials and tools that it provides. You can explore more than 26,000 vector symbols in different libraries for coming up with industry-specific diagrams.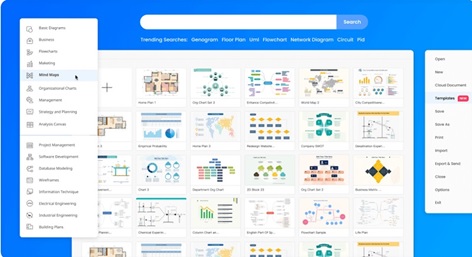 Apart from that, you can also explore 5000+ different types of diagram templates that are designed by professionals and existing users of EdrawMax. You can readily import any template on this Visio alternative and customize it easily.
Extensive Compatibility
Unlike Visio, Wondershare EdrawMax has extensive compatibility with numerous platforms. If you want, you can directly import Visio files to your EdrawMax projects and can export your diagrams to Visio, Office, SVG, HTML, JPG, PDF, and several other formats.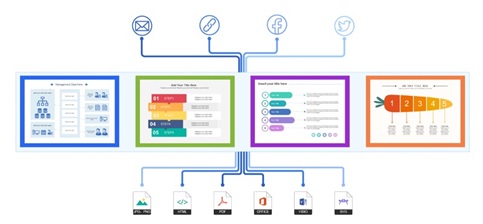 You can also directly share your diagrams from EdrawMax and can invite others to collaborate on projects in one place. To make things easier, Wondershare provides EdrawMax in all the major languages like English, French, German, Simplified Chinese, Spanish, Russia, Korean, Japanese, and much more.
Part 4: Visio Vs. EdrawMax: Things to Know
After getting to know about all the major features of EdrawMax, you can see how it is the best Visio alternative out there. To further make things clear, let's compare some of the major features of Visio and EdrawMax here.
Supported Platforms
As I have listed above, Wondershare EdrawMax is available for all the leading platforms such as Windows, Mac, Linux, and Web. On the other hand, the desktop application of Visio only supports leading Windows versions. Besides that, if you want to use Visio on other platforms, then you can only access its web-based version.
Winner: EdrawMax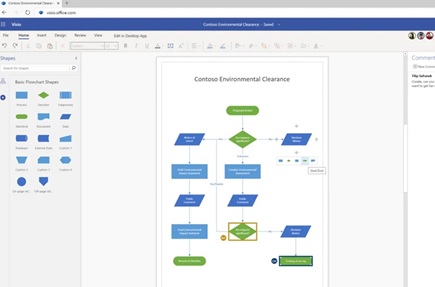 Overall Features
While Visio has been around for more time, it hasn't evolved much in the last few years. There are still limited features in Visio and users often find the overall interface of the tool a bit complicated.
Compared to that, EdrawMax is not only more user-friendly, but also offers tons of advanced features that are missing in Visio. For instance, there are limited templates in Visio, but you can access 5000+ industry-specific and editable templates in EdrawMax.
Also, Visio can also be used to create 120+ different diagrams while EdrawMax can help you come up with more than 280 diagram types. Besides that, EdrawMax has better collaborative, import/export, and design options.
Winner: EdrawMax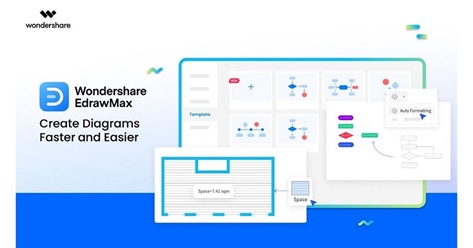 Plans and Pricing
One of the major reasons why people look for a better Visio alternative is because the application is quite expensive. As of now, Visio costs $309.99 per license and it can be an expensive affair to install it on multiple systems. Thankfully, you can get EdrawMax for just $99 per year or $245 for a lifetime, and access far better features than Vision at a more affordable rate.
Winner: EdrawMax
Part 5: How to Import or Export Visio Files using EdrawMax?
Even if you have worked on Visio before, you won't encounter any issue with EdrawMax as it supports seamless import/export options for Visio. Having these extensive import and export options certainly makes EdrawMax the best alternative to Visio.
To Import a Visio File on EdrawMax
If you already have a VSD or a VSDX file, then you can directly load it to your EdrawMax canvas. All you need to do is launch Wondershare EdrawMax on your system and visit its main menu. Now, go to the Import section from the side and choose to open a Visio file. You can also choose to batch import multiple Visio files at once from here.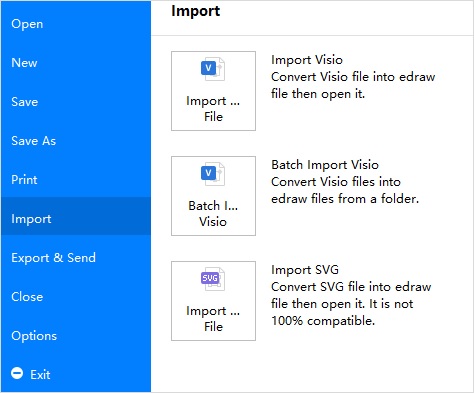 The option will open a browser window, letting you locate and load your existing VSD or VSDX documents. EdrawMax would automatically render these files and will display them on its native interface.
To Export EdrawMax Files to Visio
Just like importing, you can also export your diagrams from EdrawMax to a VSDX format that you can readily open on Visio. To do that, you can go to the main menu on EdrawMax and click on the "Export & Send" feature from the sidebar. Here, you will get options to export your projects in formats like PDF, SVG, Visio, Office, and so on.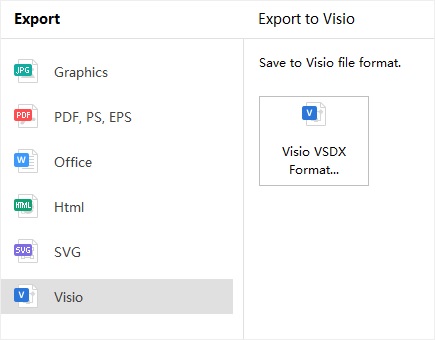 Just select the "Visio" option from here and go to any preferred location on your system where you want to save the exported VSDX file from EdrawMax.
Final Verdict
There you go! I'm sure that after reading this guide, you would be able to know more about Visio and why so many users look for a free Visio alternative. While there are plenty of diagramming tools out there, Wondershare EdrawMax has to be the best alternative to Visio. From having a user-friendly interface to hosting tons of high-end features, you can use this Visio alternative on any preferred platform and meet your diagramming needs in no time.
Related posts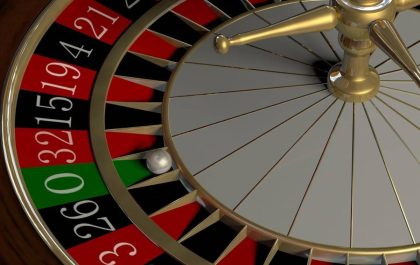 Which is the Best Online Satta Game App?
Satta games have gained immense popularity in the online gaming world, with players seeking excitement and the chance to win…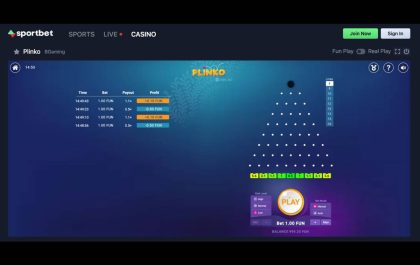 Plinko game: cheats that pay real money
Plinko game cheats that pay real money Plinko, the popular slot machine game that combines elements of chance and strategy,…