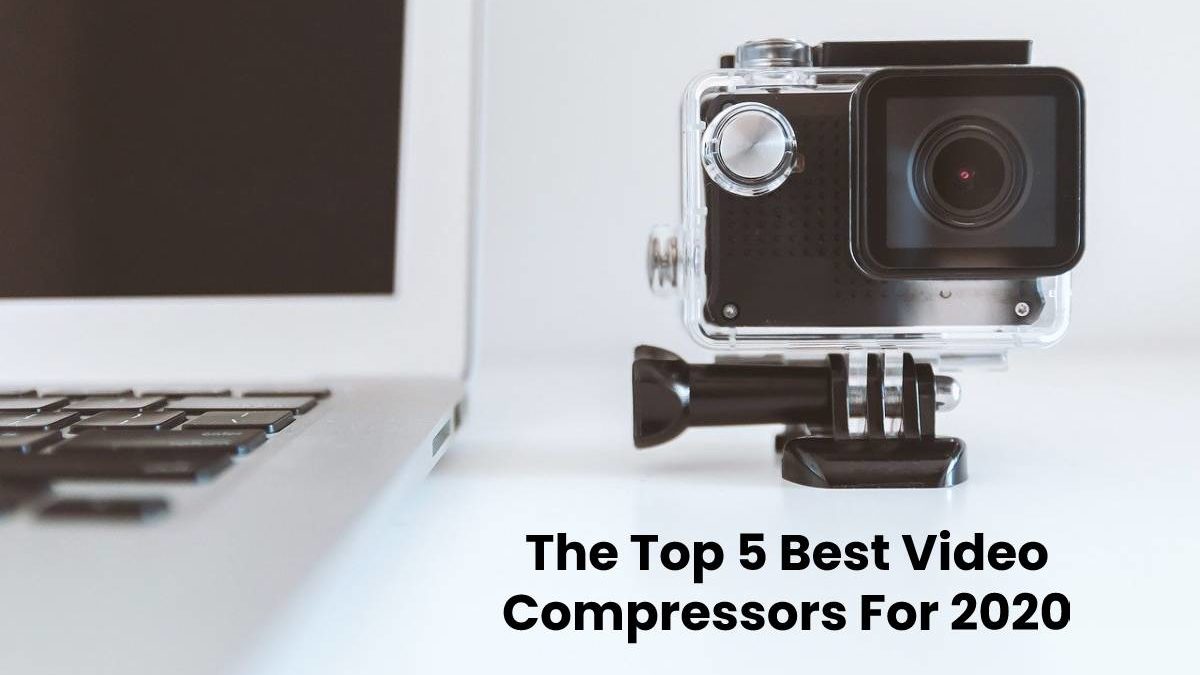 Top 6 Best Video Compressors
Large video files can take you dozens and even hundreds of gigabytes of storage space. A good way to reduce the size of a video is to compress it using software that specializes in file compression. What makes a good video compressor online? First, it should be able to compress different types of videos into much lighter files. The size of a video file depends on many factors: frame rate, resolution, length, codec, etc. A good video compressor should be able to effectively compress a video even with all of these factors, so users may have more solutions to be able to reduce the size of their videos as needed.
Second, it should be easy to use. You don't have to know a lot of technical gibberish to be able to compress a video. Certainly you would also like to be able to compress a video without losing quality.
In this article, we will introduce you to 5 great programs for compressing videos; and what's great about it is that they're all free. You can try them all at no cost and find the one that's right for you. Whether you want to use them to compress videos for email, YouTube, WhatsApp, Vimeo or more.
#1. AnyRec Video Converter
AnyRec Video Converter is your superfast and reliable free video converting software. You can convert videos to and from 1000+ popular formats and devices, including the latest iPhone 13, MacBook Pro 13/14/16, etc.
If you want to compress large video files, you can head to its Toolbox. Find and click Video Compressor.
Now you can upload a video to shrink file size. Here you can compress a video by percentage or specific file size. Moreover, you can change video resolution and bitrate to make your video smaller than before. At last, click Compress to compress videos with AnyRec Video Converter.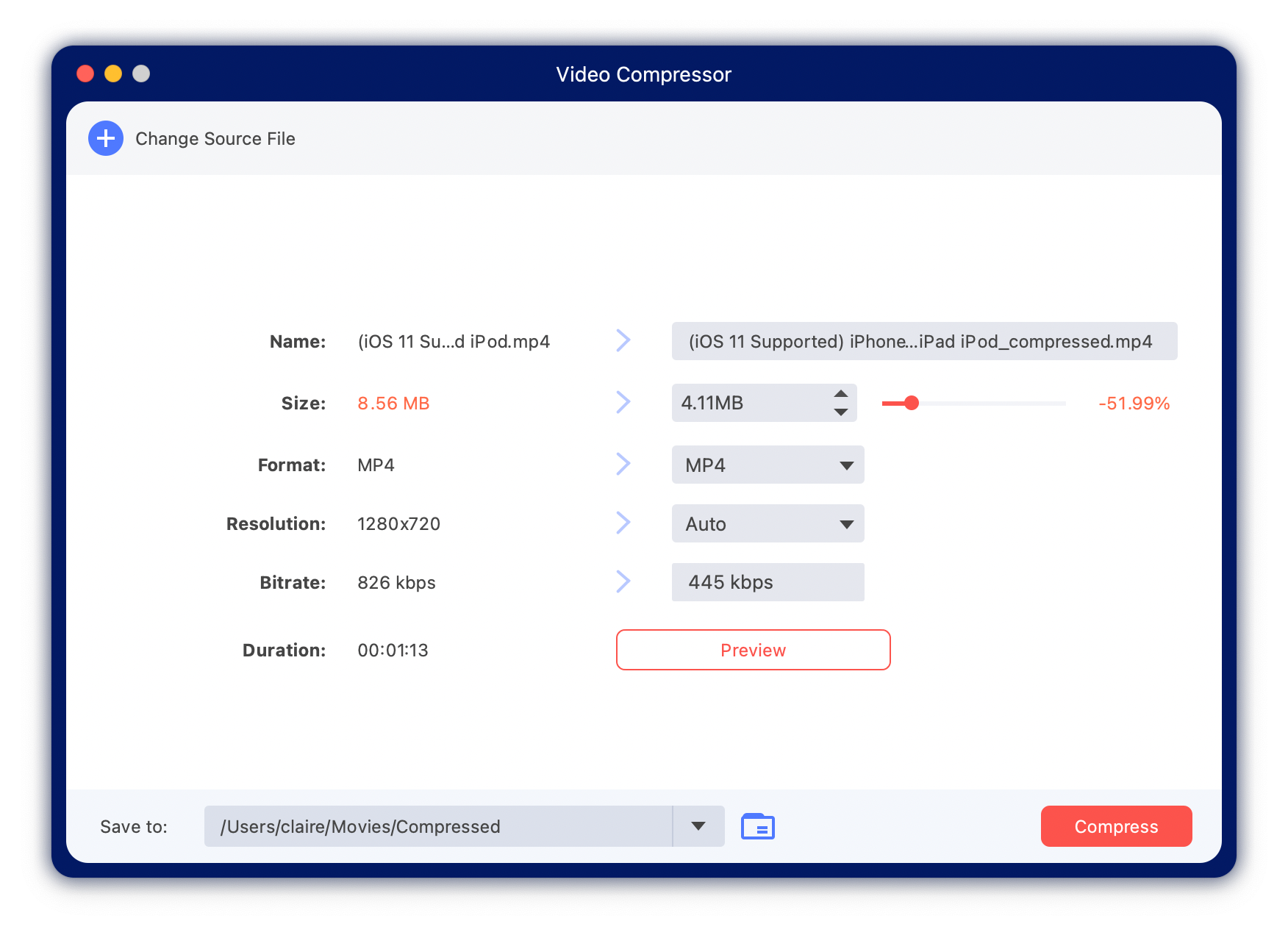 To some degree, AnyRec Video Converter can be your best free video editor. If you want to quickly make a cool music video, you can use the built-in MV Maker. Moreover, you can explore many other interesting tools within the program.
#2. Uniconverter
While compressing the video, make sure you have to do it with Uniconverter. When there are a lot of tools you can use to compress video file, it is natural to have a question that says why Uniconverter? Uniconverter helps not only to compress the image but also to convert video files to different file formats such as MP4, M4V, WMV, MKV, etc.
There are 3 steps to compress videos with Uniconverter:
You need to open the official website. You will see a kind of interface and a few buttons.
Click the add button located under the Drag & Drop button or Press to Add File.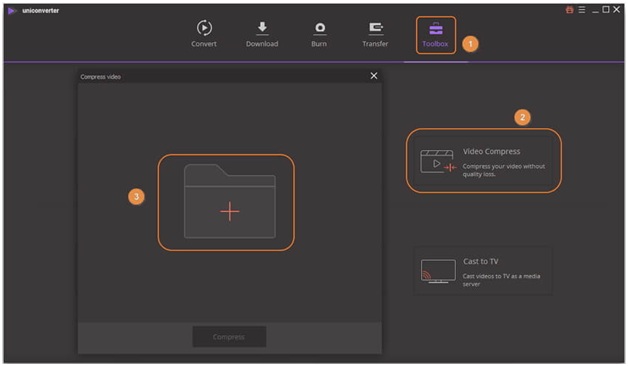 Adjust the compression output by entering Compression Settings.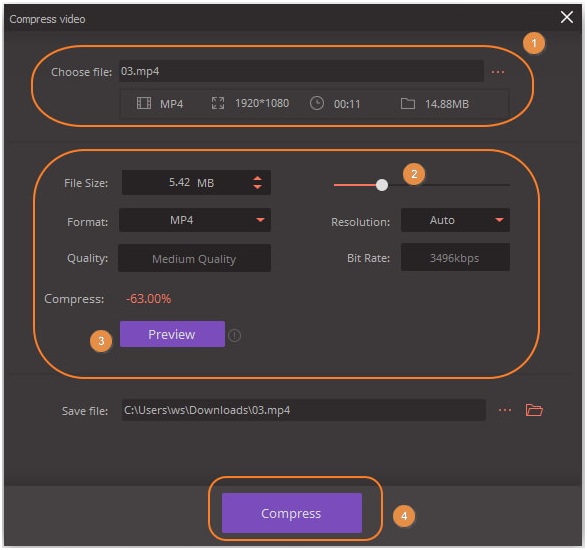 Compress your file.
As simple as that!
Benefits:
– Uniconverter supports up to 1000 different file formats.
– This tool is easy to use
– The free version is more complete than the free version of similar products
– Compression speed is quite high
Disadvantage:
– none
#3. FonePaw Video Converter
It is a multifunctional program that can convert the size of a video. FonePaw Video Converter can compress MP4, MOV, AVI, FLV, MKV, WMV, etc. via 4 different methods:
Compress a video with a high video compression capacity profile;
Convert a video so that it has a lower frame rate and resolution;
Cut unnecessary video clips to reduce their duration;
Crop a video to reduce its size.
Benefits :
– All-in-one program. Its multiple tools support video compression.
– Fast compression. It only takes a minute or two to compress a 3-minute-long video to only half its original size.
– Many video formats are supported.
Disadvantage:
– There is a premium version.
#4. Windows Movie Maker
You may know Windows Movie Maker as a video editing tool for Windows computers, but you might not know that it can also compress videos for free. Simply import your large video into Movie Maker. Importing videos may take a while depending on the file size.
You can then select the "Save video file"> "Video settings" option to start reducing your file. You can also enter your ideal file size or select the preferred connection speed. Settings with a slow connection speed will make your video lighter. Of course, you wouldn't want to choose something like dial-up video (38 Kbps) that would overly compress your video to the point of affecting the pixel. With Windows Movie Maker, you can compress video files in WMV, AVI, MP2 and MPG formats. Before importing, you must convert a video to a format supported by Windows Movie Maker.
Benefits :
– It is a tool built into Windows 7/8. It's completely free.
– It provides video editing functions.
Disadvantages:
– The number of video formats is limited.
– Windows Movie Maker does not work on recent versions of Windows 10.
#5. iMovie
If you want to compress video for free on Mac, then you can use iMovie, Apple's default video editor. iMovie can compress your videos by exporting them under different qualities, resolutions and giving you an estimate of the size of your exported video files. After importing the video to iMovie, click the "Share" button and you can choose to compress your videos via email, Facebook, YouTube, Vimeo, etc. In general, by selecting the most basic quality, you will get a very light video.
Benefits :
– Video compression on MacBook Pro / Air, iMac and Mac mini is free.
– Easy to use.
Disadvantage:
– Video compression options are very limited.
#6. HandBrake
HandBrake is a free open source video transcoder that is available for Mac, Windows and Linux computers. It provides multiple video codecs (H.264, MPEG-4, MPEG-2, H.265) and over 100 presets that you can choose from to be able to compress videos. For example, to compress a video for emailing to Gmail, you can choose a Small / Medium / Large preset to compress your file. In general, by choosing a preset with low resolution and fast speed, you can significantly reduce the size of your file. The frame rate of your video can also be adjusted.
Benefits :
– It supports batch conversion. You can compress multiple videos at the same time.
– Presets for YouTube, Vimeo, Gmail, Android, iPhone and Smart TV resolutions are provided.
Disadvantage:
– There are technical terms you need to learn to be able to master HandBrake. Only 2 video formats are available for recording compressed videos.
Conclusion:
We have concluded that all the video compressors above are quality. But if we are asked to choose the best, there is no doubt that Uniconverter is our choice. Its compatibility, speed of compression and practicality are the main reasons.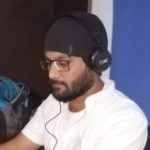 Kamran Sharief
I write about technology, marketing and digital tips. In the past I've worked with Field Engineer, Marcom Arabia and Become.com. You can reach me at kamransharief@gmail.com
Related posts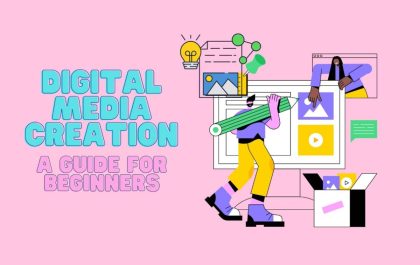 Digital Media Creation: A Guide for Beginners
Digital media creation is the process of producing and distributing content in various formats and platforms for different purposes. Digital…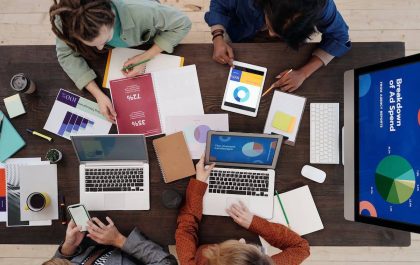 Reasons to Outsource Your Bookkeeping
In the dynamic and competitive business landscape, small and large enterprises alike are constantly seeking ways to streamline their operations…