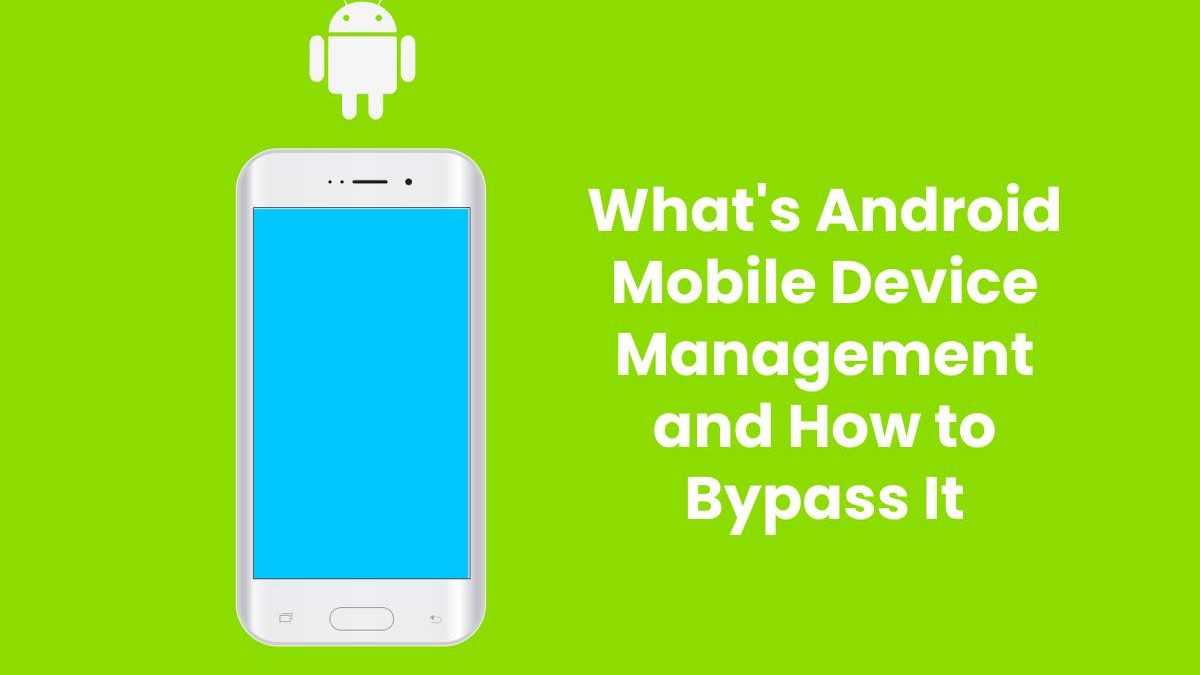 In the modern digital landscape, the proliferation of mobile devices in both personal and professional spheres has necessitated a robust system to manage and secure these devices.
This is particularly true for businesses and organizations that deploy many mobile devices to their employees. Enter Android Mobile Device Management (MDM), a solution to address these challenges.
In this detailed guide, we'll explore the MDM Android app, its features and restrictions, reasons and best tools to bypass it.
Part 1. What is Android Mobile Device Management (MDM)
Mobile Device Management, commonly called MDM, is a comprehensive solution that provides administrators with the tools and capabilities to manage, monitor, and secure mobile devices across an organization.
When we talk about the Android MDM app, we're specifically referring to managing devices that run on the Android operating system, including smartphones, tablets, and certain IoT devices.
What's MDM Used For?
MDM for Android encompasses a wide range of functionalities:
Enforce Security Policies:
One of the primary uses of MDM is to ensure that all devices within an organization adhere to a consistent set of security standards. This might include mandating password protection, setting password complexity requirements, or ensuring data stored on the device is encrypted.
Remote Management Capabilities:
In situations where a device is lost or stolen, administrators can use MDM to remotely lock the device, wipe sensitive data, or even locate the device using GPS.
Application Management:
MDM allows organizations to control the apps installed on devices. This means administrators can whitelist or blacklist certain apps, ensuring that employees only use approved and secure applications. It also facilitates the remote installation of necessary apps on all devices.
Update and Patch Management:
Keeping devices updated is crucial for security and functionality. MDM solutions can ensure that all devices are running the latest software versions, firmware, and security patches by prompting users to update or forcing updates remotely.
Inventory and Reporting:
With MDM, organizations can maintain a detailed inventory of all Android devices, monitoring their statuses, user assignments, and potential issues or breaches.
The significance of MDM Android app in today's corporate environment is multifaceted:
Data Protection:
With potential threats like data breaches and cyberattacks, MDM ensures that sensitive corporate data stored on mobile devices is safeguarded.
Productivity Enhancement:
MDM can boost productivity by standardizing device setups and ensuring employees have the necessary apps and tools.
Cost Savings:
Organizations can save on potential losses and IT management costs by preventing potential security breaches and streamlining device management processes.
Regulatory Compliance:
Many industries have regulations regarding data protection and privacy. MDM helps ensure that mobile devices comply with these regulations.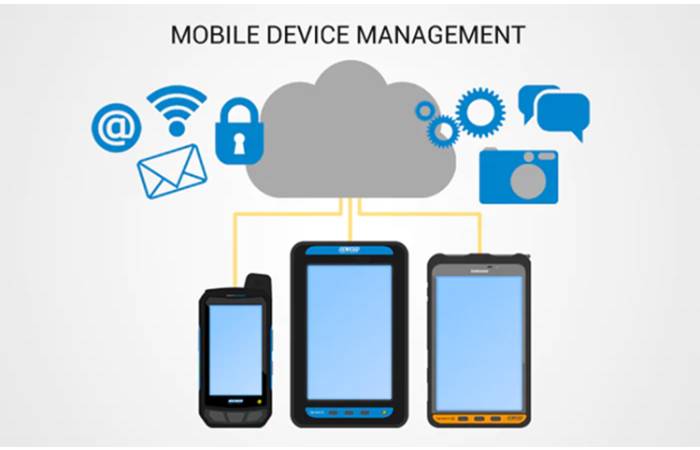 Part 2. Common Features and Restrictions of MDM
MDM solutions, especially for Android devices, come packed with various features to help organizations manage and secure their fleet of devices.
Here are some of the most common features of the MDM Android app:
Device Enrollment:
Allows for the bulk registration of devices into the MDM system, making managing many devices at once easier.
Remote Lock and Wipe:
In case of device loss or theft, administrators can remotely lock the device or erase sensitive data to prevent unauthorized access.
App Distribution:
Facilitates the deployment and updating of corporate apps across all devices, ensuring everyone has the necessary tools.
Location Tracking:
Enables real-time tracking of device locations, which can be crucial for field-based staff or in case of device misplacement.
Data Usage Monitoring:
Monitors device data usage to prevent overages or misuse.
VPN Configuration:
Allows for setting up and managing Virtual Private Networks (VPNs) on devices for secure data transmission.
MDM solutions often impose certain restrictions on devices to maintain security and compliance. Here are some common restrictions for Android devices:
App Restrictions:
Limiting the installation of unapproved or potentially harmful apps by blacklisting them or setting up a whitelist of allowed apps.
Device Functionality:
Disabling features like a camera, microphone, or Bluetooth to prevent potential security risks or distractions.
Data Transfer Restrictions:
Preventing data transfer to unauthorized external devices or cloud services.
Internet Access Control:
Blocking access to specific websites or categories of websites deemed inappropriate or risky.
Device Settings Lockdown:
Preventing users from altering certain device settings that could compromise security or functionality.
Screen Time and Usage Limits:
Setting limits on how long a device can be used or restricting usage during certain times of the day.
Part 3. Reasons for Bypassing MDM
While primarily designed to bolster security and facilitate device management, MDM solutions sometimes encounter situations where bypassing becomes a consideration. For instance, when a company device transitions for personal use or is handed over to an employee, the existing MDM restrictions might be deemed unnecessary.
Sometimes, MDM configurations can inadvertently introduce technical glitches or incompatibilities, prompting users to consider bypassing as a solution. In their quest to test new software, developers might find MDM restrictions cumbersome.
Additionally, the growing trend of using personal devices for work, known as BYOD (Bring Your Device), has raised concerns about personal privacy, leading some to bypass MDM. In extreme cases, bypassing becomes a last resort solution to maintain device usability if an organization loses access to its MDM server.
However, bypassing the MDM Android app is not without its pitfalls. Such actions can introduce significant security vulnerabilities, exposing devices to potential malware attacks or unauthorized data access. The protective umbrella of MDM often includes data backup, and bypassing it increases the risk of data loss.
Organizations, especially those in regulated sectors, might find themselves in the murky waters of non-compliance, attracting legal repercussions and hefty fines. From an operational perspective, IT departments will likely withhold support for devices that sidestep MDM protocols.
Part 4. Best Tool to Bypass MDM Android App
MDM Unlock Tool is an essential software solution for those looking to bypass the restrictions set by MDM programs.
Organizations often employ free Android MDM software to oversee and regulate devices owned by their employees. This software can lock devices, wipe out data, and limit access to specific apps and websites.
The Auth MDM Unlock Tool stands out due to its extensive compatibility with numerous Android devices. Whether you have a Samsung, Huawei, Xiaomi, Oppo, Vivo, or OnePlus, this tool covers you.
Here's how to utilize the Auth MDM Unlock Tool:
Download the tool from the relevant website.
Extract the downloaded file onto your desktop and access the folder.
Launch "Auth MDM Unlock By SoftwareCrackGuru_se.exe."
Connect your phone. If it's in debugging mode, great. If it's locked, you must hard reset it first and then dial *#0*#.
Press the 'ADB ON' button to activate debugging on your device.
Once successful, hit the 'KG Unlock' button, and your device will be unlocked in no time.
Part 5. Bonus Part: Best Software to Unlock iPhone MDM
Above, we have discussed the best MDM Android app for those seeking a reliable and efficient solution. For iOS users to unlock MDM, Wondershare Dr.Fone stands out as a top recommendation. This software is user-friendly and offers a robust set of features tailored to address various device-related challenges, including MDM restrictions.
Dr.Fone's MDM Unlock feature is designed to provide a hassle-free experience for iPhone and iPad users. Whether you've purchased a second-hand device with MDM or encountered restrictions you weren't aware of, Dr.Fone can assist in removing these limitations, granting you full access to your device's capabilities.
Here are the steps to remove MDM:
Step 1: Initiate the Unlock Procedure
Begin by opening the Wondershare Dr.Fone software on your computer. Navigate to Toolbox > Screen Unlock > iOS to access the relevant feature.
Step 2: Activate the MDM Unlock Feature
Once inside the tool, navigate to the option labeled 'Unlock MDM iPhone' to start the MDM unlocking process.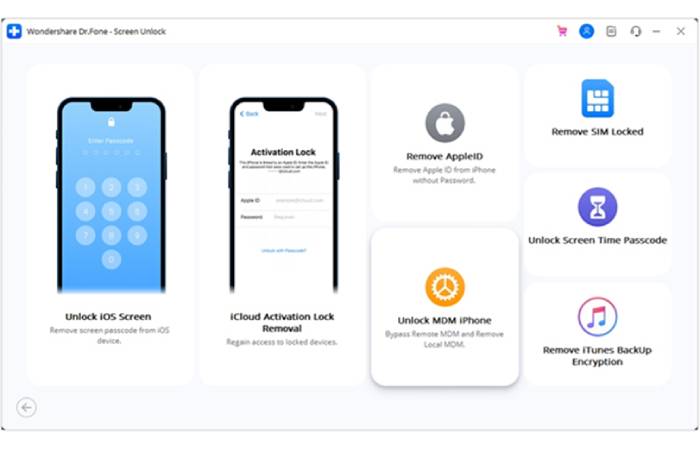 Step 3: Opt for MDM Bypass
In the subsequent screen, you'll see two choices. Pick 'Bypass MDM' and then click 'Get Start' at the bottom right.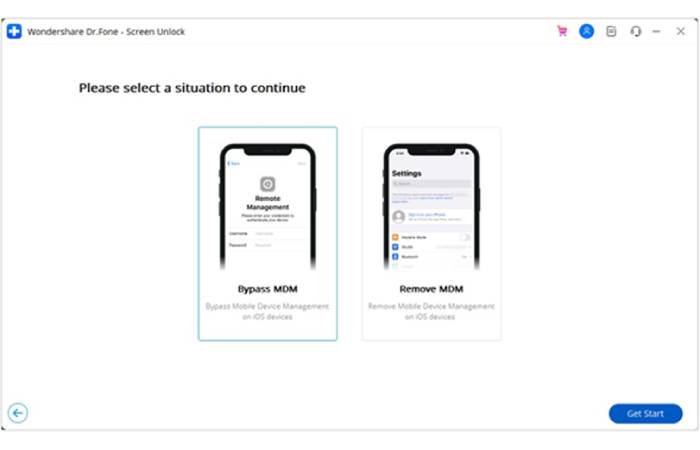 Step 4: Initiate the MDM Bypass Process
A fresh interface will pop up. Choose the 'Start to Bypass' option to move forward.
Step 5: Deactivate the 'Find My' Option
You'll be prompted to disable your device's 'Find My' feature. To do this, head to Settings, tap on your name at the top, proceed to the iCloud settings, and then switch off the 'Find My' option. Once done, confirm by clicking 'OK' on your computer.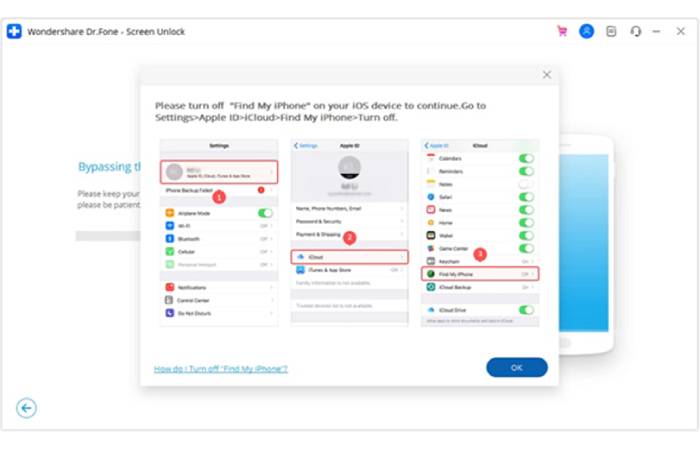 Step 6: Monitor the MDM Bypass Progress
The software will now begin bypassing the MDM restrictions on your device. You can watch the progress on the displayed screen.
Step 7: Completion of MDM Bypass
Upon successful bypass, a confirmation message will appear. Click 'Done' to exit the window.
Conclusion
MDM Android app plays a crucial role in ensuring an organization's security and efficient management of mobile devices. While there are valid reasons to bypass MDM, it's important to understand the implications and potential risks.
Whether you're using Android or iPhone, choosing the right MDM solution like Dr.Fone and understanding its features can help keep your devices secure and your data protected.
Related posts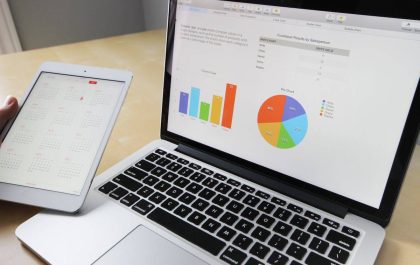 Learn From These Marketing Scandals and Protect Your Business
Volkswagen, a famous car company, faced a massive problem when it was revealed they used a "defeat device," in their…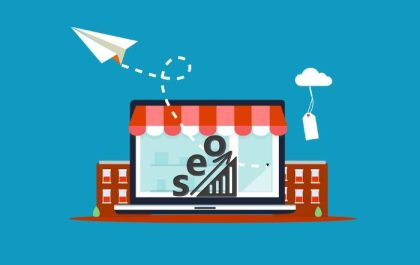 Outsourcing E-commerce SEO: Winning the Online Retail Game
Outsourcing E-commerce SEO: Winning the Online Retail Game In the dynamic world of online retail, staying ahead in the e-commerce…