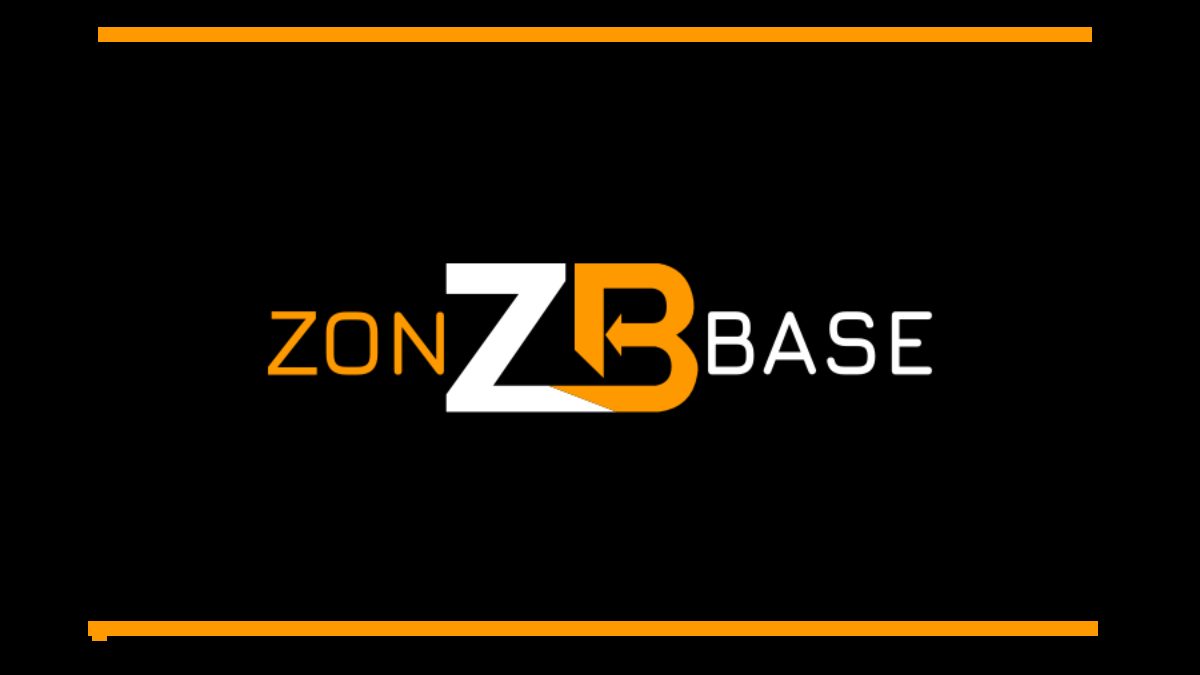 Shocking news — Creating an Amazon seller account is not the be-all and end-all of success on Amazon. 
After creating a seller account, you'll have to find profitable products, generate relevant keywords, optimize your listings, and launch PPC campaigns to increase your chances of sales. 
These processes sound straightforward on paper but if you don't have the luxury of time, you'll need to automate these tasks. 
This is where Amazon software comes in. And you're probably reading this because you're trying to see if ZonBase is truly worth its salt or you'd be better off with the other big players.
When it comes to choosing software, you won't be at a loss for options. However, there are many big names flying around, so you should weigh your options well. That's what this ZonBase review will do for you.
You'll come across many ZonBase reviews online, but the majority of them place ZonBase side by side with competitors like Helium 10 and Jungle Scout. This won't be one of those blanket ZonBase reviews. 
In this review, we will do a thorough breakdown of ZonBase's offerings, pricing, and a detailed review of the tool compared to other alternatives.
What is ZonBase?
ZonBase is one of the newest Amazon seller tools on the market, having been launched in 2019. This makes it a newer option than Helium 10 and Jungle Scout, which were both launched in 2015. 
The software provides a comprehensive suite of tools to help take the burden of research, optimization, and tracking off Amazon sellers. 
Although the tool does not offer never-heard-off tools, its offerings follow a unique approach — ZonBase offers seller tools alongside an array of personalized services. Needless to say that this alone has put ZonBase in a class of its own. 
The software provides a collection of tools that cater to FBA sellers across board from private labelers and wholesalers to arbitrage sellers, and dropshippers.
How Does ZonBase Work?
ZonBase tools mostly comprise web apps, so you have to log in to the software to access any of the seller tools. Only one of the tools is a mobile app, and is available for iOs and Android devices.
ZonBase tools are integrated with Amazon; thus making it easy for the tool to delve into Amazon's database and product catalog.
The software gives you access to privy sales or product data like monthly sales, monthly revenue, number of reviews, and much more. 
Apart from providing a vast collection of tools to help you start and scale your business yourself, ZonBase also provides a couple of personalized services that allow you to build your business using their expertise directly.
In other words, if you sign up for any of ZonBase's personalized services, you get to work directly with their team of experts who will put you through and also execute your business tasks on your behalf. The services cut across listing optimization, product research, and PPC optimization. 
Although these services are priced differently from their regular tools, they still provide a great boost to the value that the software offers, in our opinion.
See a more detailed review of ZonBase tools in the next section.
ZonBase Review: A Thorough Assessment of its Features
ZonBase's tool suite includes tools for product research, keyword research, and listing optimization.
The tools are powered by artificial intelligence, making them intuitive and easy to use. If you intend to spend only some of your time trying to scale your business then adding ZonBase tools to your arsenal will be an ingenious move.
Here's a bird eye view of what the software offers.
ZonResearch
ZonResearch revolutionizes the way sellers uncover profitable opportunities across all Amazon product categories.
By diving directly into Amazon's vast catalog, ZonResearch uncovers hidden gems that sellers may have missed out on. It provides a curated list of products that not only exhibit high demand but also boast a favorable balance of competition and profit potential.
The tool does not just create a list by mashing random products together. Instead, it offers a comprehensive set of filters that allow you to customize your search preferences. Using these filters, you can set your desired price range, minimum number of reviews, monthly sales volume, monthly revenue, and even best-seller rankings to refine your search results.
You won't have to sift through an extensive list of products, you can go straight to the most promising options in a few clicks. With ZonResearch, you can confidently make data-backed decisions and select products that have the greatest potential for success.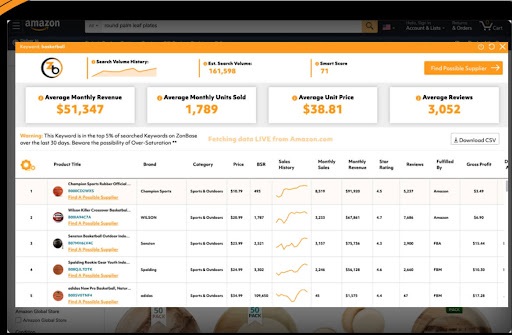 Most ZonBase reviews compare the software to its competitors based on the efficacy of its Chrome extension. But what makes the ZonBase Chrome extension different?
With this extension, you can discover new product ideas or validate your existing ones. 
If you've already compiled a list of potential products to sell, the Zon Chrome Extension becomes your invaluable companion in the validation process. It allows you to gather critical data and insights to make informed decisions about which products to pursue.
What sets Zon Chrome Extension apart is its ability to provide sales estimates. These estimates offer a glimpse into the profit potential of each product before you make a final selling decision. 
This valuable information equips you with the knowledge needed to assess the viability and profitability of your product choices.
Sales Estimator
ZonBase's Sales estimator tool proves to be invaluable for sellers seeking to make data-driven product decisions grounded in previous sales history.
With this tool, you can obtain accurate estimates of a product's average monthly sales, allowing you to gauge its demand and market viability effectively.
Additionally, the Sales estimator provides insights into your competitors' sales performance. By leveraging this tool, you can gain visibility into the number of units your competitors sell on a monthly basis.
Hot Products

The Hot Products tool provides an up-to-date list of trending items across various product categories. 
This feature is particularly valuable as selling trending items can be a viable product research strategy in itself. The tool also goes the extra mile by offering a supplier link for each product option. 
By having access to the Hot Products tool, users can explore trending items and identify exciting new opportunities. The integration of supplier links streamlines the sourcing process, empowering sellers to quickly connect with suppliers and bring their chosen products to market efficiently.
AI Listify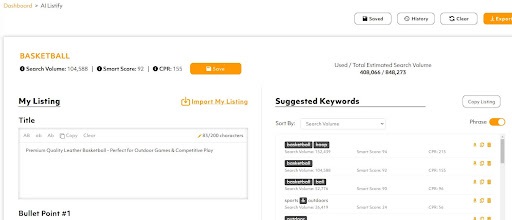 jnu75uj76
AI Listify is a recent addition to the ZonBase tool suite. The tool uses artificial intelligence to generate well-optimized listings with minimal input from sellers. 
All you have to do is provide your base search term, and AI Listify will conduct a comprehensive analysis of the top ten organic rankings associated with that keyword. 
The tool extracts high-converting keywords from the top-ranking listings in your niche and ingeniously incorporates them into a brand-new listing tailored specifically for you.
The AI Listify tool can help sellers save significant time and effort that would otherwise be spent on manually crafting optimized listings. 
Listify
Listify is the do-it-yourself version of AI Listify. With Listify, sellers will have to come up with keywords and build their listings from scratch with no AI interference.
As expected, listing optimization with Listify is more tasking than it is with AI Listify. 
Reverse ASIN
The Reverse ASIN tool allows you to look up your competitors' ASINs and view the back end of their listings. This means you can see the keywords they rank for and target the same keywords in your own listings.
In addition to displaying the keywords your competitors are currently ranking for, the Reverse ASIN tool also shows you the rank and estimated monthly search volume for each keyword. 
This information can help you identify high-value keywords that you can use to improve your own listings.
Keywords
Using the ZonBase keywords tool, sellers can gain an understanding of the popularity and potential demand for any search term.
The tool provides valuable information on the keyword's seasonality over time, helping you identify trends and optimize your strategy accordingly.
But that's not all. The Keywords tool also provides an extensive range of related keywords frequently used by Amazon shoppers to find products like yours. Each keyword is accompanied by its corresponding monthly search volume, enabling you to assess its relevance and prioritize your optimization efforts.
The ZonBase's Keywords tool also offers a set of powerful filters to help you fine-tune your results based on search volume.
ZonTracker 
ZonTracker is not exactly a keyword research tool, it's more of a keyword tracking tool. The tool gives you unrestricted access to view the ranking performance of your product across specific keywords. 
It does a comprehensive analysis of your rank changes over time, allowing you to gauge the trajectory of your keyword performance. 
Furthermore, ZonTracker also offers estimated monthly search volume data for the tracked keywords, enriching your insights even further.
By leveraging the powerful insights that this tool provides, you can identify your best-performing keywords and uncover the ones that may not be generating desired conversions. 
Armed with this knowledge, you can refine your keyword combinations and optimize your listing strategies.
ZonPPC
Like most competitors, ZonBase also offers tool for PPC launch and optimization. But again, they do this with a twist — they offer ZonPPC, a PPC optimization tool that allows you to launch and manage your campaigns yourself. They also offer Page One and PPC Autopilot — two personalized services that allow you to partner with experts to launch and manage your campaigns.
We'll tell you all about the personalized PPC service shortly, but here's what ZonPPC can do for you.
With ZonPPC, you can launch ad campaigns and optimize existing ones. The tool allows you to optimize bids, uncover high-converting keywords, and adjust budgets in real time from one dashboard. It's honestly a game-changer for sellers.
But the true power lies in its performance tracking capabilities. With ZonPPC, you gain full visibility into your ad campaigns, allowing you to closely monitor their performance and make data-driven decisions.
ZonRepricer
Repricing is an important part of price optimization on Amazon. Sadly, not all software tools offer a repricer tool. Even Jungle Scout and Helium 10 don't offer a repricer tool, so if you sign up for any regular software tool, you'll most likely have to sign up for a separate repricer tool.
With ZonRepricer, you can effortlessly establish pricing rules to stay competitive in a dynamic market.
Here's the best part: ZonRepricer automates the implementation of your pricing rules, adapting to fluctuations in your product's price swiftly. This way, you can ensure that your prices remain competitive, thus maximizing sales and profitability.
Profits
The ZonBase Profits tool is a simple expense tracking or finance management tool. Using this tool, you can keep an eye on your business's expenses and financial records without having to manage multiple Excel sheets.
The tool also comes with an inventory forecasting feature that allows you to monitor your inventory levels, get prompt notifications when you're running low on stock, and also get estimated restock dates. 
ZonBase Reseller Tools — ZonGrading, Zon Scanner, Seller Insights, & Brand Analytics
ZonBase recently updated its tool suite and they now cater to resellers. So wholesalers and arbitrage sellers will find the software particularly useful.
The reseller tools typically focus on making product research and product sourcing easy for resellers. If you find a product you're interested in and find a supplier to source it from, you can take things further and use keyword research and listing tools to generate keywords and optimize your listings.
With Zon Grading, wholesalers can run their product options through and confirm their profitability. The tool provides privy sales data like the number of monthly units sold and the current selling price of each product and generates an estimated profit margin for any potential product based on the COGS (cost of goods sold).
The Seller insights and brand analytics tools are the latest additions. The seller insights tool can help resellers find authentic sellers to source products from while the brand analytics tool generates an extensive list of the best brands on Amazon for you to resell.
ZonScanner, the most unique of the clique, is a mobile app that is compatible with iOs and Android devices. The tool allows resellers, or anyone really, to scan product barcodes and access insider product information and sales data.
Using this data, you can decide whether a product is profitable or not. You can also get an estimated profit margin based on your seller fees and other important costs.
Want to explore these tools for yourself before you take our word for it? Sign up for a free trial of ZonBase.
ZonBase Personalized Services — Page One, PPC Autopilot, Product Validator, Listing Optimizer, and Photo Enhancer
This is an unbiased ZonBase review, so it would be incomplete if we don't provide full details about the personalized services too.
The Product validator service is ZonBase's personalized service for product research and validation. If you sign up for this service, you can send your list of potential product options to a team of experts who will go through them and highlight the top picks for you based on a set of criteria. Product Validator costs $197/1 product, $397/5 products, and $397/3 products.
Listing Optimizer, like Product Validator, allows you to partner with a team of experts who will go through your listings and optimize them in a way that increases your chances of conversions significantly. 
Depending on the tier of listing optimizer service you choose, they may even throw in some enhanced product photos too. The service costs $397/per ASIN, $647 for 1 ASIN and 5 enhanced product photos, and $497 for 2-5 ASINs and 5 enhanced product photos.
The photo enhancer service is just what it is — a service that allows you to work with experts who will edit your existing product images and optimize their quality to increase your conversions.This service  costs $197/1 photo, $647/5 photos + 1 optimized ASIN, $397/5 photos.
PPC Autopilot and Page One do similar stuff since they both focus on PPC launch and optimization. However, the PPC Autopilot service allows you to partner with experts who will launch and manage your campaigns from start to finish. 
Page One, on the other hand, allows you to work with experts who will focus on doing everything possible to optimize your listings and ad campaigns to ensure you show up on page one of search results.
Page One costs $397/keyword launch, $497 for 30 days of fully managed PPC + keyword launch, and a customized plan that seems negotiable. PPC Autopilot has four plans that cost $497/month, $697/monthly, $897/monthly, and a customizable plan.
ZonBase Review: Should You Sign Up or Not? — Pros and Cons
For the most part, ZonBase is pretty similar to most other software tools available on the market. We'll place it side by side with the most popular competitors that are probably vying for your attention right now, but first, why should you consider ZonBase?
This is where the pros and cons come in. We always advise that you take out time to weigh your options and consider the pros and cons of any software before signing up.
Since most ZonBase reviews already compare based on features, here are some pros and cons to help you come to a conclusion.
Pros
Affordable price points

: ZonBase offers three affordably priced regular plans. The lowest of these plans costs $30/month, $67/month, and $200/month. Compared to other seller tools, this is a reasonable price point.

Great assortment of tools

: The software has a versatile tool suite, providing more than two tools for some tasks. The best part? Even the basic plan gives you access to most of the tools and also has usage limits that you can work with.

Availability of a free trial

: ZonBase offers a 7-day free trial that allows you to explore the tool suite without making a financial commitment.

Easy-to-use tools

: The seller tools are easy to navigate and ZonBase also has a section of their website dedicated to showing sellers how to use the tools.
Cons
In our books, there are no significant cons to using ZonBase. 
How Much Does ZonBase Cost?
As we stated earlier, ZonBase offers three regular plans while the personalized plans are all priced differently. Apart from the personalized services and regular plans, they also offer ZonBase Plus — an exclusive program that gives sellers access to the highest-priced plan as well as access to expert guidance. 
ZonBase Plus is a perfect merge of the tool suite and personalized plans. It's perfect for sellers who want to experience the best of both worlds on one subscription plan and it's not a bad idea in our opinion.
The regular plans — Standard, Legendary, and Diamond cost $30/month, $67/month, $200/month or $354/year, $804/year, and $2394/year.
As expected, the Diamond plan gives you access to a wider range of tools and extended usage limits compared to the Legendary plan. The Standard plan also gives you access to most ZonBase tools but with a smaller usage limit.
ZonBase Plus costs $1,997 and if you want to sign up for it, you have to join a waitlist first. Yeah, it's that exclusive.
ZonBase reviews will typically end by providing you with tangible information about pricing, pros & cons, and features as we have done. But we'll take it a step further by comparing some key features of ZonBase like the Sales estimator, Chrome extension, and free trial to those of their competitors — Helium 10, Jungle Scout, and Viral Launch to be precise.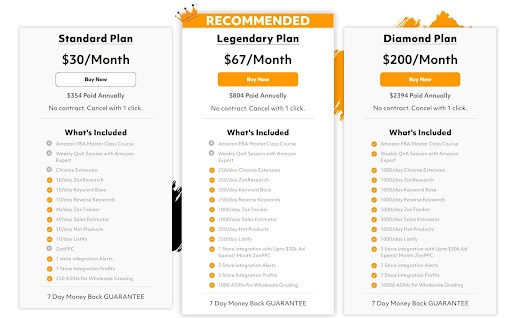 ZonBase vs Helium 10 vs Jungle Scout vs Viral Launch: Which One is Best for You?
If you've been in search of software that gets the job done for a while, you must have come across Helium 10, Jungle Scout, and Viral Launch.
These are ZonBase's top competitors and for good reason too. They all offer similar tool suites, but ZonBase uses a slightly different approach — they offer a personalized plan and the Plus package.
But based on free trials and the accuracy of their sales estimator and Chrome extension tools, which of these should you go for?
Based on Free Trials
Jungle Scout does not offer a free trial. Helium 10 used to offer a free trial account before now, but they recently switched to offering a free trial even though they do not state how long it lasts on their website. 
Viral Launch offers a 14-day free trial and ZonBase offers a 7-day free trial.
So, based on free trials, the battle is between ZonBase and Viral Launch for us. Be sure to try out both and make your choice!
Based on the Accuracy of the Chrome Extension and Sales Estimator 
Viral Launch does not offer a dedicated sales estimator tool, although its other tools can provide sales estimates. They, however, offer a Chrome extension tool that focuses solely on market research.
Helium 10 offers a Sales Estimator tool and it's even classified under the free tools section of their website. However, for a free sales estimator tool, our guess is that you won't get detailed access to all the data you need. Helium 10 also offers a Chrome extension tool. 
So, yeah, Helium 10 offers both tools but we cannot exactly vouch for their accuracy. And the way their plans are set up, you get really limited access to the Chrome extension on the lower-end plans.
And Jungle Scout? They offer a Browser extension and sales analytics tool, but no free trial. Since the first unspoken rule of choosing software is to only go for tools that allow you to try out their tools for free, what do you think our judgment will be? It's certainly not Jungle Scout for the win.
ZonBase offers a 7-day free trial that gives you access to the complete tool suite. They also offer a Chrome extension tool that can help with product research and validation. This is way better than the Viral Launch extension that focuses on market research and niche validation.
So which of the software options is best for you? This is ultimately up to you. But in our opinion, it is ZonBase for the win!
Final Words
No software solution is without its limitations, but ZonBase impresses us with its user-friendly interface, comprehensive features, and dedicated support team. 
Whether you're a seasoned Amazon seller or just starting out, ZonBase proves to be a valuable companion in navigating the intricacies of selling on Amazon.
From product research to listing optimization, PPC management, and financial analytics, ZonBase has the potential to elevate your Amazon business to new heights. But don't take our word for it, sign up for a free trial of the software and see for yourself.
We hopw this ZonBase review has provided some perspective to guide your choice of software. Goodluck!
Related posts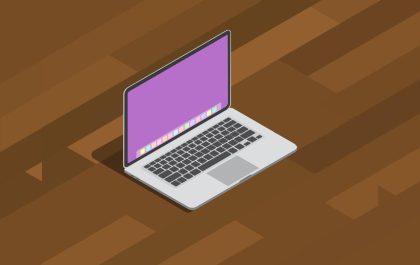 Tips for Choosing the Perfect Desktop Docked Search Utility App
Tips for Choosing the Perfect Desktop Docked Search Utility App In the business world, efficiency is the key to success….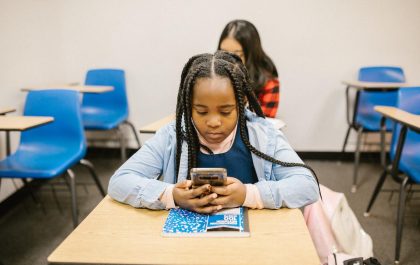 How Technology is Transforming Assignment Writing in Education
In today's educational landscape, technology is not only revolutionizing assignment writing but also giving rise to innovative solutions like the…