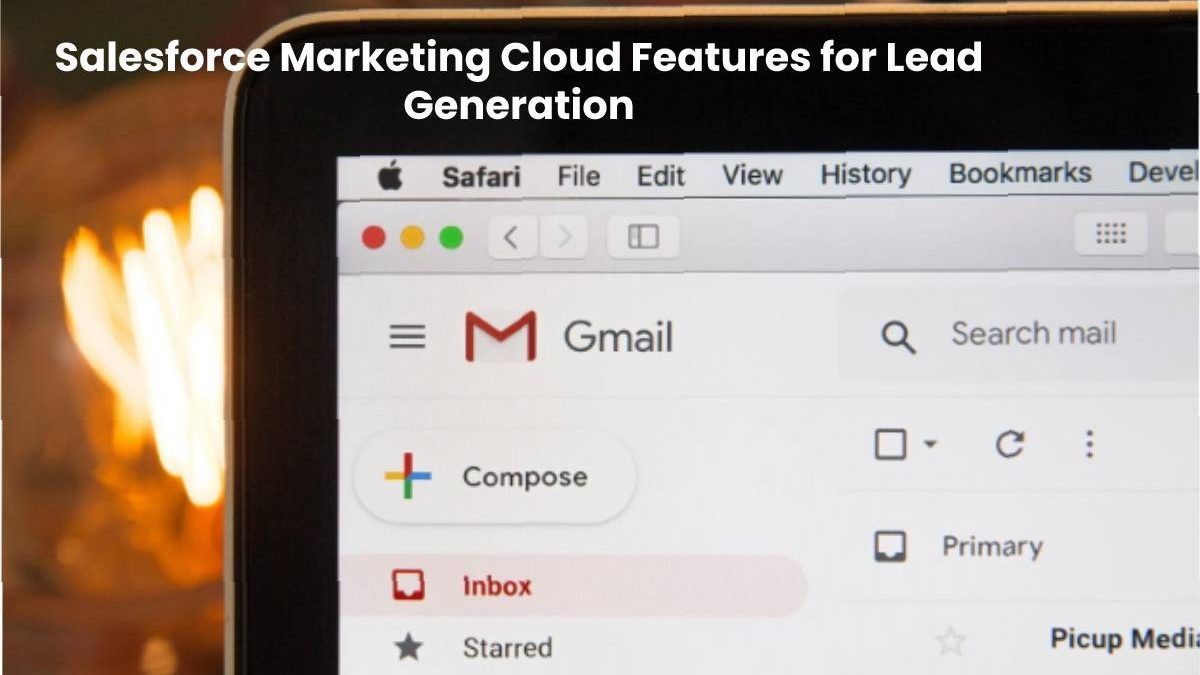 Salesforce Marketing Cloud
Objective
A Lead in simple words is a potential customer or an opportunity for your Business. And every business's growth depends on the number of their customers. Hence it is obvious that the growth of your company is directly proportional to the increase of your customer base.
With Salesforce Marketing Cloud's highly customizable Lead capturing features and backed up by No. 1 CRM in the world, one can choose to adopt the best in class Lead capturing mechanism which matches their current business requirement. Let's explore their implementation with salesforce integration.
Lead Capturing features in SFMC
Web collect –

 A Web collect is basically a simple HTML form, which can be either embedded within a webpage on your company's website. Or you can send it as a CTA link within any promotional emails sent to your Newsletter subscribers.

One of the most useful feature of Web collect over other Lead capturing mechanisms is that, when a Lead enter their details and submit the form, the SFMC's built in mechanism directly creates them as a Subscriber and also they get added to the particular list which you configure while configuring the Web collect form.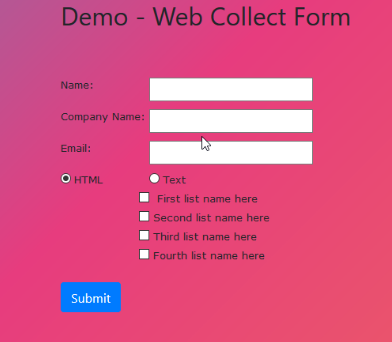 Example: A Web collect as below can be configured and embedded to your website, though which you would NOT ONLY collect their basic details, but also add them to one or more subscription lists based on your marketing requirements.
Smart Capture – 

It is the Marketing Cloud's built in Lead capturing mechanism, with easy to configure tools provided within Cloud Pages. You can just create a Data Extension with the Fields you with to capture as below,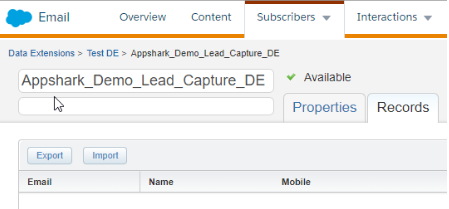 And create a Cloud Page under Web Studio and add the Smart capture block. And just by selecting the fields from the above Data Extension; the SFMC automatically creates a Lead generation form for you!  
But the difference of the Smart Capture from above two methods is that you cannot host it on your website; instead they are hosted from Cloud Pages within SFMC platform.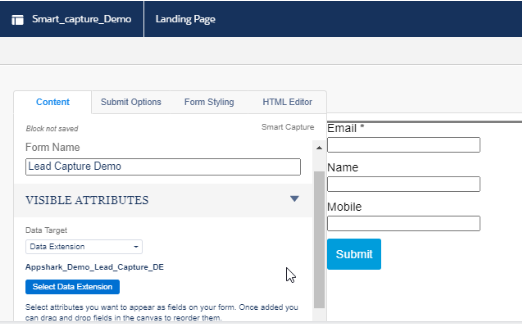 Example: Demonstrating the Lead Capture via Smart Capture.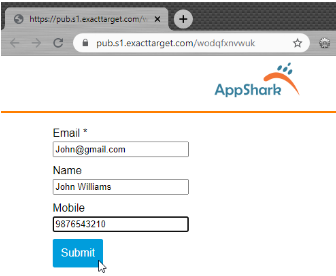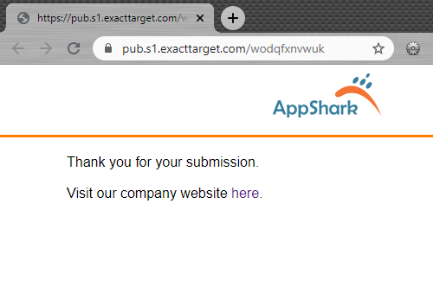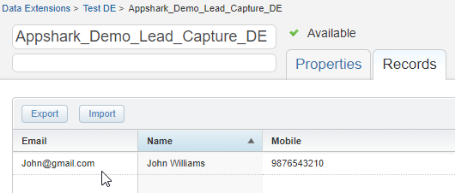 DE Manager – 

Basically the DE Manager is 99% similar to the Web collect. However, this adds your form data to a Data Extension instead of list. Also note that NO subscriber is created on SFMC. Hence use this feature if your requirement is just to capture the Lead data and perform next Marketing steps manually or through external systems.
custom Lead capture Form

 – As with any good platform, SFMC also provides the most powerful tools and programming languages through which you can build your custom Lead capturing forms. And as these are custom built you have them hosted either on your company's website or on Salesforce Marketing Cloud.

However, if you opt to go with this Custom implementation you must have the resources with necessary skills such as AMP script, SSJS and REST/SOAP API.

Also, one can extend functionality of this custom-built form to directly inject the newly acquired leads to the Journey, though which you can send necessary communication via any marketing channel [Email, SMS, and Mobile App]. Additionally, you can inject them to Sales cloud! 

Opt-in via Mobile Connect

 – There are built-in SMS templates through which you can generate Mobile leads and Email leads. The customers themselves can opt-in to choose Email channel or Mobile channel to receive communications about your brand.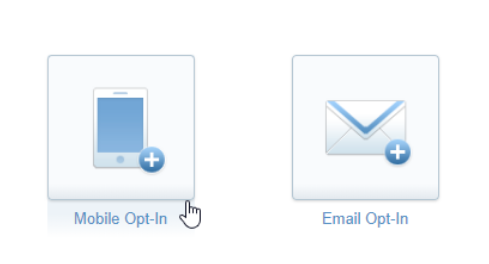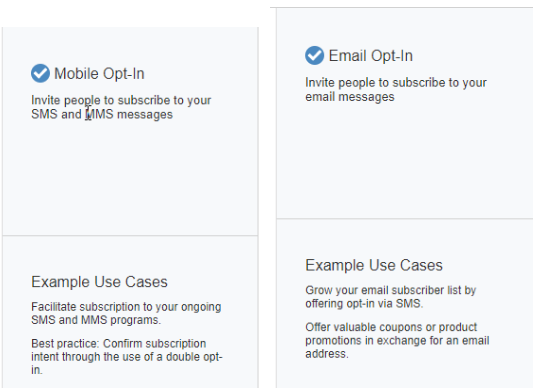 Capturing leads from Social platforms using Advertising Studio –

With the advancement in mobile technology and Infotainment [Information+Entertainment] built into social platforms more people are active on Social platforms. And on the other side these social networks have grown internally to be an intelligent way of using their platforms to be used as a marketplace for the advertisers to sell their product/services. The main feature of this success is that any brand can choose to segment their audience easily! As customers they themselves would have provided their likes/dislikes!

The same segmentation technique can be used to create an ad-campaign and embed a Lead capturing form, which can directly send lead details from platforms like Facebook to directly SFMC and the details are stored in a Data Extension.

Currently supported social platforms for capturing leads are,

Facebook

Google

Twitter

LinkedIn

Social Studio

Pinterest

Author Information
Raj Damera is the co-founder and a Salesforce Architect at AppShark. He is a well-rounded IT professional that can engineer and deliver complex technology solutions centered around the Salesforce platform. Raj often helps customers that have multi-cloud and multi-platform solution needs. Raj loves to travel; He is Based in Toronto, but can be often seen in different parts of the world meeting clients and attending events.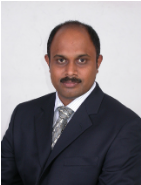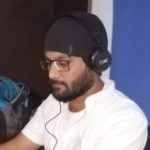 Kamran Sharief
I write about technology, marketing and digital tips. In the past I've worked with Field Engineer, Marcom Arabia and Become.com. You can reach me at kamransharief@gmail.com
Related posts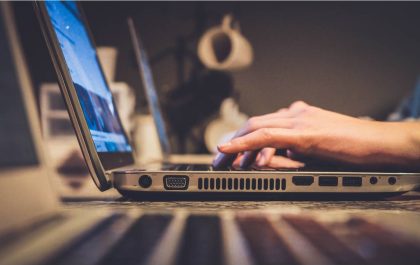 Online Payment Fraud: Navigating the Hazards in the Digital Transaction Era
Online Payment Fraud Navigating the Hazards in the Digital Transaction Era Online Payment Fraud Navigating the Hazards in the Digital…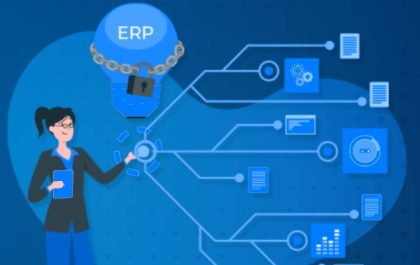 The Singaporean Business Guide to ERP: Tailoring Your System to Local Complexities
Introduction Enterprise Resource Planning (ERP) systems are a key component of any business, and are extremely beneficial for streamlining processes…