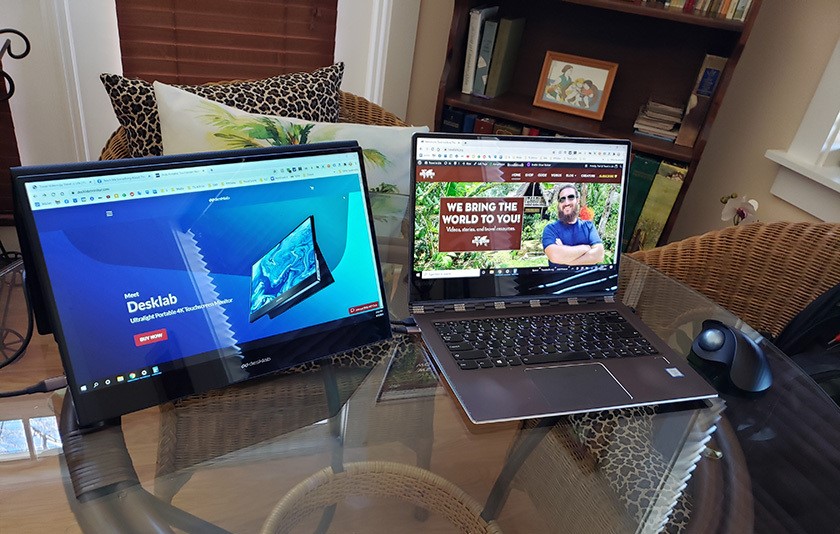 Things are changing really fast, and people are adapting to the change by adopting better work methods. If you're into traveling for business, content creation, or doing meetings often, it's undeniable that a portable monitor for laptops can do you some good.
But shopping for electronics isn't always anyone's cup of tea. You've got to be careful not to bring home a portable monitor that will not serve you well. In this review, we'll have a look at some of the best five portable monitors according to their features and use cases.
Why trust our expertise?
Every consumer is always looking for convenience before investing their hard-earned money in a gadget. We understand this well, and that's why we take our precious time (over 50 hours a week) to do research testing under various circumstances to ensure users buy reliable monitors.
We're not going to recommend something that we wouldn't buy ourselves. We've considered the various budget limits of users, needs, and capabilities of these Best Portable Monitors. Also, we work with a team of tech-savvy individuals to ensure that every portable monitor on our list is the best available in the market under its category.
Every feature and suitability is tested to ensure that it's as accurate as the manufacturers claim.
How did we choose these portable monitors?
We like to think that our process is one of the finest, and yes, it is. We often work with a checklist when selecting portable monitors for laptops to be reviewed. We have used, tested, and certified many other electronics, from laptops desktops to smart TVs. We have built a robust checklist that any electronic we pick under any category must meet.
In the case of portable monitors, first, we look at their portability aspect – weight, size, and durability. Secondly, we check their connectivity, which includes HDMI ports, USB-C, USB-A, and audio jack.
Thirdly, we check their display resolution, pixel exchange rate, color processing capacity, eye care features, screen lighting technology (LED).
Our fourth checklist considers the ease of usage, and features listed here include the availability of a kickstand, height adjustability, viewing angle, dual speakers, and battery lifespan.
These are just the primary factors that our team has to consider before picking a portable monitor for review.
We can say that not a single portable monitor for laptops passed our checklist. But these five stood up to something that made them worthy of consideration.
Top 5 Best portable Monitors for Laptops
Now that we've seen the factors to consider when shopping for a portable monitor let's jump into the top 5 best. Even if you have space limitations, these portable monitors are an excellent choice for your everyday use.
Lepow Z1 Portable Monitor – Best for techy users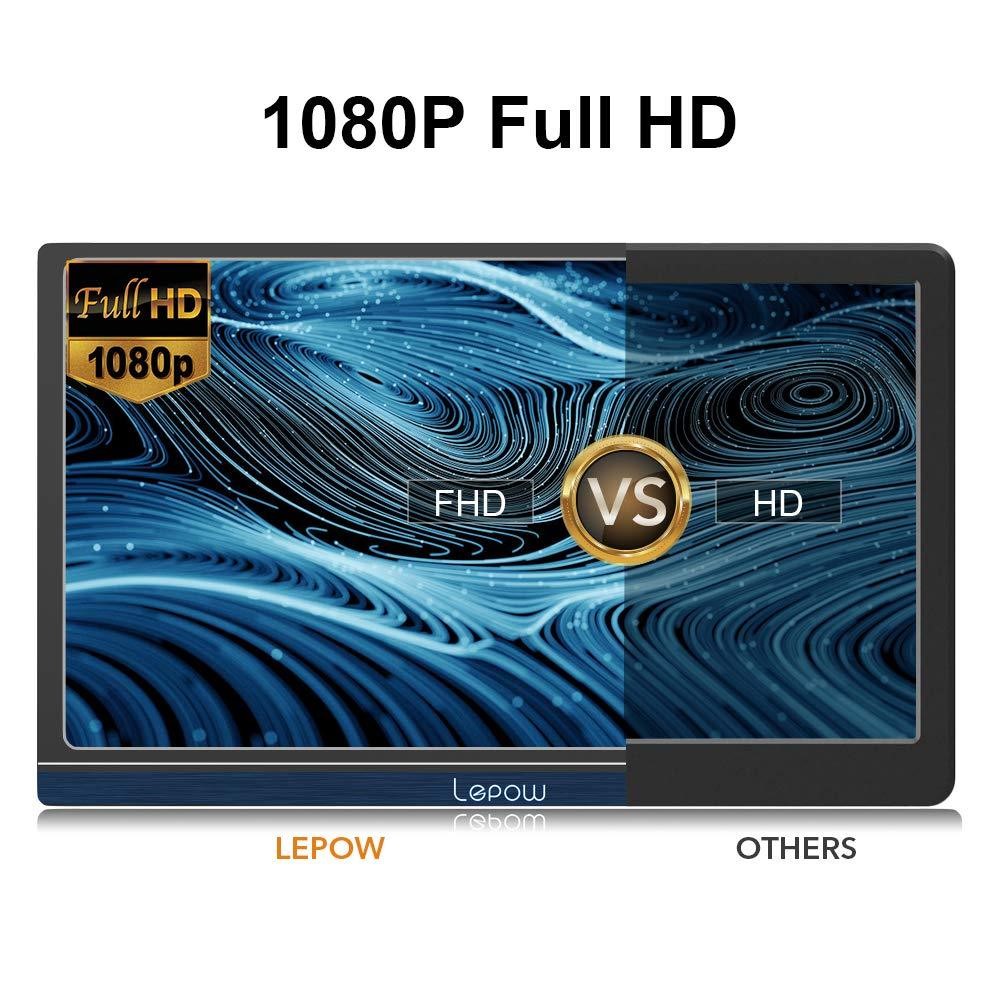 Lepow Z1 portable monitor is a handy screen that functions perfectly in different applications. It can be a great spare for gaming, especially if you're not only interested in a 4K display. It's an ideal screen for any tech-savvy person or anyone with in-depth knowledge of portable monitors. That's because it requires some prior calibration with a hardware calibrator to achieve excellent contrast and color before use.
Lepow Z1 is a budget-friendly monitor that comes with 1920×1080 resolution. And its 15.6-inch screen has a 60 Hz refresh rate. Due to its good reflection handling guarantee, you'll enjoy excellent peak brightness.
Lepow Z1 comes with a mini-HDMI port and USB-C port for connectivity. The USB-C port supports DisplayPort Alt Mode. So, you will be able to charge the device via a wall adapter or a laptop. The mini HDMI port comes in handy if you're a gamer as it's compatible with the last generation consoles such as Xbox One, Nintendo Switch, and PS4. But due to its low refresh rate, it might not perform very well with heavy-duty games.
The mini HDMI ports are also useful for plugging video sources to watch movies with a streaming device. On performance, the display gives off great colors and brightness, something that's hard to come across in most portable monitors.
Its contrast between different colors is quite good, while the refresh rate of 60Hz ensures that images are smooth without stuttering. The only downside is this model is not made for gaming. Because of the low response time, the monitor won't be a good fit for high specs games.
Why would tech-savvy guys love Lepow Z1?
The thing with tech-savvy guys is that most of them like to tweak things to see how they behave under different settings. If you're the kind of guy, the Lepow Z1 is an excellent portable monitor for you.
That's because its color scheme and contrast don't come user-ready, and you have to make some adjustments to suit your preference. Also, most techy guys are game lovers, and this portable monitor offers a display refresh rate of 60Hz, which is ideal for a seamless gaming experience, especially for lightweight games.
Pros
6-inch display with 1920×1080 resolution
Mini HDMI, USB-C ports, 3.5mm headphone jack.
Anti-glare and flicker-free for long hours of use.
DisplayPort Alt Mode
LED display technology to reduce power usage.
16:9 aspect ratio for full image display.
60 Hz refresh rate for smooth video and audio sync, ideal for light gaming.
Cons
Requires color and contrast calibration.
Speakers have a sharper tune with less bass.
Asus ZenScreen MB16ACV – Best Portable Monitor for Office Work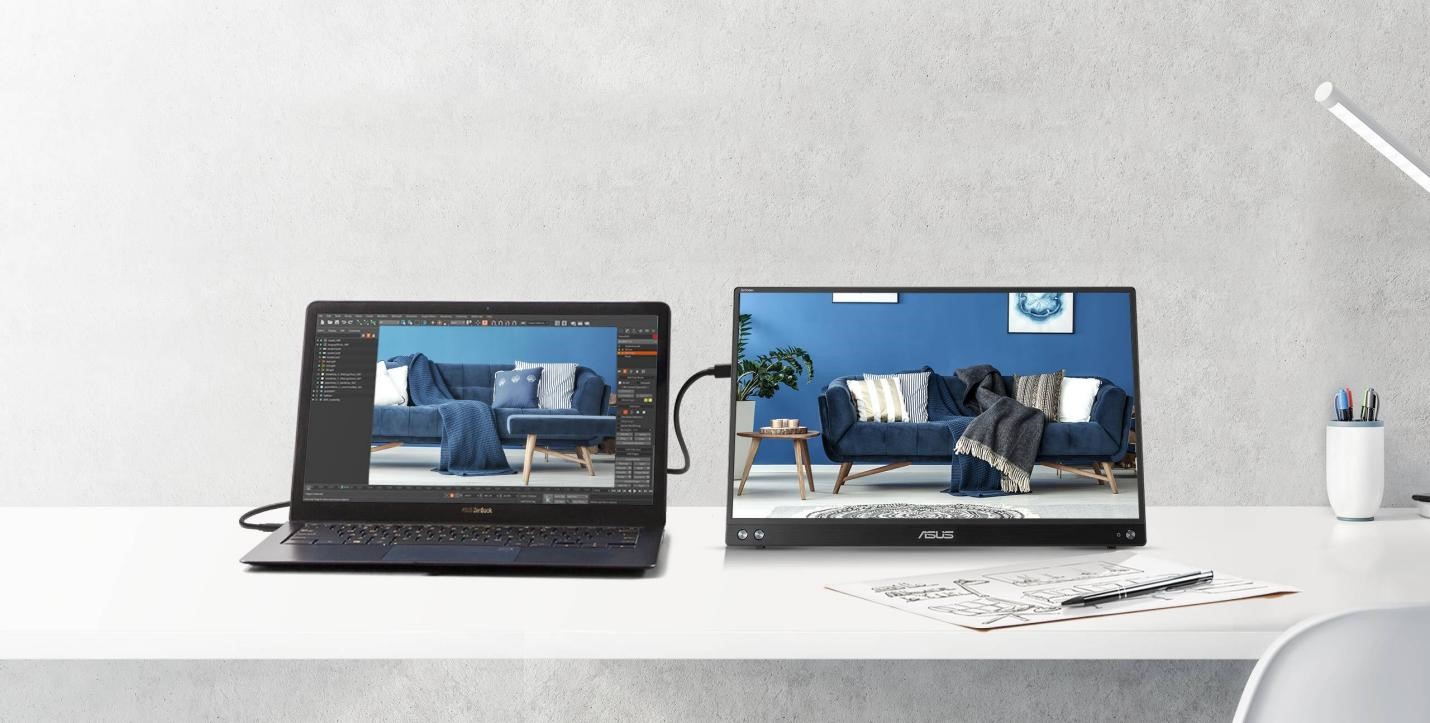 Asus is known for its elegant devices, and the ZenScreen MB16ACV is no different. It's one of the most appealing USB monitors, bundled with great features that make it incredibly handy. It's thin, lightweight but with an excellent display compared to most other portable monitors.
Asus ZenScreen MB16ACV is a monitor that delivers excellent image quality and has good out-of-the-box accuracy. With proper gradient handling, the motion performs much better in this monitor. Also, it has a 15.6-inch IPS display with 1920×1080 resolution.
It's 75Hz refresh rate, 5 ms response time, and 800:1 contrast ratio, the ZenScreen produces vivid images suited for enjoying video streaming. It comes integrated with a kickstand to give it more stability so you can position it either vertically or horizontally when watching.
The screen supports up to 178 degrees viewing angle with 250 nit brightness for the clearest image possible, regardless of the position you've placed it. And Asus also ensured that it's elegantly appealing by giving it a shiny silver finish. But it's not just for aesthetics as it possesses positive charges of silver ion to disrupt bacteria growth, thus making the screen the ultimate travel companion.
Besides, the Asus ZenScreen MB16ACV monitor has USB-A, USB-C, and mini-HDMI ports. This Asus ZenScreen MB16ACV portable monitor is perfect for your new laptop. Also, this model comes with technologies like Asus Blue-light Filter and Asus Eye Care Technology. Therefore, if you are looking for a monitor with high brilliant features, this is the one for you.
Why is Asus ZenScreen MB16ACV great for office work?
The fact that Asus ZenScreen MB16ACV lacks an internal battery is reason enough to make it suit office use. That's because you'll always have a power outlet at the office hence nothing to worry about.
Also, it's very light, weighing only 1.83lbs and is 10.5mm thick hence can perfectly fit in a briefcase. The portable monitor also has a silver treatment with anti-bacterial properties, therefore suitable to use in meetings.
The monitor also displays colors on average, which is enough for viewing documents. The eye care technologies –  Blue Light Filter and anti-glare make it possible to view the screen for hours.
Pros
6-inch display with 1920×1080 resolution
Mini HDMI, USB-A, and USB-C ports
Asus Blue-light Filter
75 Hz refresh rate
178 degrees viewing angle.
83 lbs weight and 10.5mm thickness for increased portability.
Finished with positively charged silver ions for protection against microbial.
Solid finish ideal for frequent traveling.
Cons
The colors appear somewhat dull.
It lacks an internal battery
Asus ZenScreen MB16AMT – Portable Monitor for Travelers
The Asus ZenScreen MB16AMT is similar to MB16ACV, only that it has a battery, and it is more compact. If you're constantly traveling from one business meeting to the next, you surely will benefit a lot from this portable monitor.
With advanced touchscreen capabilities and a 15.6-inch display, this Asus ZenScreen MB16AMT is one of the best options for laptop users. Also, the 1920×1080 resolution comes with a 60 Hz refresh rate.
Besides, this comes with a built-in 7800mAh battery that can run up to four hours straight. It also features QuickCharge 3.0, which lets it accumulate charge much faster. These features are convenient, especially if visiting a place and you're not guaranteed to get a power outlet, but the meeting has to happen.
Furthermore, the 1080P IPS screen can deliver a 178-degree viewing angle. Also, this model has USB-A, USB-D, and micro-HDMI ports. What's more, the automatic screen orientation lets the screen rotate and adjust the display between portrait and landscape view. This feature will, however, work with Windows OS only.
Why is Asus ZenScreen MB16AMT Ideal for Travelers?
When you're constantly on the move between flights, meeting people, the number one concern is the portability of your gadgets. Asus considered all these, and that's why they made Asus ZenScreen MB16AMT portable.
The Asus ZenScreen MB16AMT is perfectly sized, weighing only 3.90 lbs and 13.1mm thick. Its foldable smart cover also comes in handy to let you place it on desks at desired angles. Plus, the powerful in-built battery with 7800mAh capacity gives you more time to keep your laptop's battery power and avoid low battery disruptions.
Pros
6-inch display with 1920×1080 resolution
Micro HDMI, USB-A, and USB-C ports
Built-in 7800mAh battery
60 Hz refresh rate
178-degree viewing angle.
Flicker-free technology and Blue-Light Filter for eye care.
Automatic screen orientation change with Windows.
Cons
Lacks the anti-bacterial silver finish treatment.
Lacks touchscreen feature.
Lacks tripod socket.
UPERFECT Y Vertical Monitor – Best Versatile Portable Monitor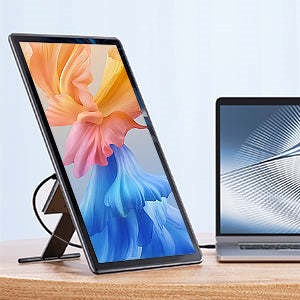 If you have a multi-faceted lifestyle, combining work, travel, entertainment, and hobby that requires a Vertical Monitor for laptop, UPERFECT Y is a great choice. It's built with an excellent color display, allowing you to view objects as if they were in a real-life scenario. Also, its free switching portrait and landscape mode and a 5-point multi-touchscreen enhance versatility in all use areas.
UPERFECT Y Vertical monitor offers excellent connectivity, allowing you to add a mouse and a keyboard and get that same experience as a desktop. You can connect the keyboard or mouse directly to this monitor if needed. Also, capable of delivering up to 110 degrees viewing angle. It can display up to two million pixels per square inch, giving you a high-quality image display.
When we say this monitor is suited for versatility, we mean it. That's because it's the first of its kind to support free switching from portrait to landscape. In other portable monitors, this feature is achievable by installing additional drivers from the manufacturer's website.
The monitor comes with an elegant 15.6-inch display, boasting a 1920 × 1080p resolution and a 60 Hz refresh rate. This makes it ideal for anything you could ever need to do with it, whether it's gaming, watching movies, presentation, or content creation. UPERFECT Y is a unique monitor with a 2.5D curved IPS touchscreen display. It also weighs 2.18lbs only, therefore ideal for carrying around in a briefcase or backpack.
When it comes to connectivity, there are three types of ports: USB-A port, USB-C port, and HDMI port. All the ports come integrated onto the kickstand to provide a clean, cable tangle-free use.
Why UPERFECT Y Vertical Monitor is the best for versatility
A versatile portable computer monitor allows you to use it for a wide variety of applications without too many troubles. UPERFECT Y Vertical Monitor is rated as universal due to its free switch between portrait and landscape views.
Also, it offers a large viewing angle of 178 degrees, allowing you to view it from an angle and still get an excellent view. The five multipoint touchscreen feature adds more sensitivity to the screen so that you can control the display with a light touch. Even though it doesn't offer an in-built battery, the UPERFECT Y Vertical Monitor is an ideal choice for someone who does many things with a portable screen.
Pros
USB-A, USB-C, and HDMI ports for connectivity with other devices.
All ports are integrated on the kickstand for a clean, tangle-free viewing.
1080P 15.6-inch 2.5D curved IPS touchscreen.
5 point multitouch screen for increased touch sensitivity.
Free switching between portrait and landscape without installing drivers.
178-degree viewing angle.
60Hz refresh rate, ideal for gaming and heavy-duty use.
Dual 2W clear and sharp speakers.
Built-in vertical monitor stand.
Cons
No internal battery.
May drain laptop battery faster.
UPERFECT S 4K Portable Monitor – Best Portable Monitor Overall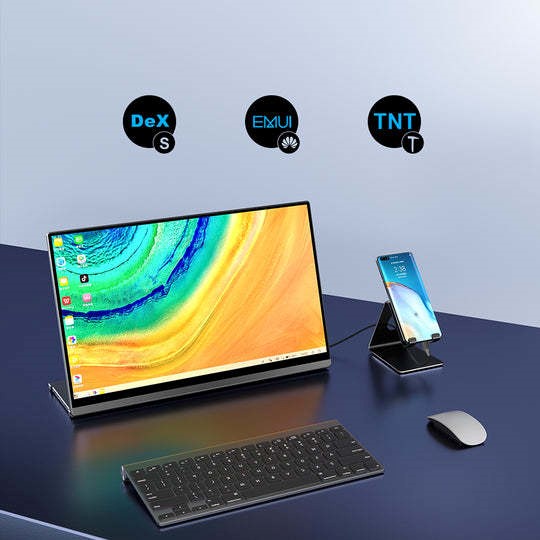 For those looking for the best portable monitor for laptops, portable computer monitor UPERFECT S 4K is the best choice. With 4K capabilities, this monitor suits anyone looking for a second display to enhance their efficiency, convenience, and pleasure without breaking a bank.
As mentioned above, this model comes with a 4K resolution and a 3840 × 2160 IPS grade A screen. Also, the 15.6-inch display is enhanced with a 60 Hz refresh rate. 10-point multi-touchscreen and two built-in speakers make this model more unique than other models in the market. For gaming fans, this is one of the best options.
Moreover, capable of delivering up to 178 degrees viewing angle. This model is a much better improvement than the UPERFECT Y vertical monitor. When it comes to connectivity, UPERFECT S 4K includes a mini-HDMI port, Micro USB OTG port, 3.5mm AUX port, and two USB-C ports. So, you can connect your laptop or smartphone without any trouble.
Why is UPERFECT S 4K Portable Monitor our best pick?
Out of the five portable monitors we've reviewed, UPERFECT S 4K portable monitor turned out to be superior in almost all checklist points. While shopping for an electronic device, most consumers would check the price factor first before anything else. This monitor doesn't disappoint if you were to base your choice n price alone.
First, we were impressed by the high-resolution 4K display. UPERFECT S focuses a lot on giving you a larger display, even if it's a 17.3-inch size screen. It has a size of 15.91×10×0.43 inches, while the viewable area is 15.04×8.46 inches. That means you get a larger viewable area for the same screen size as other monitors.
Apart from that, UPERFECT S gives a viewing angle of 178 degrees, allowing viewing from almost any angle. This also supports viewing by many people, hence ideal for presentations. The contrast ratio is one of a kind, at 1000:1 with a brightness level of 400 cd/m2. The color gamut is 100% Adobe, which means it displays images with elegant vividness like a natural display.
If you want a display that addresses every concern about a portable monitor, you can never go wrong with UPERFECT S 4K. Even if it doesn't have an internal battery, its WLED display technology minimizes power consumption by almost 50 percent compared to other monitors.
Pros
4K 15.6-inch IPS touchscreen
100% sRGB color gamut for vivid natural display.
WLED screen technology to reduce power consumption.
Wider viewing area.
Bigger contrast ratio of 1000:1 and 400cd/m2
HDMI, Micro USB OTG, 3.5mm AUX, and two USB-C ports
178-degree viewing angle
Dual 2W speakers.
Affordably priced.
Built-in vertical monitors stand.
Cons
Best Portable monitors for laptop Buying Guide
While we've reviewed and recommended the best portable monitors for laptops, you may also need to do your own research. In that case, you also need to work with a list of things to consider to ensure you get the most suitable portable monitor that's not overpriced and does what you expected.
Check out the following buying guide when shopping for a portable monitor.
Port Connectivity
Connectivity is the first thing you should check. Because without proper ports, you won't be able to connect the laptop to the monitor. Therefore, check what type of ports the monitor has. For instance, if you have a Surface Pro 3, the monitor's port type will have to match your laptop. Otherwise, the monitor will end up not serving its full purpose.
If you can't find a portable monitor with a matching connection to your laptop, this might raise the need for an adaptor. Most of the latest monitor models come with a UDMI port, which is the most efficient when connecting a second screen to a laptop. It's a universal port with a similar frame rate as your laptop.
Another connectivity port to consider is the USB, which can either be type A or C. Both are good. Still, the latter has an upper advantage because it provides better and faster data transmission with almost zero delays. Type C USBs also charge much faster hence more ideal for a mobile traveler.
Power Source
You might have to take the monitor with you to various places most of the time. And sometimes, it will be hard to find power outlets. Therefore, we highly recommend buying a monitor that charges via laptop.
Some models come with rechargeable batteries. When using a monitor with a rechargeable battery, at least keep it at full charge before going outside. Also, remember to buy a monitor with these features; a rechargeable battery and the ability to charge via laptop.
Another factor regarding the power source for your monitor is that it should hold power for long. As such, go for a battery capacity of not less than 5000mAH to get optimal efficiency.
The screen should also utilize less power to extend the battery's life and usage time. The best batteries for portable monitors are lithium-ion batteries. They're incredibly smaller but offer higher voltage handling capabilities for users. Alternatively, go for monitors with a WLED display to reduce power consumption.
Display resolution type
Portable monitors, just like your TV, need to be of a good resolution, so it displays content with visible clarity. Depending on the usage, some may prefer a 4K resolution monitor for basic projects, assignments, and work using Google Docs or MS Office.
For a more involving usage, a higher resolution than this is needed. HD displays are ideal when you want to display clearer, sharper HD images. These are especially great for watching movies and playing games. Bezel displays are equally great for intense monitor use as they provide edge-to-edge screens with higher picture quality.
When buying your portable monitor, you're better off going for a high-quality resolution display. Poor quality displays will do the job, but you have to buy a higher resolution display when your requirements suddenly change.
Low-quality resolution displays can also affect your eyes when viewed for prolonged hours. Even though they're more expensive, high-resolution screens are way better and will serve you better.
Size and Weight
Accurate measurement of portability is weight. So, the lighter the monitor is better for you. You should be able to carry it inside the laptop bag. Weight and size often go hand in hand. The size will mostly depend on the use of the monitor. For instance, a businessperson will need a larger display when presenting or showing content to their prospects.
If you need a portable monitor for gaming, your best option would be a larger display with high resolution. As for those who travel a lot, move from one office to another, or need it for school, a smaller portable monitor is much better.
The screen sizes most familiar today range between 15.6 and 17.3 inches. These screens are great for work as well as traveling.
Warranty
Every electronic device must have a warranty to safeguard you from manufacturing defects. When buying a portable monitor, check the warranty terms from the seller. Usually, warranty coverage is given for one year.
Price
Lastly, the price factor always applies to everything when shopping. While an expensive price tag is not always an indicator of quality, good quality will come at a price in most cases. Don't focus too much on the price until you forget the features you need on the monitor.
Instead, examine the screen, list its features, and compare with the prices from other brands before settling on one.
Final Verdict
Portable monitors offer an excellent way to extend your screen, whether using a mobile device or a computer. When shopping for one, consider your usage needs, whether you need it for office work, entertainment such as gaming and watching movies, or content creation like graphic design.
All things considered, if you need the best portable monitor for laptop, you should go with UPERFECT S 4K or UPERFECT Y. Both portable monitors are an excellent choice for your laptop. But, if we need to pick a winner, we go with UPERFECT S 4K. Finding a high-quality 4K monitor is a little bit hard these days, especially when considering the price.
So, if you are looking for an excellent 4K experience, UPERFECT S 4K portable monitor is the best option for you.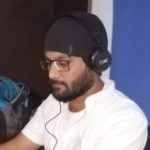 Kamran Sharief
I write about technology, marketing and digital tips. In the past I've worked with Field Engineer, Marcom Arabia and Become.com. You can reach me at kamransharief@gmail.com
Related posts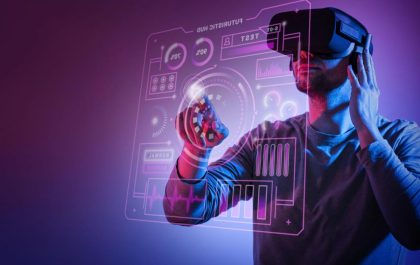 Top 10 Business Tech Trends of 2023
For organizations to succeed in the fast-paced world of technology, being ahead of the curve is crucial. Staying current on…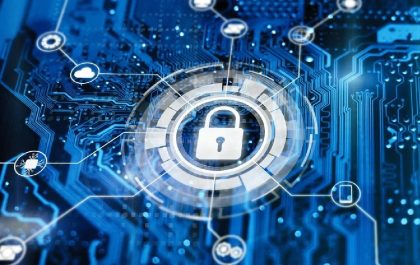 Cyber Security Behind NFTs: Are You Safe?
With the rise of cryptocurrencies, we've seen all kinds of digital assets hit the market. NFTs were a craze a…